September in Glacier National Park
Oh, Sweet September. Summers are wonderful, but we're ready for you. September in Glacier National Park isn't just the changing of the calendar. It's a shift in attitude, tone, and feel all over the park's million acres of beauty. The angle of the sun mellows, and everyone here does, too. We love our visitors, but September is beloved because there are fewer visitors. There's more room to wonder and to wander in Montana in September.
"What is the best time of year to visit Glacier National Park?" — #1 FAQ at Glacier Guides and Montana Raft
Depending on what you're looking for, each month of the year offers something special in Glacier that could make that specific month the best for you. We will just say that all of our favorite activities are extra special in September: rafting, fishing, biking, and hiking!
Fishing the Wild and Scenic Middle Fork of the Flathead River
There's less water in this undammed river in the fall, meaning there's fewer places for the fish to hide! Fly fishing Glacier National Park tends to be amazing in September. Temperate weather, crystal clear water visibility, and hungry trout generally combine to make for happy anglers. Whether you're a novice or a pro, if you're ready to head down the river and would like a professional guide and gear, give us a ring to set up a trip. 406-387-5555.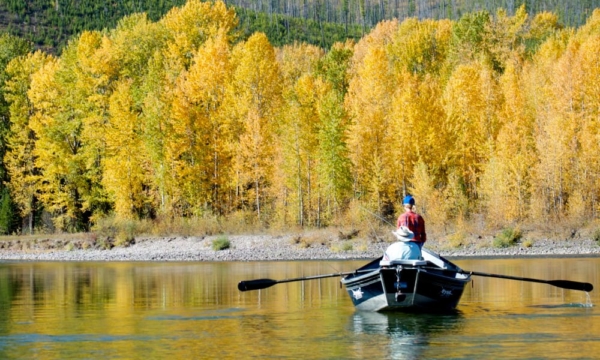 Scenic Floating September in Glacier National Park
Lower river levels also mean our Scenic Floats are the rafting adventure of choice in September! All summer, we think we run rafting trips on the most turquoise waters in the world. We're not wrong. But then September turns the larch gold, and we realize that against that yellow backdrop, Glacier's waters appear even bluer than before.
About those larch – Western Larch are conifers that think they are deciduous. Their needles turn bright yellow, and then a fiery orange before falling off. It's not just the trees that turn colors in September in Glacier National Park. The smaller foliage, like fireweed, turn brilliant colors and transform entire hillsides into works of art. Drinking in the colors from the comfort of a raft is the most relaxing way to explore September in Glacier National Park.
Hiking in September in Glacier National Park
As the crowds thin out, the trails become even more enjoyable. The colors change from summer's turquoise and emerald-green to autumn's gold and scarlet. Temperatures cool off. Our favorite picks for fall hiking are dictated by where the colors are prettiest. Here are a few perennial favorites: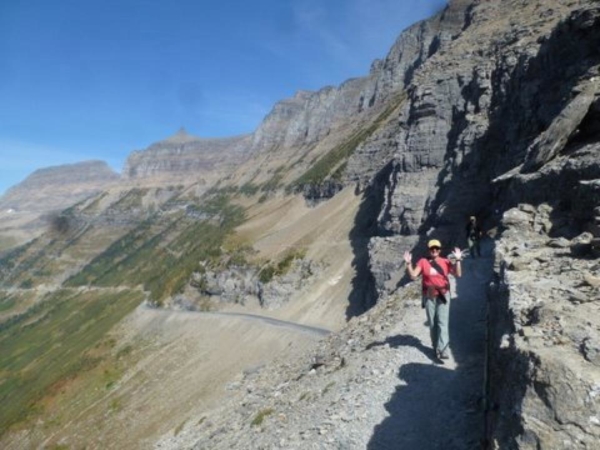 No crowds on the Highline Trail in September in Glacier National Park
Intermediate Fall Hiking Option: Highline Trail — Logan Pass to Haystack Butte, 7.2 Miles Roundtrip
Everyone loves the Highline Trail. But there is even more to love in September in Glacier National Park, as the views remain jaw dropping but there are far fewer people on this trail.
How To Get There: Drive the Going-to-the-Sun Road to Logan Pass. There are vault toilets available. Cross over the Going-to-the-Sun Road at the "Logan Pass" sign to find the well-marked trailhead.
In the fall, hikers tend to travel from the Pass to Haystack Butte, and not on to Granite Park Chalet — which typically closes in early-mid September. This is largely because the park's shuttle system is not running, and it is harder to get a ride back to the Pass from the Loop.
The hike to Haystack Butte and back is moderate, gently gaining and losing elevation as you hike along the Garden Wall. When you get to the bottom of the butte, keep going! The switchbacks look much steeper than they actually are. Finally, the top of Haystack Butte makes a fabulous lunch spot.
Easy Fall Hiking Option: Half Day Nature Walk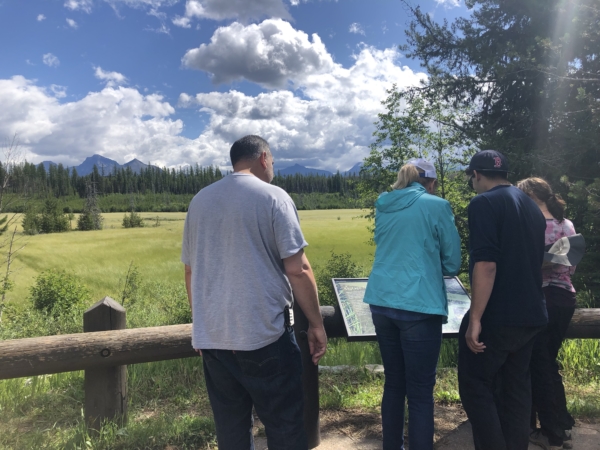 On Tuesdays and Thursdays, we offer half day guided Nature Walks in Glacier. Typically, we explore the Apgar area and the Camas Road. The Lake McDonald valley is glaciated, and you will walk on a terminal glacial moraine. This area is characterized by lodgepole pine forest left from the 1929 Half Moon fire. You'll delight in seeing the aquamarine waters that flow from Lake McDonald. Don't forget to keep your eyes peeled for this valley's resident beaver and moose! You'll return to Glacier Guides and Montana Raft around lunchtime. To learn more, or to make a reservation, check out this link.
Advanced Fall Hiking Option: Gunsight Lake, 12.6 Miles Roundtrip
The trail to Gunsight Lake makes for an incredibly scenic day. This hike is known for its up close and personal views of Blackfoot and Jackson glaciers on the way to spectacular Gunsight Lake. It's challenging in length, but it's worth it! We think this is one of the prettiest lakes in a park filled with beautiful lakes.
Drive the spectacular Going to the Sun Road, a stunning architectural achievement, to the trailhead at the Jackson Glacier Overlook. The Gunsight Lake trail immediately drops down to the Reynolds Creek / St. Mary River drainage. You'll walk through moose habitat that provides excellent chances to observe these amazing creatures from a respectful distance. The trail also goes through thimbleberry patches – a delicious treat if you happen to be walking through when these tasty berries are in season! There are also several waterfalls located along this trail, making great spots for rest breaks.
When you reach Gunsight Lake, you'll be rewarded with jaw dropping views of not only the lake, but also 9,239-foot Mt. Logan, Blackfoot Glacier, Jackson Glacier and 10,052-foot Mt. Jackson. Walk to the shore of the lake to enjoy your lunch. While you're eating, be sure to look for sheep, goats, and other critters on the steep, rocky cliffs leading to Gunsight Pass. When you're ready, retrace your steps to you car.
Got West Glacier Lodging?
Our charming Guest House and our quiet, cozy, eco-friendly Lodge are both open in the fall. Guests call our bed-and-breakfast-style Lodge a "treehouse with a fabulous, largely locally sourced and organic breakfast." We're rated #1 on TripAdvisor. Be sure to ask about renting a bike while you're here, and exploring Glacier National Park and the neighboring Gateway to Glacier bike path from our properties.
How May We Help You?
Questions about planning your Glacier National Park vacation? From rafting, hiking, fishing, biking, lodging, equipment rentals, shuttles, and more – we can help. Check out our website or use the form below to ask us for help planning your adventures.
p.s. we've written lots of Glacier itineraries over the years — so many ideas for you here! You can subscribe to our blog here.
And in general, as a concession partner of Glacier National Park since 1983, we're here to help you with your September travel plans. Give us a call at 406-387-5555 or email info@glacierguides.com. We'll be happy to answer your questions! See you soon.
[/fusion_text][/fusion_builder_column][/fusion_builder_row][/fusion_builder_container]