If you're anything like us, you're getting ready for summer and you're already planning that trip to Glacier National Park. Visit Glacier Guides where you can raft, hike, fish, bike or stay with us while you're in town. While you plan that trip, we encourage you to familiarize yourself with Leave No Trace and best practices when adventuring in and around Glacier National Park.
As you know, Glacier Guides and Montana Raft is all about Leave No Trace and best practices when recreating outdoors. Our mission is to provide exceptional active travel vacations and experiences in and around Glacier National Park while preserving and protecting Glacier's unique ecosystem using the best available ecologically sound practices. And that means the best environmental efforts, too.
Let's start off by stating the 7 famous Leave No Trace principals and talk about why all of them are so important.
Plan Ahead and Prepare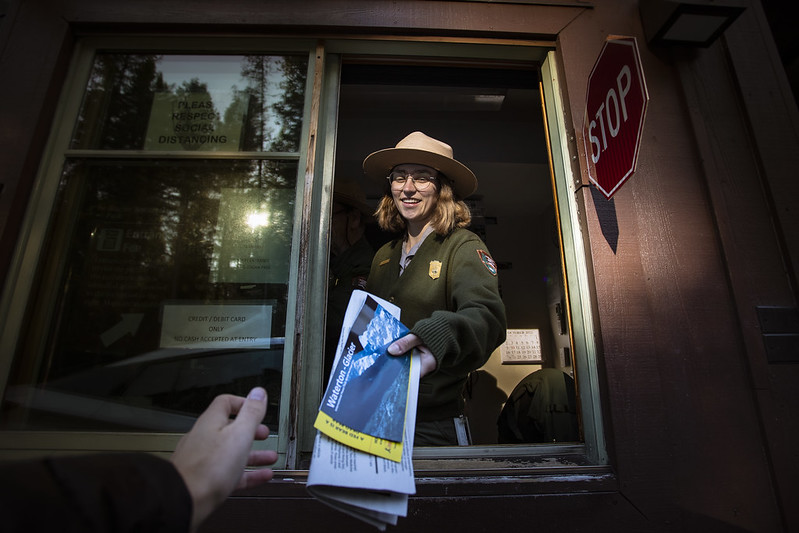 When you plan ahead, you're helping ensure the safety of groups you plan to hike with, other groups on the trail and yourself. It also allows you to minimize resource damage, helps with completing the trip safely and enjoyably, increases self-confidence and allows for more opportunities to learn about nature.
Here are a few things to keep in mind as you prepare your journey to Glacier National Park
Vehicle Reservation tickets are a requirement for any vehicle entering the park for the Going-To-The-Sun Corridor and in the North Fork area at the Polebridge Entrance Station. GTSR tickets are good for 3 days, North Fork area tickets are good for 1 day. These tickets are available 120 days ahead of your planned trip date. You will need this and a park pass this year, it's important not to forget either one of those!

Great News! Our rafting and fishing trips do NOT require a vehicle reservation ticket since these trips originate outside the park. Also if you are hiking or biking with us, you will not need a vehicle reservation ticket to get inside the park.
If you love biking like we do, you can skip the vehicle reservation ticket and ride into the park.

Bike from our office.
Sign up for our biker shuttle. Meet us at our office, rent a bike or bring your own and then let us do the driving. Pay attention to when your guide is picking you up and don't miss your ride back! It's an extra 18 miles back to the office.
Join our guided bike trips.

If you don't get a reservation ticket, you could always enter the park after 4pm for the Going-To-The-Sun Road Corridor and after 6pm for the Polebridge Entrance Station. Many Glacier and Two Medicine do not require an entrance ticket, but will close on busy days when parking spots are full. Traveling after 10 Pm? Caution! The Going to the Sun Road will be closed between Apgar and Lake Mcdonald from 10pm to 6 am due to road construction. Plan ahead, make sure you know what time it is, and give yourself plenty of time to leave before the road closes.
A Few Other Tips…
Bring food, water, extra set of clothes, sandals AND sneakers, maps and if you're going up North Fork Road…a spare tire.

Things can change when you're adventuring in Glacier. You'll want to make sure that you plan for a long day. Bringing snacks, water and an spare change of clothes and shoes allow for you to have a bit more freedom. It will also allow for you to take your time in the park rather than rushing because someone didn't want to eat their breakfast…
There is no cell phone reception in the park, that means the maps on your phone that require reception won't work! Snag a Glacier National Park map (we have plenty!) so you don't get lost out there.
Fill up your gas tank! Make sure you're not riding on empty as you pull into Glacier, because there aren't any opportunities to gas up once you're in the park.
The North Fork Road is famous for a few things–the winding Flathead River, the beauty and also…not being the easiest on cars. Make sure your spare tire is in the back of your car (or that your rental car has a spare) and bring tools to fix a flat, just in case.
Travel and Camp on Durable Surfaces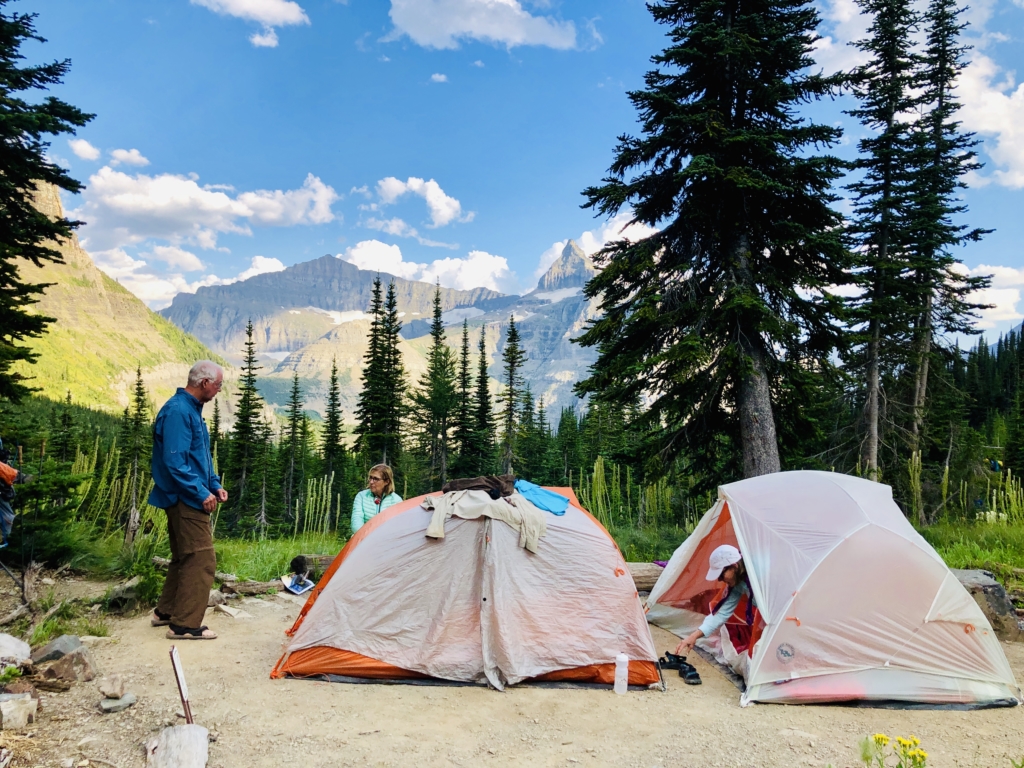 The goal of traveling outside is to use natural areas and avoid damaging land or waterways. Stay on the trail! Especially in the alpine zones where the growing season is especially short.
Dispose of Waste Properly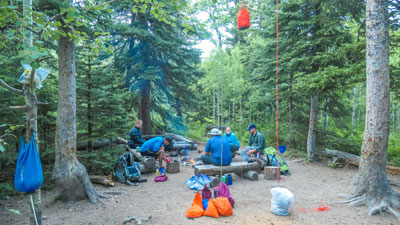 There are many types of waste that need to be disposed of properly. A good motto to live by is "leave it better than you found it."
Most trailheads have restrooms – use them before you hit the trail and help keep our trails free from human waste. But if you get a sudden urge…..Leave No Trace covers what to do when nature calls and the best option is to dig a Cat Hole. Here's the breakdown:
Cat Holes need to be about 200 feet (about 70 paces) from water, trails and camp
Choose a site that is inconspicuous and least likely to be chosen as a camp spot and out of the way of any walking paths.
Dig a hole with a garden trowel about 6-8 inches deep and 4-6 inches in diameter
When finished, cover and disguise the cat hole with natural materials.
If camping several nights or with a large group, disperse the cat holes over a wide area, don't go in the same spot twice.
If possible, pick a spot with good sunlight, it will help with decomposing.
Pick a spot of higher elevation and where water runoff will not end up. The idea is to keep feces out of water.
Use toilet paper sparingly and only plain, white, non-perfumed brands. It needs to be buried deeply in a cat hole. If you can't do that, it needs to be folded up, placed in a plastic bag and carried out.
PACK IT IN, PACK IT OUT!
Plan on bringing all trash back with you from your trip into the park. Trash cans are few and far between. When you spend time in the outdoors, you have the responsibility to clean up before you leave. Check around your campsite for trash and spilled foods. Clean up and pack out any and all garbage created by you or your camp. If you're recreating outdoors and see other loose trash that's not yours, lead by example. Every time you stop your car or while you are recreating, check to make sure you have not left anything behind. Food, candy wrappers, hiking poles, banana peels, tissue paper – don't leave it behind!
Leave What You Find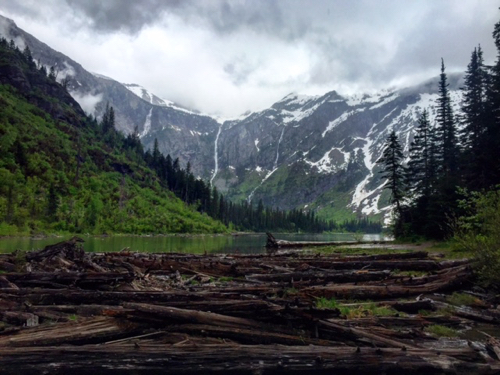 Leave No Trace says "Great campsites are found, not made."
If you created a fire ring at your campsite, constructed chairs/tables, or cleared debris, replace everything how you found it. It's also important to not damage trees or large plants during your stay. Hammering nails into trees, hacking with saws or hatchets, tying tent lines to trunks and carving initials into a tree. We know it seems like a romantic gesture, but it's totally unacceptable.
Minimize Campfire Impacts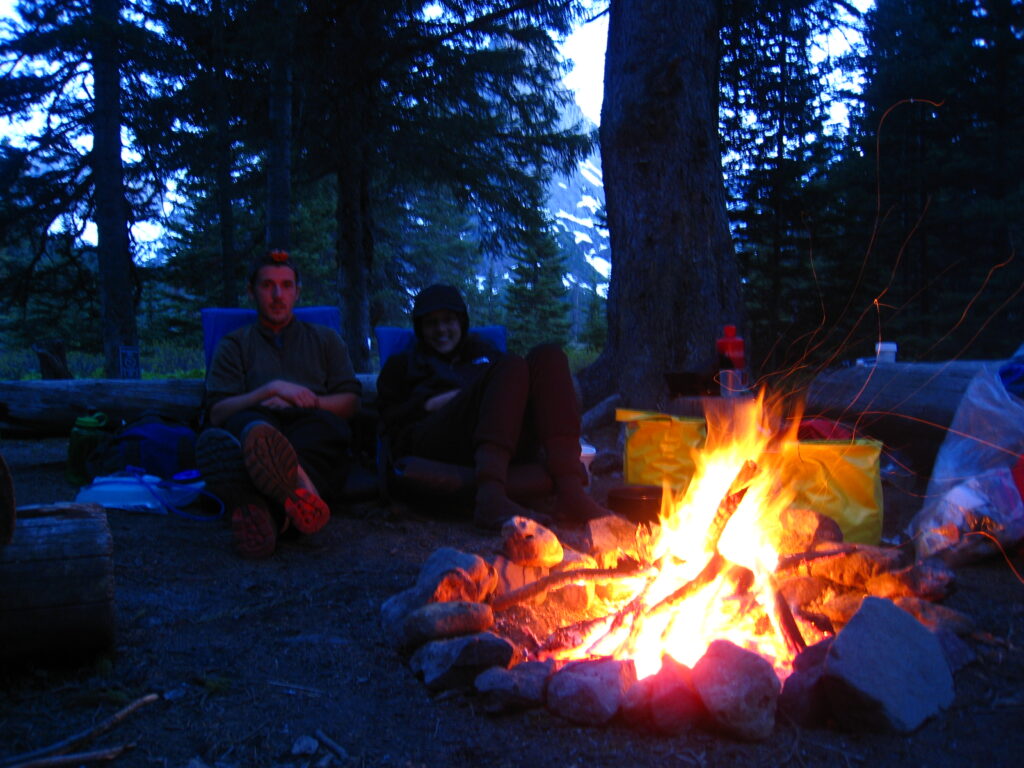 We know that having a fire when camping is part of the experience, but here is how you can limit your impact.
Camp in areas where wood is abundant
Choose not to have a fire where there is little to no wood, in higher elevations, in heavily used areas or in dessert settings.
The best fire is one that leaves no evidence
The best place to have a fire is in a existing fire ring at a well used campsite
Keep the fire small and only burning while you're using it
Allow fire to COMPLETELY burn out. Dead out.
Put fires out with water, not dirt. Dirt may not completely put out the fire
Avoid building fires next to rock outcroppings where black scars will remain for many years
Respect Wildlife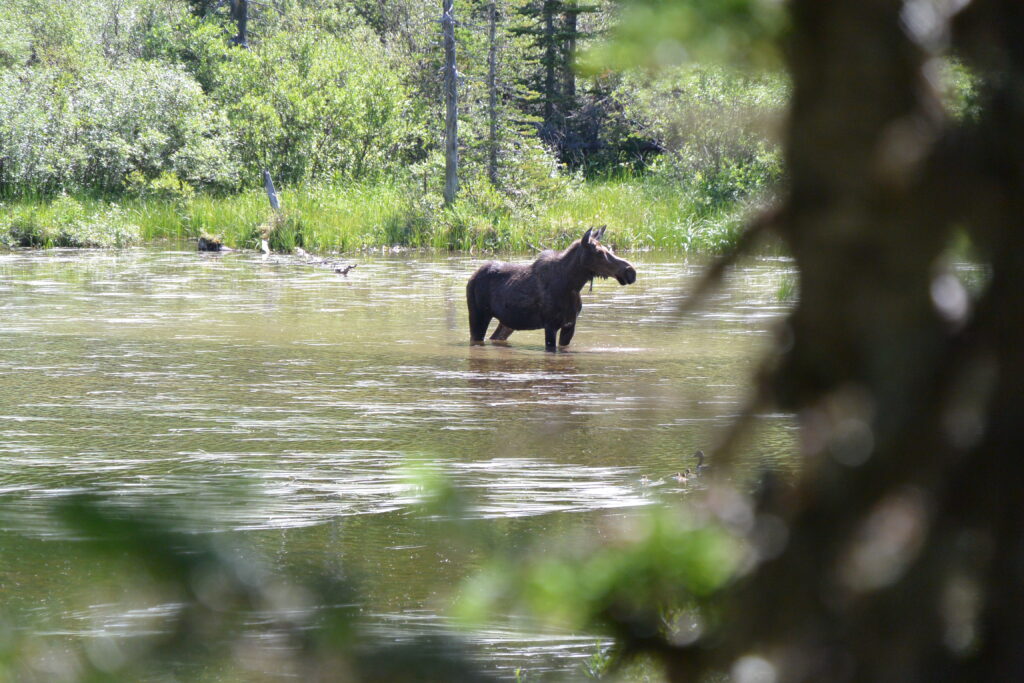 Seeing wildlife while in Glacier National Park is such a treat. However, it's best to learn about wildlife through quiet observation. Don't disturb wildlife or plants and observe from a distance in order to give them peace and space. Loud noises and large groups intimidate wildlife. Travel in smaller groups if possible, do not feed animals or force them to flee the area. It is very important to remember, these are wild animals. We ask of you, beg, plead…do not try to pet them! You are a visitor to THEIR home. Follow the rule of thumb: if you can cover the entire animal with your thumb you're at a safe distance. This distance is usually 25 yards from most wildlife and 100 yards from large wildlife. Use binoculars or a camera with zoom to view animals from a safe distance.
Be Considerate of Others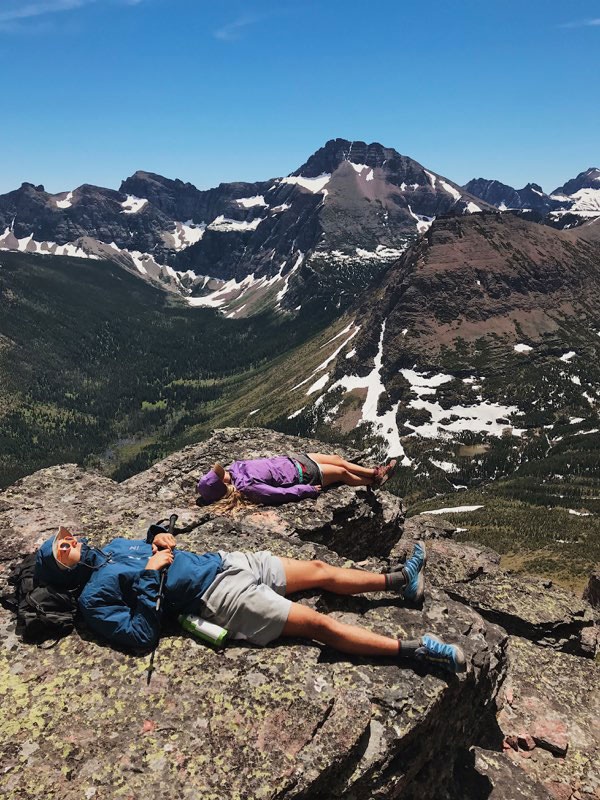 It's no surprise that National Parks have gained popularity in recent years. Crowds can become overwhelming and take away some travelers want for peace and quiet. Some may enjoy listening to a babbling creek, or taking in the peace of the mountains. Spending time in Glacier is a very meditative experience. That's why it's important to respect other visitors and be a courteous traveler. Leave No Trace suggests visitors travel in smaller groups, don't cause excessive noise and remember how your experience may differ from others in the park. Turn your phone onto silent mode and leave the mini speaker at home.
When hiking on trails, it is common courtesy for the hiker traveling downhill to step aside for uphill traffic. When taking a break, make sure to do so on durable surfaces well off the designated trail.
---
Want to learn more about Leave No Trace and best practices when adventuring outdoors? Visit their website here.
Want to know more about how you can be a responsible visitor in Glacier National Park? We have a page all about that, take a look here!