There's a lot to think about when vacationing somewhere you've never been. Like how close you want to be to town, what activities you want to do, the best restaurants and food you've got to try. But more important than that, you want to make sure your money is going to the right places and properly supporting the local economy. There are so many amazing businesses around Glacier National Park that are locally owned and operated — let us lead the way! Here's a short list of some great local businesses in and around GNP.
WEST GLACIER:
First and Foremost: Us! Glacier Guides and Montana Raft
We're not afraid to toot our own horn (toot, toot!)
We love to tell people how we are locally owned and operated and have been since 1983. We started as a little hiking company for Glacier National Park and a few years after that we added lodging. In 1987 came rafting and fishing and a little more than a couple years after that, biking! We care about this community, Glacier National Park and The Wild and Scenic Flathead River. We not only raft, hike, fish and bike, we also have a 12 room lodge and guest houses available for rent.
At Glacier Guides and Montana Raft, we take our commitment to environmental efforts, in conjunction with our mission statement, very seriously. After all, we live in an area that is experiencing rapid change due to climate patterns.
Our mission is to provide exceptional active travel vacations and experiences in and around Glacier National Park while preserving and protecting Glacier's unique ecosystem using the best available ecologically sound practices. And that means the best environmental efforts, too.
We are committed to being an environmentally responsible business and are continually looking for new ways to improve our environmental efforts and practices. We look forward to sharing Glacier National Park with guests for generations to come. Join us in our support of the National Park Service, the United States Forest Service, and the surrounding communities in our collective efforts to preserve and conserve the Crown of the Continent Ecosystem.
Second: Swan Mountain Outfitters
One of our favorite locally owned businesses in the area. In fact, if you ever thought about doing our Raft And Ride adventure, Swan Mountain Outfitters provides the Glacier National Park trail ride portion of that combo trip. This family-owned business has been operating in around the Flathead Valley since 2004.
Swan Mountain Outfiiters also owns and operates The Crown of the Continent Discovery Center, our neighbors to the northeast, directly across from us on highway 2. The Discovery Center features a coffee & spirits bar, ice cream parlor, gift and outdoor gear shop, information and activity booking center and horseback riding corral. Additionally, and perhaps most importantly, they focus on Geo-Tourism, What is Geo-Tourism, you ask? The National Geographic Society defines it as "tourism that sustains or enhances the geographical character of a place—its environment, culture, aesthetics, heritage, and the well-being of its residents." Read more about the benefits of Geo-Tourism here.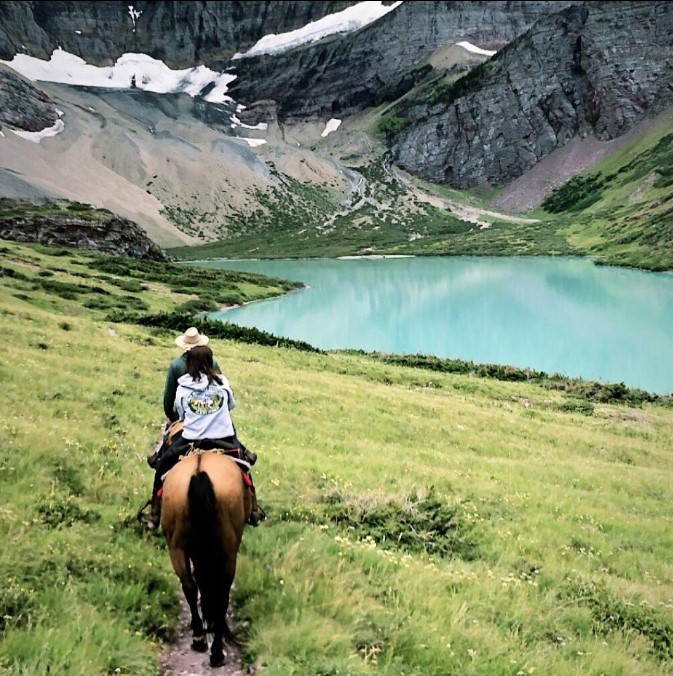 Third: Glacier Distilling Company (and Josephine's Speak Easy)
Glacier Distilling Company is a wonderful place full of amazing people. The red whiskey barn screams "Montana Locals" and their spirits are original and fun. They have tastings Thurday through Sunday, no reservations required. In the summer months, join them for guided distillery tour and tasting, learn about their journey and how they come up with their delicious concoctions . Some of our favorites are Bearproof Huckleberry Whiskey — Pro tip: When in Montana, get your hands on all things Huckleberry — Hungry Horse Rum and their dry gin mixed with botanicals and local spruce tips.
The other side to this business is Josephine's Speakeasy, open in the summer with occasional events throughout the winter. Here you can find hand crafted cocktails featuring the spirits from the distillery down the hill (literally, just down a hill) and flavorful small bites. We think it's the perfect place to stop on your way back to Columbia Falls after joining us for a rafting, hiking, fishing or biking trip.
The distillery is open 12pm-8pm everyday from May 1st to October 15th and 12pm-6pm Thursday through Sunday after October 15th. How their business came into existence is a fun read, but we will let them tell you about it.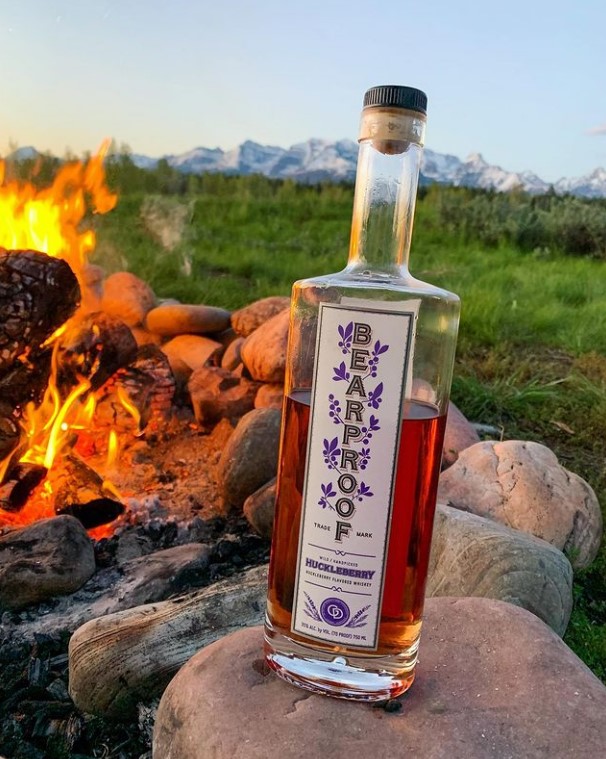 Fourth: Eddie's Cafe and Mercantile
Eddie's Cafe and Mercantile is family owned, operated and has been in Glacier National Park for over 60 years. If you've ever been to Apgar, you've probably seen or been to Eddies, smack dab in the center of town sporting a giant ice cream cone. This is the perfect spot for that double scoop on a hot day, some souvenir shopping, a pit stop for a bite to eat or simply just to enjoy a cocktail on the deck whilst taking in epic views of Lake McDonald. Eddie's Cafe is a staple on Glacier's west side and a must-stop for many visitors. Our favorite cone is a scoop of Huckleberry Heaven. (See above about always going for the huckleberry)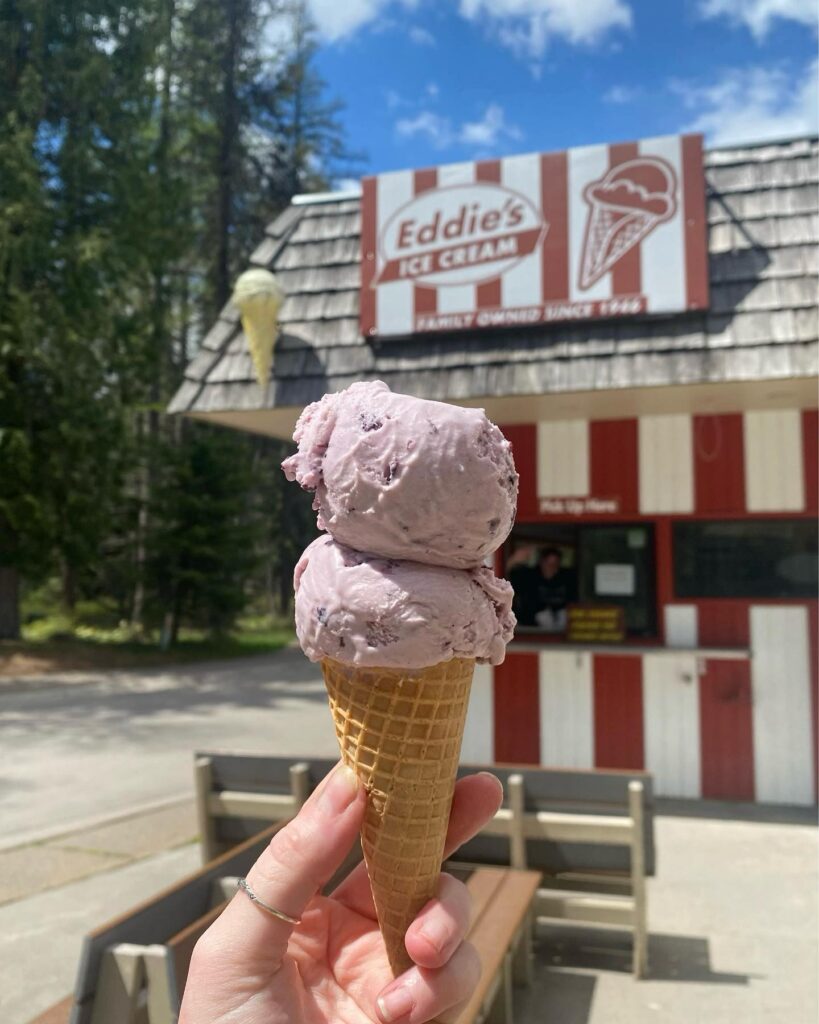 Fifth: Glacier Park Boat Co.
Glacier Park Boat Company dates back to 1938 when a banker in Kalispell purchased a contract to provide boat services in Glacier National Park. The business has been passed down and has remained in the same family for 75 years (and counting!) They offer tours in all areas of the park on historic, wooden boats dating back to 1926. On top of it all, they use ecologically sound practices and are a carbon neutral company in an effort to ensure Glacier National Park remains The Crown Jewel of the Continent.
Take a trip on the oldest boat in the fleet, The Sinopah, on Two Medicine Lake. While on the boat, learn about Glacier National Park and The Blackfeet history surrounding the Two Medicine area. At the head of the lake, you can decide to go on a self guided tour or join a Glacier Park Boat Company guide to Twin Falls, then catch another boat back to the dock later in the day.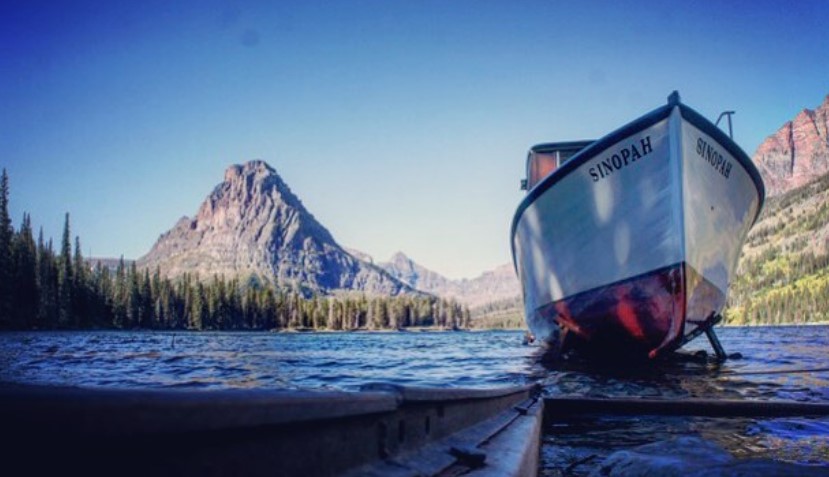 BROWNING, ST. MARY, EAST GLACIER, BABB:
We would never forget our friends down the highway. There are also so many amazing local businesses with the same ethos as Glacier Guides and Montana Raft that we highly recommend to anyone visiting.
Sixth: Sun Tours (East Glacier Park Village)
Sun Tours has been providing Blackfeet Interpretive Bus Tours through Glacier National Park for 30 years. In fact, they're the ONLY Blackfeet Cultural Interpretive Guide for GNP. The company came to be in 1992 and became an official Concessioner for Glacier National Park in 1993.
Though they are based in East Glacier, they do tours starting at both the St. Mary Visitor Center and Apgar Visitor Center. Riding in one of their comfortable busses with endless Blackfeet Culture and Glacier National Park interp is, in our opinion, one of the best ways to spend an afternoon. If you'd like to book for a large group or something with just your friends and family, they offer custom tours ranging from 4 to 8 hours depending on where your group wants to go. Our recommendation is the full day tour beginning at Izaak Walton Inn in Essex, MT. Not only do you get the opportunity to explore the historic hotel on your own before taking off, but you'll drive along Hwy 2 with the Middle Fork of The Flathead River out your window, making your way towards the St. Mary Entrance.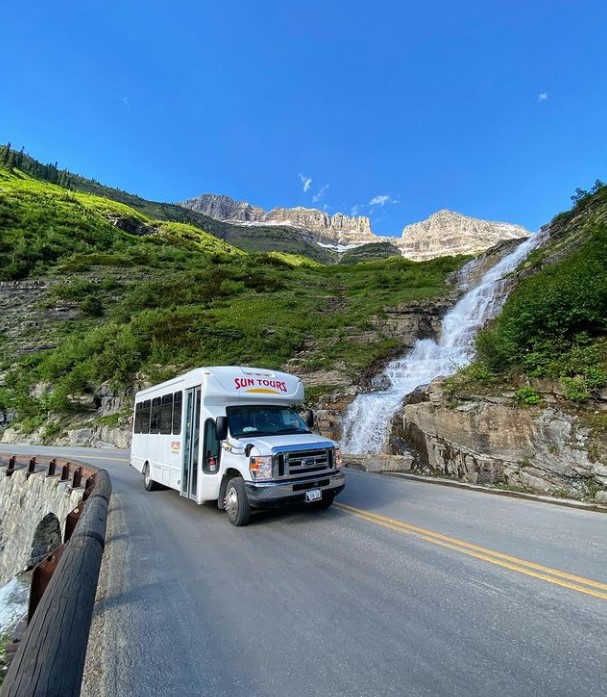 Seventh: Johnson's of St. Mary
Now this is a place with some serious history and is dubbed "World Famous" for good reason. Johnson's of St. Mary is the best local joint serving up delicious food, providing stay in some sweet little cabins, a camground, an RV Park and offers a pavillion rental. The views from their hilltop property are gorgeous and they're convenient to the St. Mary Entrance of Glacier National Park. When dining with them, try their Johnson's Famous Huckleberry Ice Cream Pie (again with the huckleberry). They're a place with another rich history, give it a read here to find out what makes Johnson's of St. Mary so special.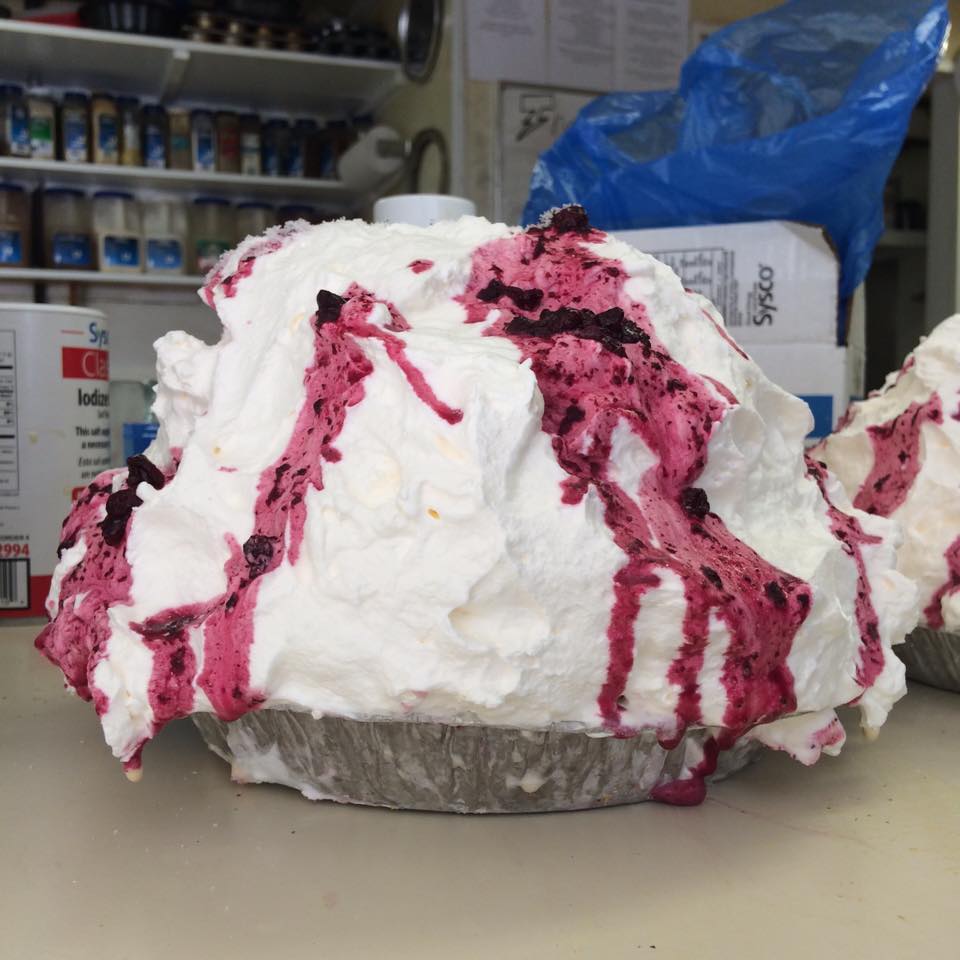 Eighth: Park Cabin Company
Park Cabin Company, located in beautiful Babb, Montana, broke ground in 2017. Their history began when they were kids, traveling to and falling in love with Glacier National Park. They've called Babb home for several years now and welcomed their first guests in 2018.
The cabins are quiet, quaint and a quick 20 minute drive to the Many Glacier entrance to Glacier National Park. They're also environmentally conscious whereas 90% of their energy needs come from onsite solar arrays. Gather your friends or family and rent out the historic Chief Mountain House. This cabin was originally built as a lodge for guests of the Park Saddle Horse Company on the -X6 Ranch. The cabin was recently restored but the interior maintains a rich history and rustic mountain charm. You can rent that cabin on VRBO.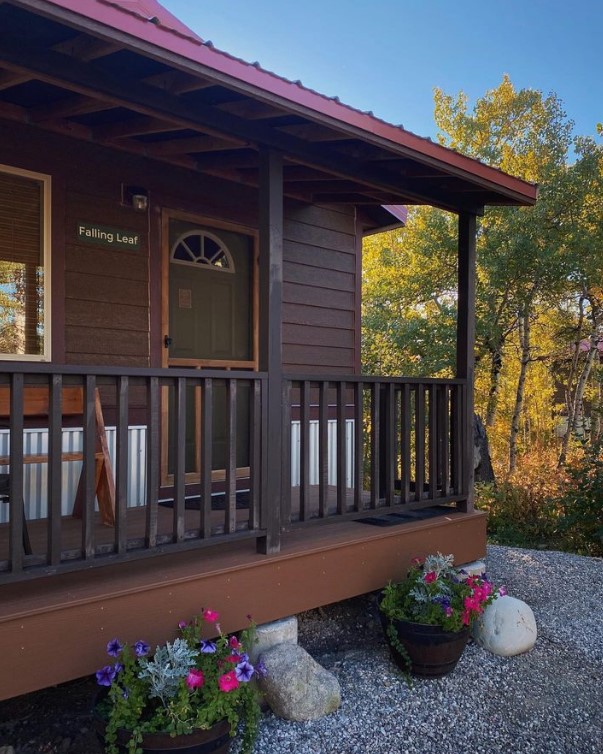 POLEBRIDGE:
Ninth: Polebridge Mercantile & Bakery (Polebridge, MT)
On the Northwest part of Glacier National Park's border is the quaint town of Polebridge, Montana. If you've heard of Polebridge Mercantile & Bakery, you've probably seen their mouth watering huckleberry bearclaw pastries (cue the huckleberry talk). This place has been a staple since 1914 and every sweet/savory bite they create is nothing short of magical.
The drive there is about an hour on The North Fork Road. Be prepared for a long dirt road and a bit of traffic. Just like anything worth visiting, though, the journey is half the experience. You'll take in gorgeous views of The North Fork River and catch glimpses of Glacier National Park.
If you've got the time, a hike to Bowman Lake or Kintla Lake is always worth it. We recommend hitting up Polebridge Merc beforehand for all your trail treats. When your hike is done and you're looking to unwind, complete your trip with The Northern Lights Saloon. As the owners like to say: No cell service, no electricity, no internet, no worries. Surround yourself with gorgeous views, good food and a cold brew.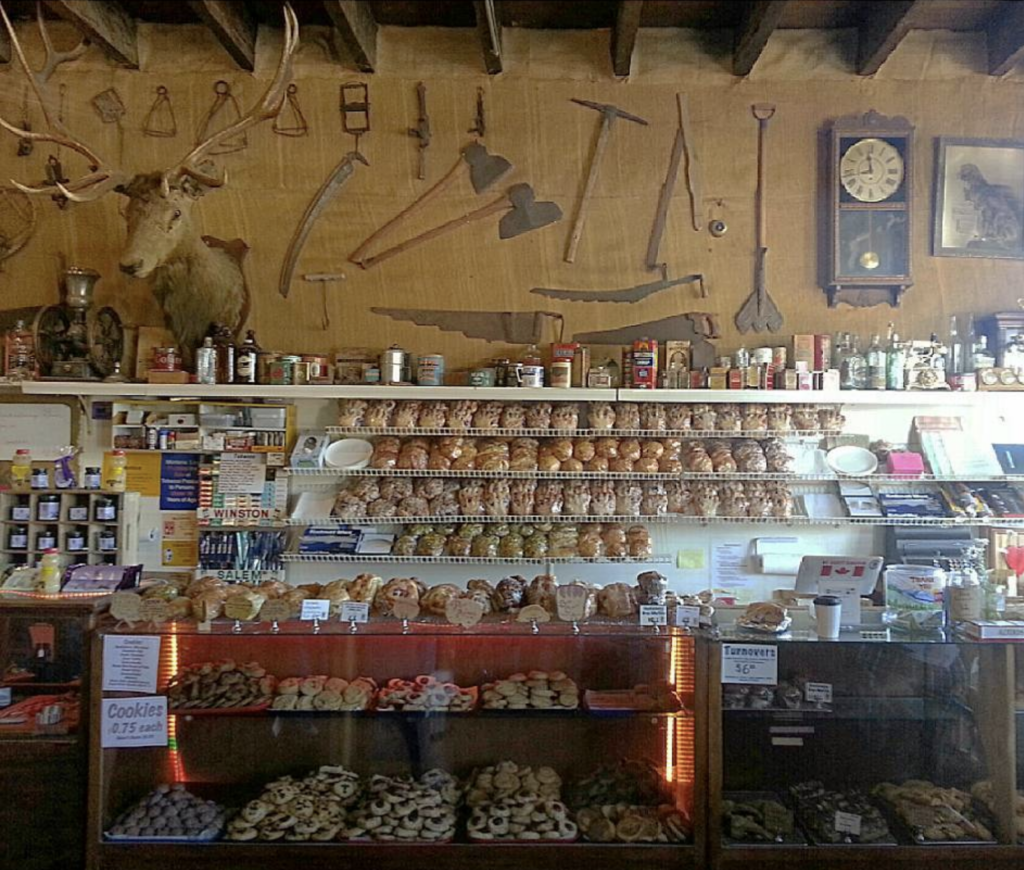 CANADA:
Tenth: Waterton Shoreline Cruise Company (Waterton)
Let's take a journey and visit our neighbors to the north — Waterton, Canada
Waterton Shoreline Cruises is a small family-owned tour boat company in Waterton Lakes National Park. They offer informative and entertaining sight-seeing tours of Upper Waterton Lake. They also provide a shuttle service to the remote Crypt Landing. These guided tours are a great chance to cruise Waterton Lake, learn about the wildlife, natural resources and the park. One of their many amazing options takes you to the Montana Border from Canada and lasts about an hour. As per most tour guides and outfitters in this region, their season lasts from early May to early October.
Along with their traditional scenic cruise, they also offer a historic cruise to Goat Haunt. This 2 hour and 15 minute cruise will land at the Goat Haunt Ranger Station. (This was the previous historical cruise last offered in 2018 prior to the closure of the Goat Haunt Ranger Station.) This cruise option would also include a 30 minute stop at the Goat Haunt Interpretive Centre on the U.S side of the lake, allowing guests to stretch their legs and explore this tranquil backcountry ranger station. No passports are required unless passengers plan to stay longer than the 30 minute stop and intend to hike at or from the Goat Haunt Ranger Station. If planning to hike, passengers would require a passport and would have to clear U.S Customs. Waterton Shoreline Cruise Co can also pick-up day hikers at a later departure time as well as backpackers and/or hikers that require a one-way ticket back to the Waterton town-site should they desire transport.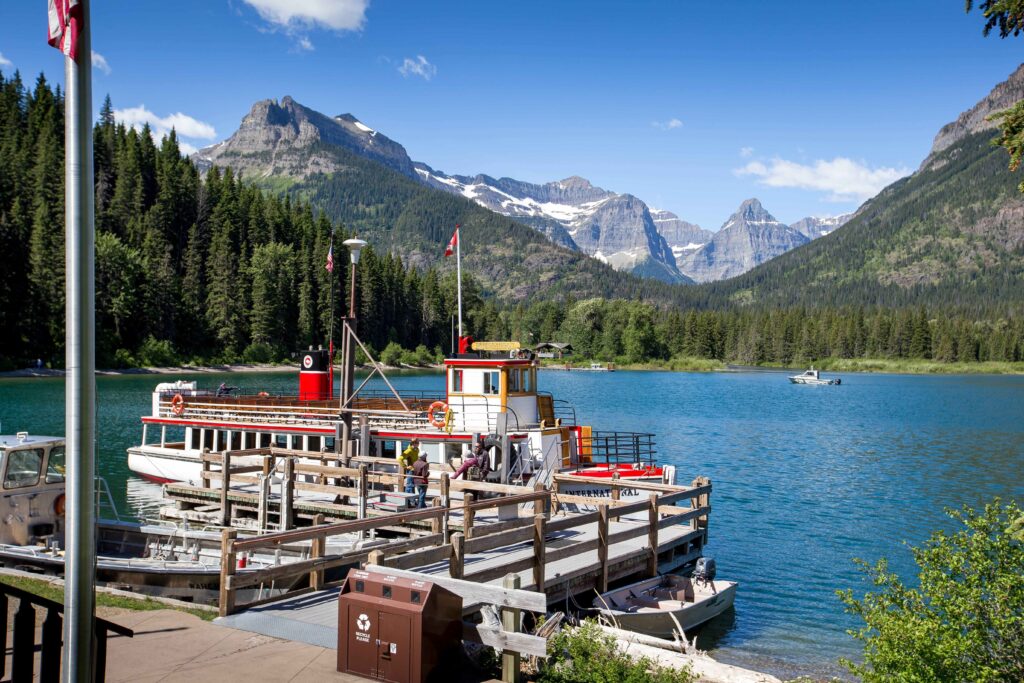 If you're looking for local in Columbia Falls, Whitefish or Kalispell, here's a few spots to try.
Columbia Falls: Backslope Brewing or Lary's Fly & Supply.
Whitefish: The Buffalo Cafe or Firebrand Hotel
Kalispell: KM Bar or Snappy's Sport Senter
Questions about planning your Glacier National Park vacation? From rafting, hiking, fishing, biking, lodging, equipment rentals, shuttles, and more – we can help. Check out our website or use the form below to ask us for help planning your adventures.
p.s. we've written lots of Glacier itineraries over the years — so many ideas for you! You can subscribe to our blog here.