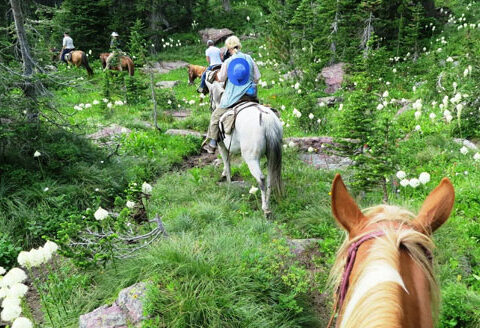 Ride & Raft Adventure
Let's Raft & Ride!
Welcome to Montana! Let's raft rivers and ride horses – you can do both on the same day, or split up these activities over the course of your vacation.
For horseback riding in and around Glacier National Park we recommend our fellow Glacier National Park concession partner, Swan Mountain Outfitters. Their West Glacier corral is right across the street from us, at the Crown of the Continent Discovery Center. You can also choose to ride at the Apgar, Lake McDonald, or Many Glacier corrals. Learn more about the different rides out of these areas below and on Swan Mountain's website.
Ride and Raft Key Points
No experience necessary for rafting or riding.
Weight requirements for horseback riding are here, but generally riders must weigh 225 pounds or less.
Minimum age for horseback riding is 7 years.
For rafting, no maximum weight, but must be able to buckle a 58″ chest life jacket.
Minimum age for rafting varies with river flows, but Scenic Floats are typically available for rafters age 3 and up, and Whitewater Adventures are typically available for rafters age 5 and up.
Horseback riding duration: approximately 2 hours.
Rafting duration: about 3 hours, although the length of the rafting trip depends on the river flow. In June through early July, trips last about 2.5 hours. Mid-July through early August, about 3 hours. Mid-August through the end of season, approximately 3.5 hours.
Restrooms, Gear + Gift shop, WiFi, and volleyball are all available on our campus for your pre and post rafting entertainment!
Trips depart rain or shine.