The Highline Trail in Glacier National Park
Hike Profile
If expansive vistas and alpine meadows excite you, look no further than the Highline Trail! This trail traverses the western side of the Continental Divide, the glacially carved ridge that divides our continent'ss watersheds. This trail is characterized by gentle ups and down, until the final steep switchback up to Haystack Pass. There is plenty of high alpine exposure on this hike, so be sure to bring sun, wind, and rain protection.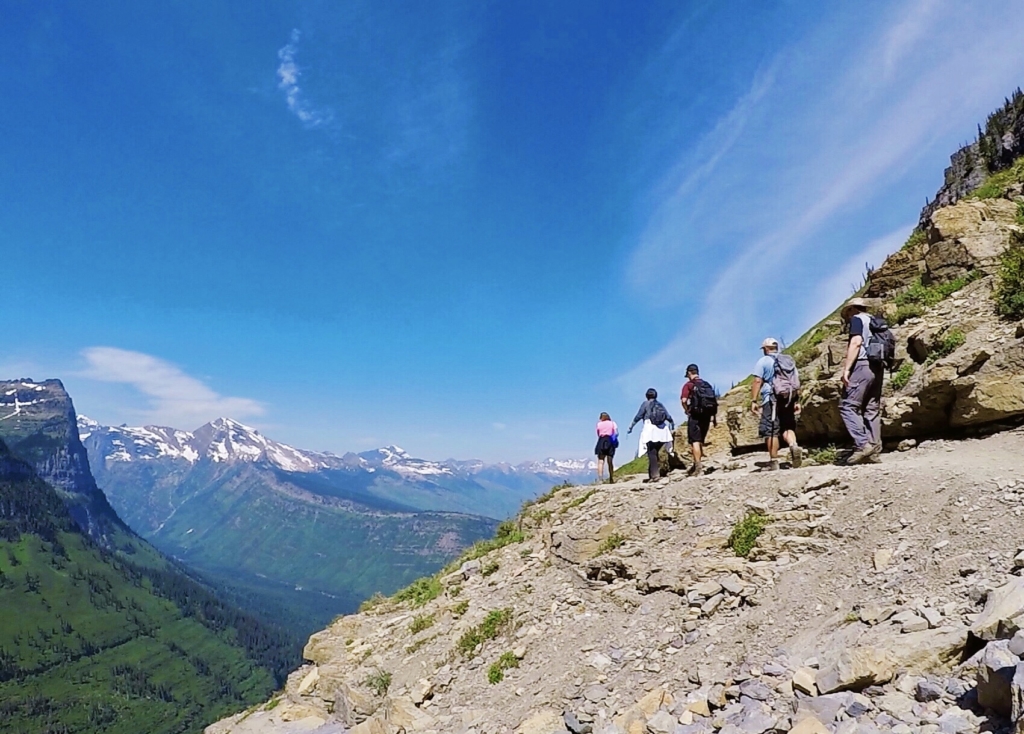 Glacier Guides Difficulty Rating: Moderate.
Elevation Gain: 624 ft. (190 m).
Elevation Loss: 253 ft. (77 m).
Mileage: 7.2 miles (11.5 km) round trip from Logan Pass to Haystack Pass. If you would like a more strenuous hike, continue down the Highline Trail to Granite Park Chalet (15.2 miles out and back), or all the way down to The Loop trailhead (11.8 miles total).
Hiking Time (estimate): Allow 2 ½ -3 hours to reach Haystack Pass, 1 hour for lunch, and 2- 2 ½ hours to return.
Highline Trail in Glacier Logistics
Trailhead: Highline Trail via Logan Pass (6,647 ft.)
Bathrooms: Logan Pass Visitor Center. There are additional bathrooms at the Granite Park Chalet if you choose to continue beyond Haystack Pass.
Water: There is a potable water fountain between the bathrooms at the Logan Pass Visitor Center. There are not many opportunities to filter water on the Highline Trail, especially in late season. Carry at least two liters of water per person!
Parking: Logan Pass parking lot. Take the shuttle or plan to grab a parking space early — the parking lot often fills by 8am in the summer.
Travel Time/Distance: 1 hour and 15 minutes/32 miles from Glacier National Park's west entrance. Traveling from the east entrance at St. Mary, 40 minutes/18 miles.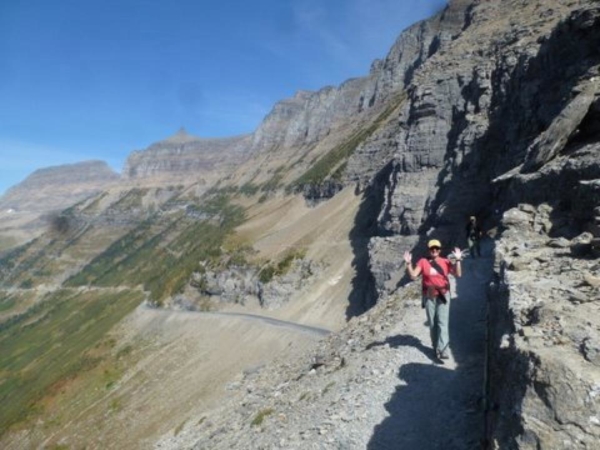 Hike Description
The hike to Haystack Pass begins from the Highline Trailhead, located across the Going-To-The-Sun Road from the Logan Pass parking lot. Logan Pass is the epicenter of Glacier National Park, sitting at the highest point of the Going To The Sun Road at 6,647 ft. The Highline Trail is an extremely popular hike, so do not expect solitude, and be sure to pack your patience. You will likely pass and be passed by other hikers many times on this hike.
Less than one-quarter of a mile from the trailhead hikers will reach a cliffy stretch that the National Park Service has installed a hand cable along. This segment lasts for only three-tenths of a mile, however it is four to six feet wide in most areas. If you or someone you are with has a fear of heights, this may not be the hike for you.
Pikas and the Pleistocene
After the cliff section of the trail, you will walk through a small scree field. This is excellent pika habitat—listen for their chirps! These small members of the hare family do not hibernate. Instead, they work all summer to gather a reserve of 30 plus pounds of grass to survive the 9-month winter.
The valley below is a classic "U-shape," formed by glaciers starting two million years ago during the Pleistocene Ice Age. These glaciers were more than a mile thick, rising to the peaks of the westward mountains across the valley including Mt. Cannon (8,952 ft.), Mt. Oberlin (8,180 ft.), and Heavens Peak (8,987 ft.).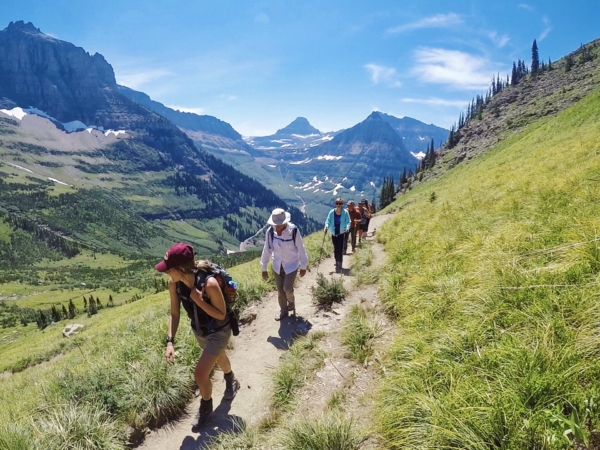 The trail continues to weave in and out of subalpine fir forests. In early summer beargrass lines the meadow sections of trail. Although grizzly bears do not eat this member of the Lily family, they have been known to use the leaves to pad their dens during winter hibernation.
Roughly three miles from Logan Pass, take a break at the large boulders just before the final climb to Haystack Pass. These boulders contain excellent stromatolite formations, which are ancient cyanobacteria fossilized in 1.5 billion year old limestone and dolomite rock. Stromatolites formed in the bottom of an ancient shallow, warm body of water known as the Belt Sea. These early forms of cyanobacteria are partially responsible, through photosynthesis, for the oxygen rich atmosphere we breathe today.
Arriving at Haystack Pass
At 3.6 miles, after climbing 275 feet up one sweeping switchback, hikers will reach Haystack Pass (7,024 ft.). The pass forms the saddle between Haystack Butte and the southeastern flank of Mt. Gould. With its panoramic views, Haystack Pass is an ideal spot for a lunch break. Keep an eye out for alpine animals, such as big horned sheep and mountain goats, which feed on the leafy green meadows above. If you are still feeling energetic and have ample water, consider continuing to the Granite Park Chalet. Otherwise, return to Logan Pass from the direction that you arrived, enjoying an alternative perspective of the high alpine vistas.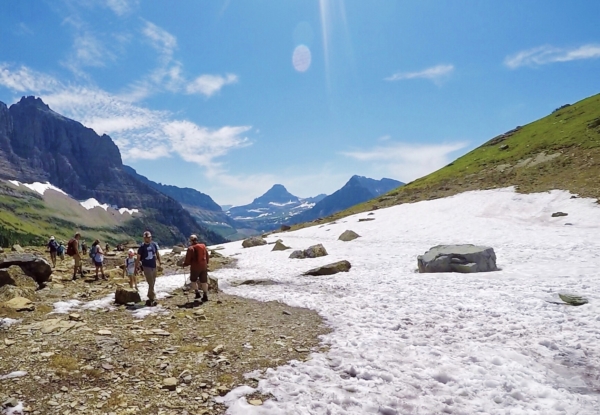 Let's Hike the Highline Trail in Glacier National Park!
If you'd like to go on the Highline Trail in Glacier with an interpretive guide, we'd love to take you! In July and August, we hike there every Tuesday.
Headed down the Highline Trail on your own? Be sure to check Glacier National Park's Postings and Closures and Trail Status Reports before you go. Keep in mind that this section of trail doesn't typically open until around July 1 every year, due to lingering snow. Be prepared and have fun out there!
–Compiled by Guide Sara Edwards
–Photos by Hailey Leishman