3 Day Sperry Chalet Tour in Glacier National Park
---
Dates are set to be announced in early January, 2024
BE THE FIRST TO KNOW ABOUT CHALET DATES
---
Meeting Time: 6:30 AM
Trip Duration: 3 Days
Difficulty: Moderate, Family Friendly
Minimum Age: 10
Description
---
Our Sperry Chalet Hut Hike showcases the very best of what Montana, Glacier National Park, and Glacier Guides and Montana Raft has to offer.
For 3 glorious days, you'll hike in the backcountry and listen and learn while your interpretive guide points out all the details that make Glacier extra special. We ride horses to Sperry Chalet* on the first day allowing us to take in the gorgeous morning views. (Horseback ride is optional see below for more details.) At Sperry Chalet, you'll enjoy delicious, home cooked meals. Each night enjoy the crisp feel of real sheets while being miles from any road. Don't forget to peek out of your window to take in Glacier's internationally designated Dark Skies. When hiking back out from from Sperry Chalet on the last day your daypack will weigh approximately 20 pounds. You will be responsible for carrying your clothing and miscellaneous gear (i.e. 2 water bottles or 1 Camelbak or similar hydration pack), lunch, raingear, and optional items like camera, binoculars, sunscreen, etc.
We take care of all the details, so you can relax, enjoy the mountain views, get the best shot with your camera, and experience the Glacier's backcountry. Explore the habitat of mountain goats, big horn sheep, grizzly bears, moose, mountain lions, and golden eagles while hiking to mountain passes. Let us give you the opportunity to hike to and touch Sperry Glacier, one of the largest remaining glaciers in the park. You'll spend 2 nights at Sperry Chalet and will get to enjoy its legendary hospitality and friendly service.
All meals are included from lunch on day 1 to lunch on day 3.
Want to see Granite Park and Sperry Chalets? Check out our Ultimate 6 Day Chalet Tour!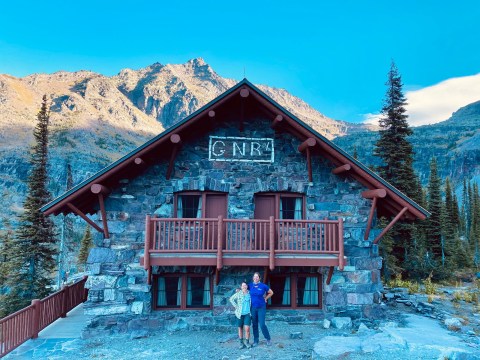 Sperry Chalet Itinerary
---
Day 1:
Meet at 6:30 AM at our office in West Glacier. We ride horses to Sperry Chalet*, allowing us to take in the gorgeous morning views. In the afternoon, enjoy the option to day hike to Lincoln Pass. From there, we'll soak up staggering views of Mt. Jackson, one of the largest peaks in Glacier National Park. The mileage to Lincoln Pass and back is 2 miles. Afterwards, enjoy the full service dining room. Finally, we'll spend our first night at the Chalet.
*Riding horses up to Sperry, as its first guests did, is an amazing Montana experience. However, for our guests who prefer to hike, that's always an option, and one of our guides will be with you! Be advised that it is a steep, strenuous hike up to the Chalet. Approximately 6.7 miles and 3,360 feet in elevation gain. You'll be carrying a daypack weighing about 20 pounds.
Day 2:
After breakfast at the Chalet, day hike up to Comeau Pass and Sperry Glacier. View the glaciated, scoured affects of Sperry Glacier – you will have the opportunity to touch the glacier itself! The trail to Comeau Pass rises 1,600 feet over 3 miles. It's a challenging hike, but well worth the effort. Return to a delicious dinner and our final night at Sperry Chalet.
Day 3:
Today, hike 6.7 miles back down to Lake McDonald through a diverse cedar forest. Explore and sight see beautifulLake McDonald Lodge and return around 4 p.m. to West Glacier.
Facilities at Sperry Chalet
---
This is an off-grid backcountry hut. No electricity, no showers.
The restroom facility is located outside. It features flush toilets and sinks for washing up. No baths or hot water are available.
Drinking water is available.
Sperry Chalet has a full service dining room with sit-down dining and wait staff.
The sleeping accommodations are about 200 feet from the main chalet. The rooms are hostel-style furnished with single beds and accommodate 2 to 4 people.
For Glacier Guides and Montana Raft chalet guests, your family unit is the unit you are traveling to Montana with – you will not share rooms with anyone else on a Glacier Guides tour of the chalets.
Linens are provided.
Flashlights or small battery lamps are recommended for night use in your room.
Meeting Notes: Guests should call our office the day prior to departure at 406-387-5555 to check-in. The day of the trip, you should arrive at our office at 6:30 AM to meet your guide. Click on directions for how to find us.
Want to see Granite Park and Sperry Chalets? Check out how to book the 2 chalet trips back to back to make it the Ultimate 6 Day Chalet Tour!
Learn More About The Glacier National Park Chalets
---
Interested in learning more about the Glacier National Park Chalets? There were once 9 chalets in the park that predated the Going to the Sun Road. Today, only 2 remain in service as chalets: Sperry and Granite Park. The Two Medicine Chalet is now a camp store. Here's a list of good reads about the chalets: