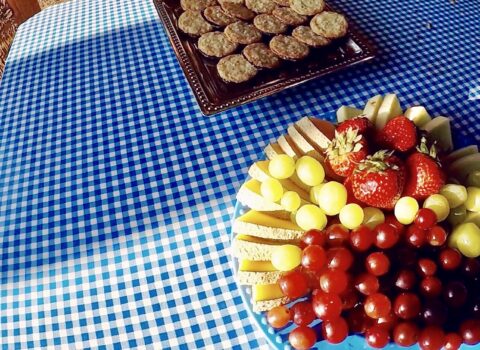 Half Day Whitewater Rafting Glacier National Park Trip with Dinner
About this Trip
Enjoy our Half Day Glacier Park whitewater rafting dinner trip on the Middle Fork of the Flathead River, followed by an amazing homemade meal. Our guests often comment that our dinner whitewater adventure is the best kept dining secret in West Glacier, and that they feel like they were invited over to a friend's house for a cookout! We have a wonderful kitchen staff that prepares all our food. We try to use locally sourced and organic items whenever possible.
Book Now
Pricing
Adult Price: $113
Child Price: $93 (5 years-12 years)
Other Price: Includes Rafting and Dinner. Does not include 8% River User Fee or gratuity.
Guide Tip: Industry rate is 18-20% (not included in price). Please note that guide gratuities are shared with our talented kitchen and support staff.
Specials
Plan Your Trip
Trip Times
Dates: Daily between June 15th and September 7th.
Times: 3:15 pm until July 25th. 2:15 pm starting July 26th
What To Bring
You're gonna get wet, and it's gonna be fun! We have all of the safety gear that you'll need. View our packing list to find out what to bring.
View Packing List
Safety First
Safety is always the #1 priority. Guides undergo training in river rescue techniques, first aid, and more. Many guides return year after year. If conditions call for wetsuits and river shoes, or if you would prefer to wear splash gear, it is always available at no extra cost. Helmets are mandatory.
Additional Trip Details
What's For Dinner?
Entrees include Montana 6 oz petite steak, 6 oz wild caught salmon filet, 8 oz chicken breast, or housemade vegetarian options like zucchini boats. Please be sure to let us know in advance which protein choice you prefer.
In addition to your choice of entree, you'll enjoy appetizers like homemade cream cheese with crackers, chips and salsa, veggies with dips, and fresh fruits; fresh green salad; sides such as beet, tomato, potato, pasta, or quinoa salads; and mouthwatering desserts like cheesecake with a homemade berry sauce, decadent huge brownies, or freshly churned strawberry ice cream. Dinner does not include alcoholic beverages, but you're welcome to bring your own. Lemonade and water are always available.
Let's Go Rafting!
Paddle and become part of the crew that maneuvers the raft through the 9 named rapids by following the simple commands of the guide. Or, if you'd rather sit back and relax on this federally protected Wild and Scenic River, that's fine, too! The trip winds about 8 miles through the John F. Stevens Canyon. The rapids are typically rated class II and III, making for a fun and splashy whitewater rafting adventure!
After your Glacier Park whitewater rafting dinner trip you'll return to our campus. There, you'll have time to change into some dry clothing. Be sure to take a minute to check out the pictures taken of your boat in the rapid called Bonecrusher. Then, it's time for dinner!
More Glacier Park Whitewater Rafting Dinner Trip Info
Arrive at 30 minutes prior to departure to meet your guide and get fitted for lifejackets, helmets, and any other necessary equipment. If you have an epi-pen or other medication, your guide can stow it safely for you in a dry bag. Next, take a short bus ride — approximately 20 minutes — to the river put in. Your guide will launch the boat there and you'll be floating down the stunning Wild and Scenic Middle Fork of the Flathead River!
The trip starts off on a mellow section of the river, giving you plenty of time to learn to paddle and to adjust to being on the water. The rapids come towards the end of the trip, and photographs of each boat are taken in the rapid called Bonecrusher. Float under Glacier National Park's historic Belton Bridge towards the end of the trip. Your guide will take the raft out of the water in West Glacier. From there, it's a 5 minute bus ride back to where you started.
The length of the trip depends on the river flow. In June through early July, trips last about 2.5 hours. Mid-July through early August, about 3 hours. Mid-August through the end of season, approximately 3.5 hours.
No experience necessary.
No maximum weight, but must be able to buckle a 58″ chest life jacket.
Trips depart rain or shine.
Age Limits: Minimum ages for children will depend on the flow of the river, but generally speaking, there is a rafting trip for every age and ability between 3 and 103! Ages 3 and up for our scenic trips. Minimum age of 5 and a minimum weight of 50 pounds for our whitewater trips.  These minimums may be higher if the river levels are higher, as they often are in the early summer. Be sure to call the office to inquire: 406-387-5555 or info@glacierguides.com