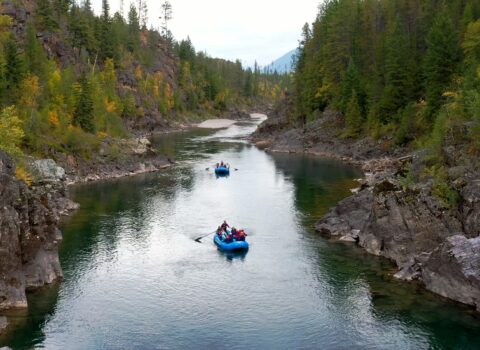 Scenic Float Glacier National Park
About this Trip
Now taking reservations for 2024!
Enjoy a Scenic Float in Glacier National Park! Experience the Flathead River. Relax and rejuvenate on this calm, peaceful stretch of river with our friendly, interpretive river guides. Make memories to keep for a lifetime! This rafting experience is appropriate for nearly all ages and abilities.
This Glacier National Park rafting trip will take you down the scenic section of the Middle Fork of the Flathead River, from West Glacier to Blankenship Bridge. This river forms Glacier National Park's southwestern border. If you would like to explore this gorgeous Wild and Scenic designated river, but are not interested in a whitewater adventure, then this mellow Glacier National Park Scenic Float Trip is for you! Learn more about Glacier Park, historical and cultural considerations, flora and fauna, environmental concerns, river ecology, and much, much more. Soak in gorgeous views of Glacier National Park from its stunning Wild and Scenic border river, the Middle Fork Flathead.
Book Now
Pricing
Adult Price: $81.00
Child Price: $61.00 (3 years-12 years)
Other Price: 8% River User Fee and guide tip not included.
Specials
Plan Your Trip
Trip Details
Difficulty: Easy, Family Friendly
This trip happens daily between the dates of May 7th to October 15th.
Times:
10:45 AM offered May 26th through September 14th.
3:00 PM offered May 13th through September 14th.
2:15 PM offered daily September 15th to the 30th. Mondays, Thursdays and Saturdays October 1st through October 14th.
Trip Duration: Approximately 1.5 to 2.5 hours depending on time of the season.
What To Bring
You're gonna get wet, and it's gonna be fun! We have all of the safety gear that you'll need. Read on to find out what else to bring. Hint: not much, and nothing you can't be parted from.
View Packing List
Safety First
Safety is always the #1 priority. Guides undergo training in river rescue techniques, first aid, and more. Many guides return year after year. If conditions call for wetsuits and river shoes, or if you would prefer to wear splash gear, it is always available at no extra cost. Our Scenic Float Trip has a minimum age of 3 years old.
Please note that during spring runoff, i.e. in May and early-mid June, wetsuits may be required on scenic floats. It's always a good idea to bring a bathing suit with you to wear under a wetsuit.
What To Expect On A Scenic Float
Arrive at 30 minutes prior to launch to meet your guide and get fitted for lifejackets and any other necessary equipment. If you have an epi-pen or other medication, your guide can stow it safely for you in a dry bag. At launch time, take a short bus ride — approximately 5 minutes — to the river put in. Your guide will launch the boat there and you'll be floating down the stunning Wild and Scenic Middle Fork of the Flathead River!
You'll pass through a steep, walled canyon. Views from river right are of Glacier National Park. A highlight is passing through where the Middle and North Forks of the Flathead River come together to form the southern tip of Glacier National Park. Your guide will take the raft out of the water just past the confluence, at Blankenship Bridge. From there, it's about a 15 minute bus ride back to where you started.