Sperry Chalet Rebuild
Normally, I don't write blog posts for Glacier Guides and Montana Raft in first person. But this one, about the Sperry Chalet rebuild, is personal. On Saturday, I went and paid my respects to Sperry Chalet. First, some background.
When Dinosaurs Roamed Sperry
Back in the 70s, my mama had a college roommate who worked in Many Glacier. This roommate returned with tales of turquoise lakes and sparkling waterfalls that my mother never forgot. In 1989, she and my dad deemed us old enough for our first trip "Out West." I was 9, and my brothers 7 and 5. The idea was to see Yellowstone and Glacier first, and then other national parks, like Yosemite and Zion, in the summers to come.
For the record, I have yet to see Yosemite and Zion.
After the Dinosaurs But Before The Internets
After that first amazing summer of '89, our childhood winters were spent pouring over topo maps and reading guide books about Glacier. After all, this was before the internet was really a thing. We made summer goals, which got bigger as we got taller and stronger and faster. We started small. Virginia Falls. Hidden Lake Overlook. Avalanche. The classics.
And then, bigger: Iceberg Lake. The Highline. Piegan Pass. Ptarmigan Tunnel.
Bigger still: Dawson-Pitamakan. Swiftcurrent Pass. Backpacking trips.
But not Sperry.
The First Sperry Chalet Rebuild
After the summer of 1992, Sperry Chalet was closed to the public as it underwent much needed renovations.  Sperry had been on a list of family goals that my brothers and I weren't big enough for before 1993. After all, hiking up from Lake McDonald to Sperry involves almost 3,500 in vertical elevation gain, and 6.4 miles – one way. But sometime between 1992 and 1999, we decided we had to see it, closed or not.
I don't remember exactly which year of that Sperry Chalet rebuild it was, nor the fairly challenging hike up — it's amazing how much of the hard part of hiking one tends to forget. But I do have a vivid memory of sitting on Sperry's stone porch, surrounded by mountain goats, my brothers and parents, and by silence. Despite those self-absorbed teenage years, and despite Sperry's dilapidation at that time, she still had an imposing presence, and commanded respectful silence. I called her a Grand Lady in the blog post I wrote shortly after her main dormitory building burned down last summer. And Grand she has always been, as a very young lady with her fine china, Chinese linen, and running water, and as a very old lady, a National Historic Landmark in her own right.
On Climbing in Glacier
By the time the Sperry Chalet rebuild wrapped up in 1999, I had left family summer vacations behind. I was in college, working at St. Mary Lodge, which itself rose from the ruins of the St. Mary Chalets. Living in a dorm with 13 other young women at the end of the Going to the Sun Road, I now had a different list of summer goals. They all stemmed from my dogeared copy of The Climber's Guide to Glacier by J. Gordon Edwards. This tome was the authority on climbing in Glacier at that time, circa 2000, and its ambiguities only added to the adventure.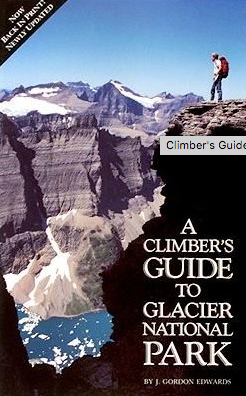 "Below the permanent snowfield shaped like South America, head north into the dry gully," I remember one passage reading.
Well, that had been written about 50 years before I started bagging peaks in the park and was probably my first introduction to the concept of global warming, though I didn't know it then. That snowfield had long since ceased to look much like South America, and I likely didn't know which way was north back then, anyways. But that was part of the fun: route finding, discussing options with buddies, and all of the camaraderie that comes from problem solving in the woods. Learning who to trust and who not to. I could be trusted to show up with a map and a whole huckleberry pie for summit consumption. Finding true north, not so much.
Sperry At the Turn of the Century
At any rate, after the 1990s Sperry Chalet rebuild, my new friends and I decided to hike from the Going to the Sun Road to Gunsight Lake, up and over magical Gunsight Pass, down to Lake Ellen Wilson, up Lincoln Pass, and down to the Chalet. It was a sunny afternoon in late July, and I remember that the staff at Sperry was busy checking in overnight guests. They still had time to offer us smiles and cold lemonade, of course. Sperry's hospitality was then and is now legendary.
My friends and I bought cookies and rested on the rocks. It was busy, but peaceful, and I was struck by Sperry's quiet grandeur, just as I had been when she was closed.
How amazing, I remember thinking to myself, that anyone with enough strength to hike or ride a horse up from Lake McDonald can be a part of this. A wilderness experience, with Comeau Pass and Sperry Glacier, tucked just above the Chalet, calling for exploration the next day.  But also a gracious experience, with smiling hosts, linens, eggs-to-order, and delicious sack lunches. The incongruities of it all fascinated me. And the human experience, the Spirit of Sperry as we call it today, was especially engrossing. All around us, strangers were becoming friends at those plain dining room tables and on those stone porches and wooden balconies. All the differences in the ways people love Glacier found commonalities in the fading afternoon light.
Sperry Chalet Rebuild, Take Two
Over the next 17 years or so, I had the great fortune to hike in to Sperry on multiple occasions. Then, more than once, I was lucky enough to be a guest. Sperry's paper thin walls, her lace curtains, and her sturdy metal bed frames, covered in heavy, wool blankets, became my backcountry home in Glacier. The promise of turkey with savory gravy and tart cranberry sauce could power my legs, now older and with thousands of miles on their knees, over a pass more quickly than they otherwise normally traveled. My family and friends gathered frequently at Sperry over the years, some hiking in, and others riding horses up the steep trail.
On Sperry's porches, we made new friends. We celebrated milestones like engagements and graduations. And we also mourned the passing of my youngest brother. He's been dead for 14 years now, and while his absence doesn't get easier to bear, it always seems less complicated in the mountains, and particularly at Sperry, where his 9 year old self once learned how funny mountain goats smell.
Sperry and the Sprague Fire
On August 27, 2016, I spent what was to become my last night at the Sperry Chalet of 1914-2017. Almost exactly a year later, on August 31, 2017, the main dormitory building at Sperry burned in the Sprague Fire.
I tell my children that we should cry over people and pets, and that's about it – not over crushed goldfish or broken toys or only getting to watch one episode of Wild Kratts per day. But last summer, I broke my own rule when I sat on my porch and cried my eyes out after hearing that Sperry had burned. I was certainly not alone. The outpouring of emotion over Sperry's demise was prolific. And to me, that outpouring underlined what's best about the national parks, which are often called our best idea as a nation: the fact that they belong to us all, and that we really do exert ownership over them. The ownership so many felt over Sperry was evident in those emotional weeks after the fire.
The Park Service reacted quickly to this enormous loss and fast tracked the Sperry Chalet rebuild. With help from the Glacier National Park Conservancy, the dormitory's stone walls were quickly stabilized in hopes of keeping them upright through winter. The stabilization worked, and this summer, more stabilization and prep work is ongoing, with major construction slated for next year. We could be staying at Sperry again in just a few summers, if all goes well.
The 2018-2019 Sperry Chalet Rebuild
So, on Saturday, I hiked up to Sperry to see those gorgeous, smoke blackened walls for myself. I felt a little unsteady before leaving the Lake McDonald parking lot. I knew it would be hard to see my Glacier backcountry home burned out and empty.
And it was hard. Those 6.4 miles and 3,360 feet in elevation gain were as hard as ever, and hotter in places, too. Although the trail wasn't nearly as burned out as I expected it to be, it is fairly well torched in places. But there was, of course, the bright beauty that always follows the contrast of a blackening fire: hot pink fireweed, monkey flowers, and Indian paintbrush were everywhere. And there were unexpected surprises, like enormous boulders that fell off Mt. Brown who knows how long ago, that I'd never before been able to see through the thick forest.
Perhaps most surprising of all was the empty trail. I ran into a friend, but she and her friend were the only people I saw the entire morning. It was so quiet as we approached the Chalet's kitchen that I felt like it was 1993 again, and half expected to find a closed sign on the door. But of course, the door swung open and we were greeted by an enthusiastic young woman named Kali, and it was like nothing had ever happened to Sperry. I signed the register and bought every cookie in the place to show my support. Then, I walked up the hill to pay my respects to the grand old girl.
Sperry After the Fire
Sperry Chalet's main dormitory is tucked into the trees and well camoflagued. That has not changed, and it greatly surprised me to see very few burned trees in the general kitchen-bathroom-dorm area. Most are still standing, and still green. The iconic stone walls are blackened in places, and seemingly untouched in others. I thought about the firefighters, and how scary it must've been for them to watch the fire roar up the narrow canyon towards the Chalet. I mourned the missing roofs and porches and paper thin walls and metal beds. My breath caught in my throat, and tears start to sting my eyes, as all my memories flooded over me.
And then, the music started.
Loud, terrible, 80s head banging rock. Simply awful, and the most jarring juxtaposition to the quiet peace of the basin. And suddenly Sperry was transformed into any other construction site in the world, and I laughed as I saw the workers returning from their lunch break and adjusting the volume on their stereo. It was a great moment, and a wonderful transition from the old Sperry to the new, for me.
Know Before You Go
If you're thinking of paying your respects to the old girl, first do a little personal assessment. Are you really ready to hike in the heat for almost 13 miles over steep terrain? For me, downhill hurts more than uphill, so don't fool yourself into thinking it's just a walk in the park on the way home.
If you are ready, wear a big hat and your most fabulous sunglasses. Load up on the sunscreen. Clip your bear spray somewhere accessible. Consider trekking poles. And definitely pack plenty of water and all of the snacks – I hauled up the fixings for an heirloom tomato BLT lunch. In short, be prepared and be responsible for yourself.
And when you get to Sperry, buy a cookie and settle in below the kitchen, where the dormitory sits above you, awaiting your reflections. Pro Tip: if you're looking for a quiet Sperry Chalet rebuild experience, the construction crew goes to lunch from 12-12:30. They're doing an amazing job up there. Be sure to give them a high 5 if you see them! And be sure to contribute to the Sperry Action Fund, if you're able. 
Till next time, old girl. I'll be the one hauling the bubbly, ready to meet the Sperry of the next 100 years, hopefully with my own children in tow.
The More You Know
Curious about the other chalets in Glacier National Park? Read more about them here. You should also know that Sperry's sister chalet, Granite Park, is currently the only chalet in operation. The views from Granite Park are simply jaw dropping. The camaraderie of the shared kitchen is something to be experienced. And the day trips up the Highline Trail, to the Swiftcurrent Fire Tower, and to the Grinnell Glacier Overlook, make Granite Park a bucket list item. We take a few trips there every year – you can learn more about those here. Be sure to subscribe to our monthly newsletter, on our home page, to keep up with Sperry news, new trips for 2019, and all things Glacier National Park!