Glacier National Park has over 700 miles of trails, which means endless possibilities and routes for an epic 4-day backpacking adventure. If you didn't know before, when you go with a guide (Like Glacier Guides) we take care of every little detail to ensure your backpacking trip is enjoyable and memorable from beginning to end. We recently went out on a 4-Day Backpacking Itinerary in the Belly River of Glacier National Park
Our itinerary was Gable Creek Campground –> Elizabeth Lake (Head) Campground –> Glenn's Lake (Foot) Campground. This is a similar trip you may head out on with us and it's a great introduction to backpacking in Glacier National Park's beautiful backcountry.
DAY ONE
Start At Belly River Trailhead
If you're headed out on a guided trip, you'll meet at our office at 8:30am on the start date of your backpacking trip. Together, we will drive over Logan Pass to the east side of the Park, past St. Mary and Many Glacier, and onward to the Belly River Trailhead, just a stone's throw from the Canadian border. Once there, it's time to do final backpack checks, make sure the weight is comfortable and stretch, because it's time to hike!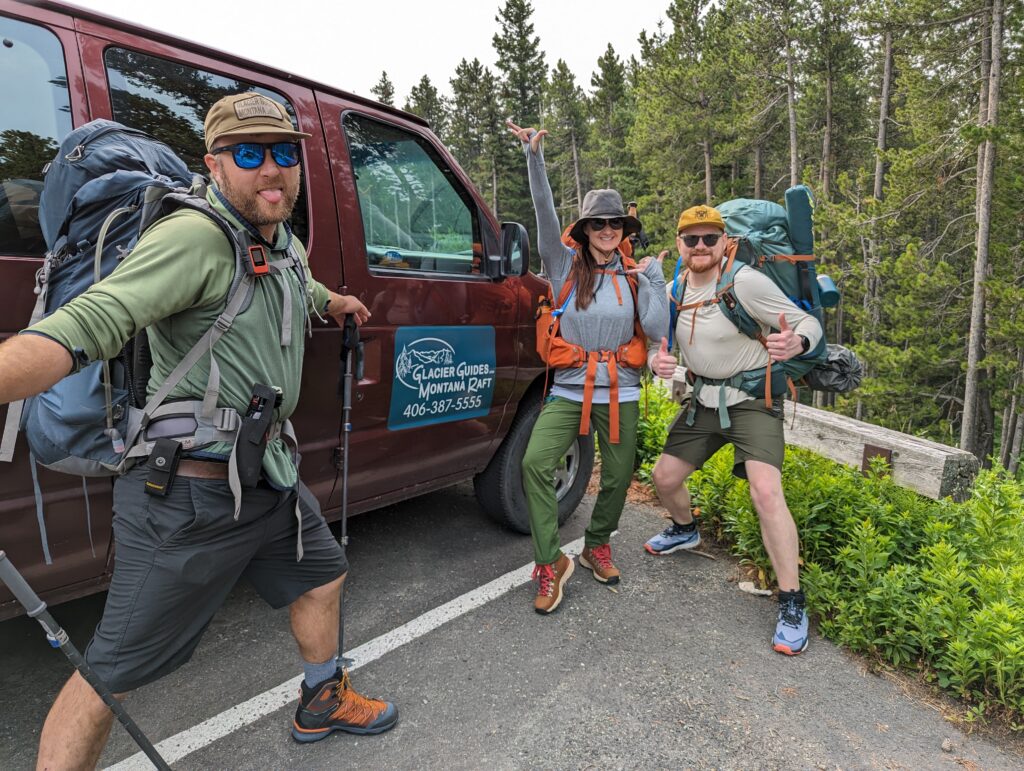 There's always a few snack stops you can make between the trailhead and Gable Creek Campground. The best one is right when you see epic Belly River views and some of Glacier's prominent peaks, pefectly framed by the trees and landscape. Relax on this rock beach and refuel after about 2.5 miles of downhill hiking – your knees will thank you!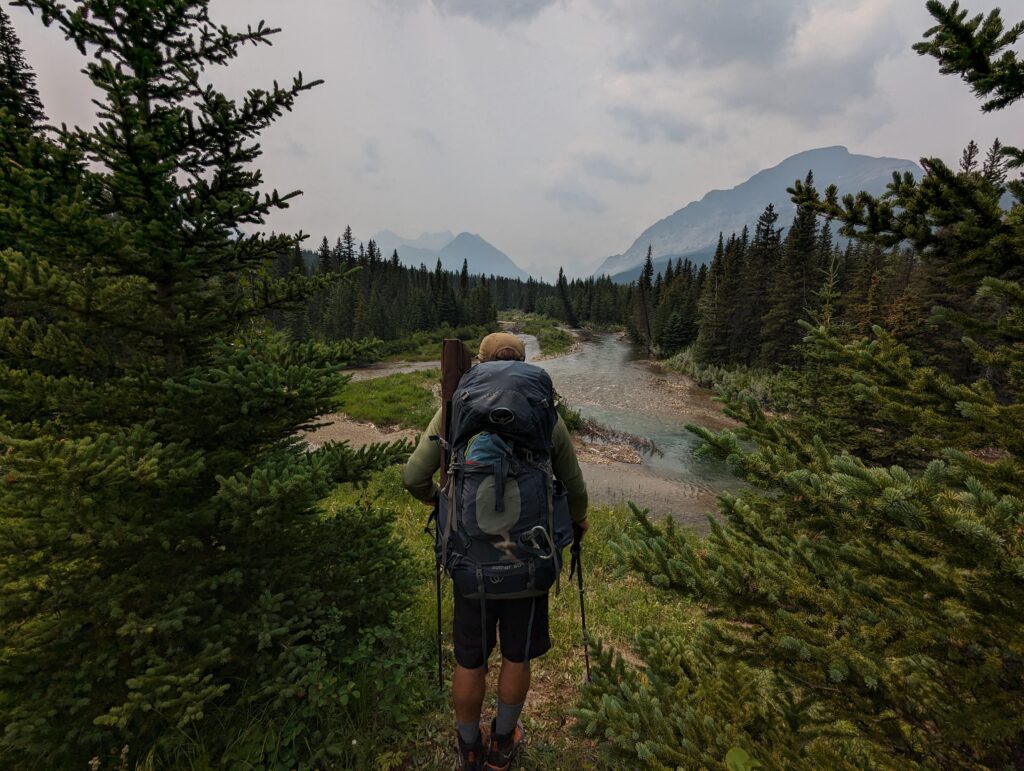 We watched as some rain clouds and weather moved over the mountains.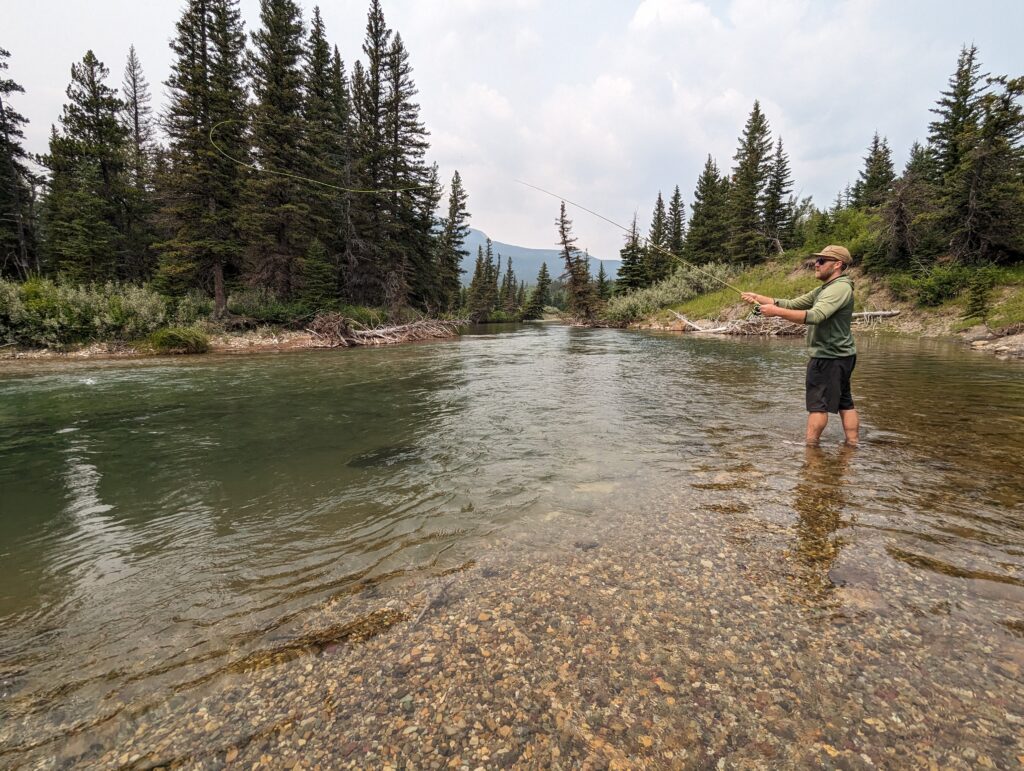 We decided to cast a line into the Belly River and neighboring creek with no luck and no bites, but still meditative nonetheless.
After this stop, you'll hike about 3.5-4 more miles until you reach the Gable Creek Campground. Total mileage for the day will clock in at about 6, which is the perfect amount and a sure fire way to not wear yourself out on day one. Time to relax, regroup, refresh and refuel. Once you hang your food and set up your site, take the short walk to the Belly River Ranger Station. There you'll be immersed into a field full of blooming wildflowers. A great spot to sit and take in the view.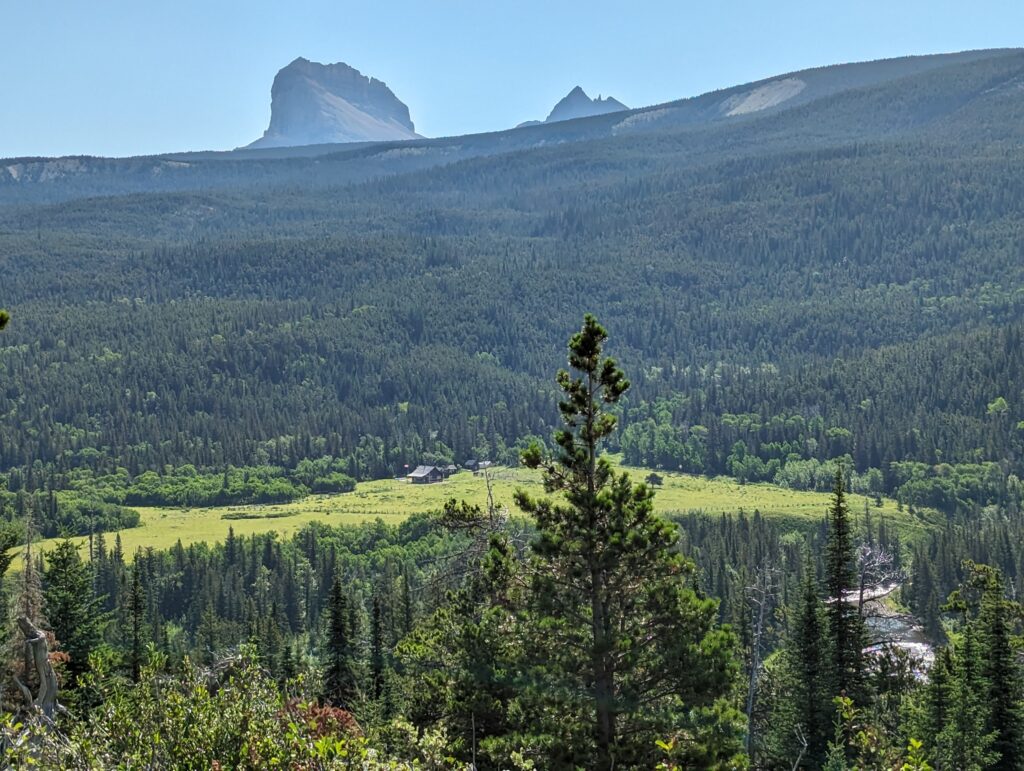 This specific view of the ranger station is from the trail above that leads you from Cosley Lake to Gable Creek campground. Chief Mountain stands proud in the background on a beautiful sunny day.
DAY TWO
GABLE CREEK CAMPGROUND –> ELIZABETH LAKE (HEAD) CAMPGROUND
And you're off, onto your second day of hiking. You'll cover around 6.5 miles on your hike to your next campground at the head of Elizabeth Lake. This trip is fairly low key and casual – putting a few good miles under your boots but nothing that will strain your energy or body. The best lunch stop on this route is Dawn Mist Falls. Take the very short detour, about an 1/8 of a mile off trail, to this gorgeous waterfall. It'll cool you down on an especially hot day without requiring you to even get in the water. Mist flows off these falls as the water crashes into it's lower pools.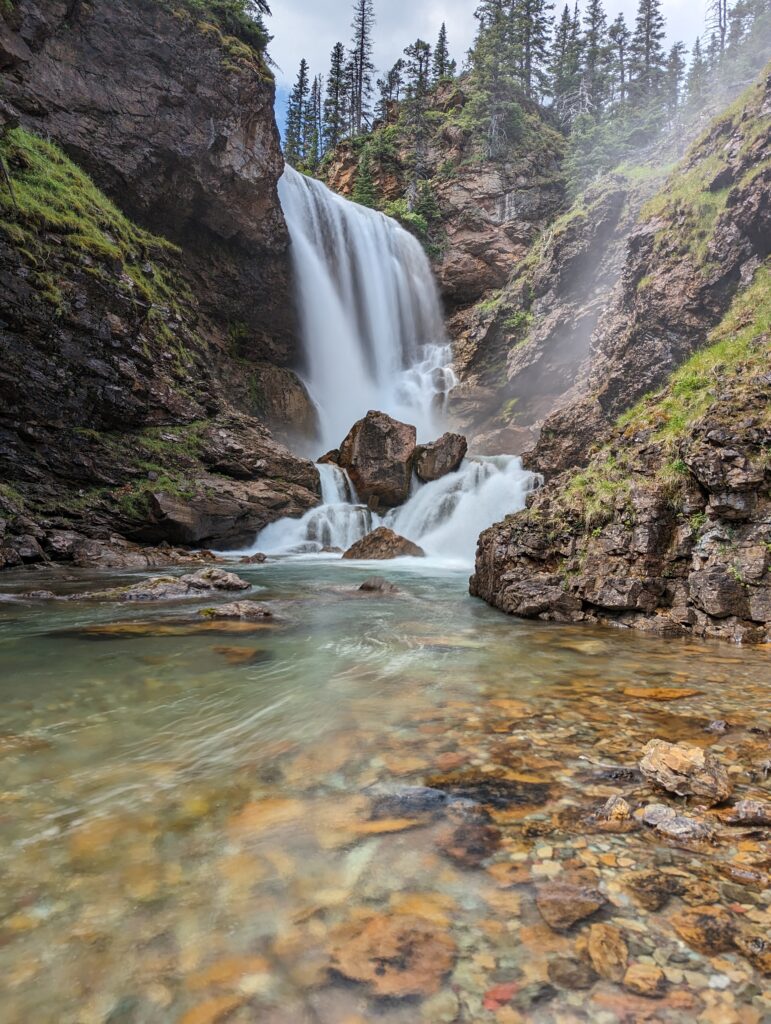 Ahhh, don't you feel refreshed? Now, back to the grind. Load up your pack and head on to Elizabeth Lake Head for a restful night's sleep. Once you're out of the trees on the way to Elizabeth Lake, the final 1.6 miles from the foot to the head is nothing but views, views, views. You'll walk along a trail with very little tree coverage (be sure to hydrate often) showing off remarkable views of the lake and peaks.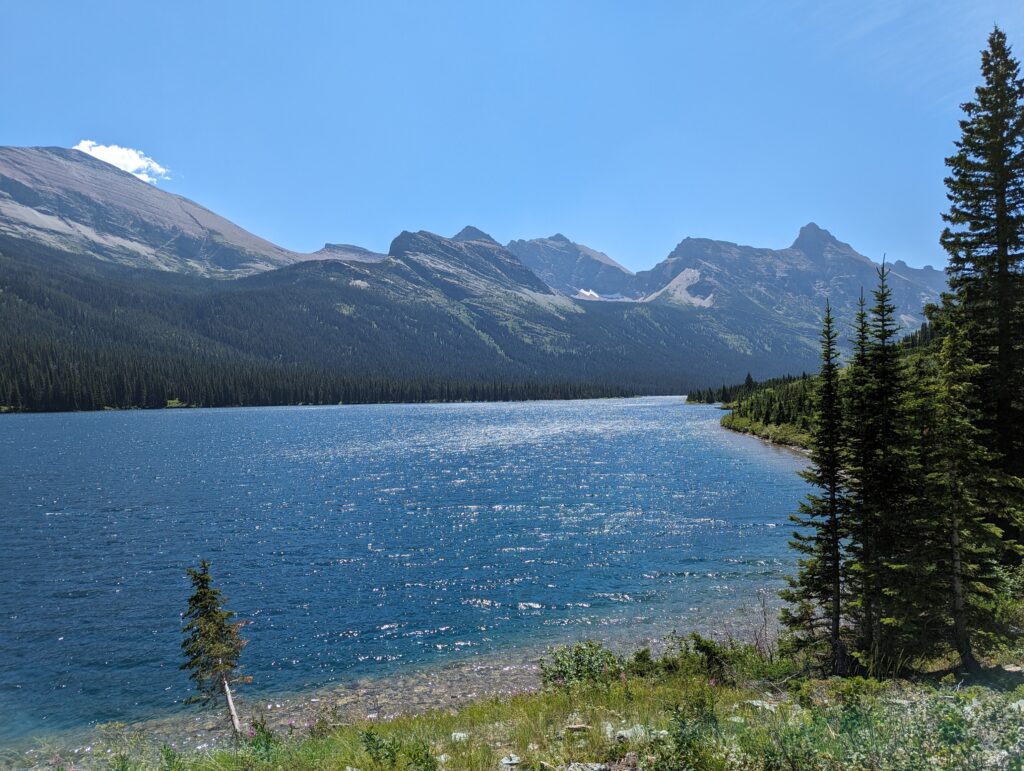 Elizabeth Lake looking dreamy and, oh so inviting, on a hot day in Glacier
Once you land in camp, you know the drill. Hang your food first, before even getting to your preferred site, and then head to the lake for some of the best fishing Glacier National Park has to offer. Make sure you look at the NPS fishing regulations before casting a line – there are some fish out there and some areas of the park that are restricted. As always, know before you go!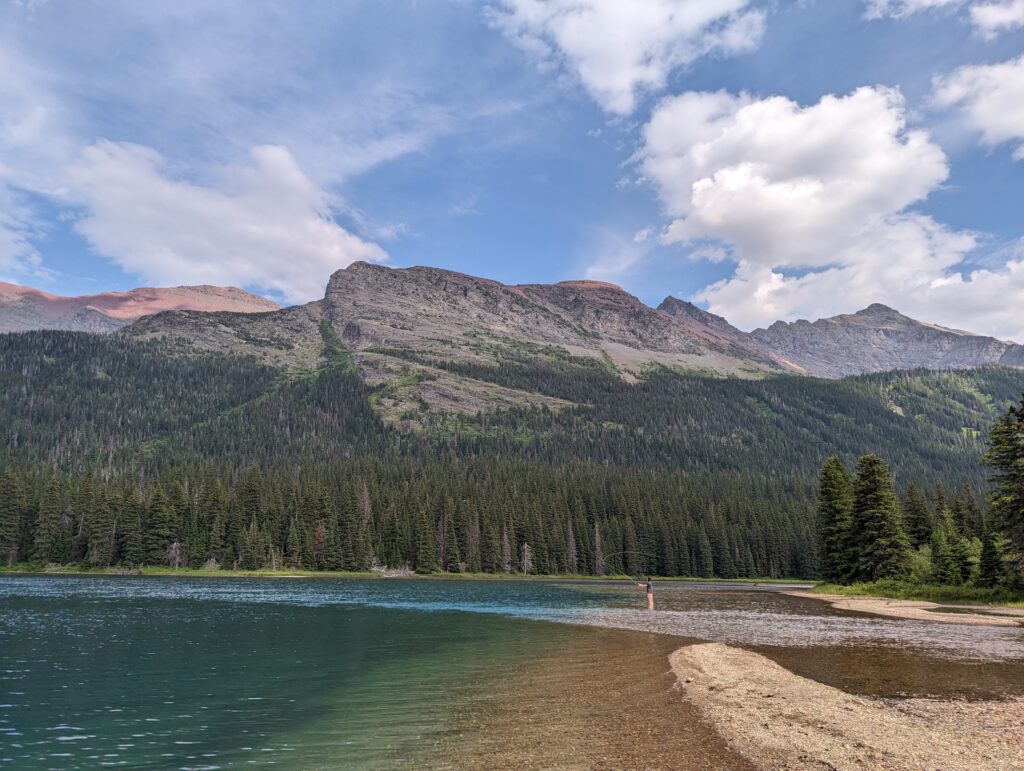 When we fished here, we had bites and catches from some rainbow trout and arctic grayling.
DAY 3
ELIZABETH LAKE (HEAD) –> GLENNS LAKE (FOOT)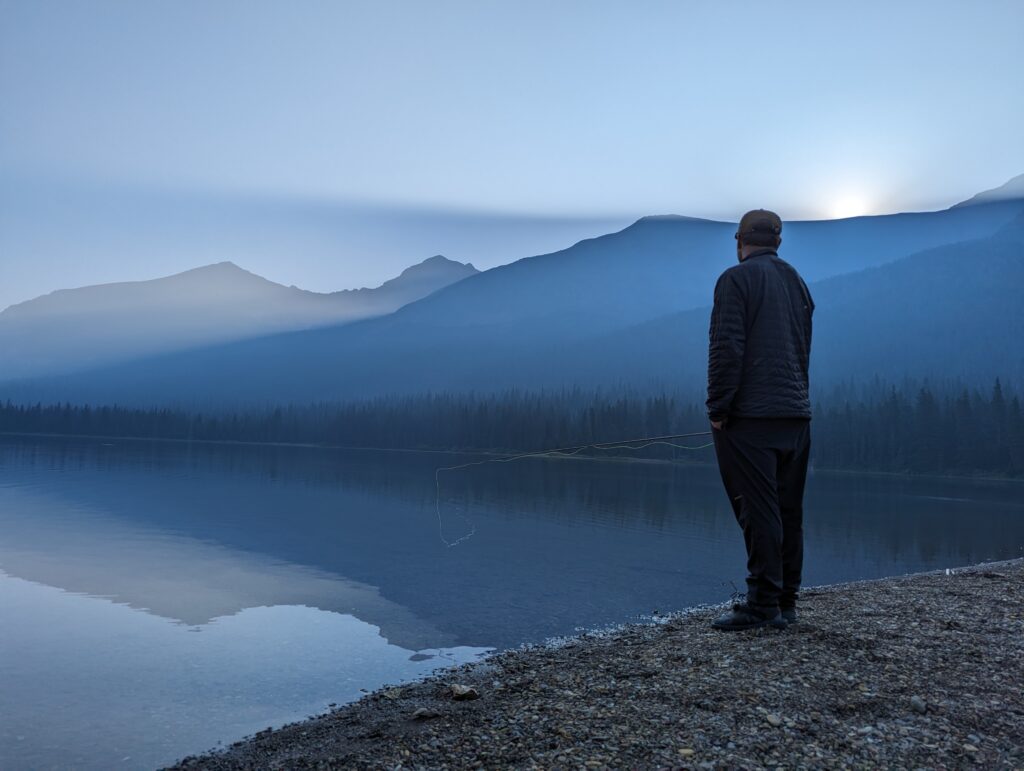 It's always worth setting that morning alarm for 6am to catch some gorgeous early light peaking over the mountains. Elizabeth Lake was perfectly still on this particular morning. We cast a few lines in the peace and silence while the resident loons sang in the distance.
Leaving a beautiful place like Elizabeth Lake is never easy, and walking the 1.6 miles along the lake, back to the foot and onward to the next campsite, with it's beauty staring right back at you, makes it all the more difficult to walk away.
But it's not all bad news – your next stop is Glenns Lake Foot! You'll trudge through the trail as you backtrack for a few miles, following signs for Cosely Lake. This journey will be around 8 miles total, which will feel like a long day since the beginning days hit a quick 6-6.5 mile trek. Once you reach the foot of Cosley, you'll cross the Cosley Ford, which is a good chance to switch into your camp sandals and grab your trekking poles. When we were there, the Ford wasn't too high and the current not too strong, but this can differ depending on the time of year you go. Be prepared with all of your gear every time you hit the trail!
Once you cross the Ford, continue down the trail for another 2 miles or so. There won't be signs pointing you toward Glenns Lake, but trust us, you're going in the right direction and once you arrive you'll see a sign pointing toward the Glenns Lake Foot campground. *Cue sigh of relief as your hips and toes ache*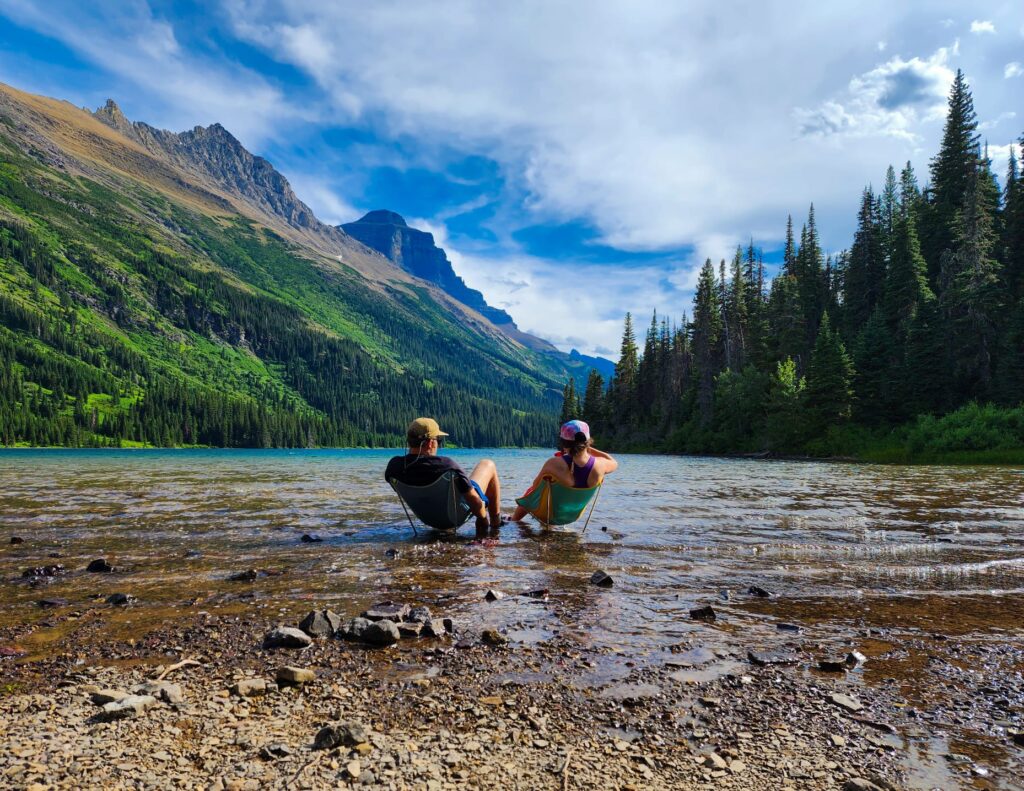 Photo by Mark Brennan
After hanging your food and setting up camp, carry your chairs down the very short trail leading to the beach, where you'll find only peace and hear only lapping waves and a beautiful bird song. The perfect end-of-hike reward.
DAY 4
GLENNS LAKE (FOOT) –> BELLY RIVER TRAILHEAD (AKA, CIVILIZATION)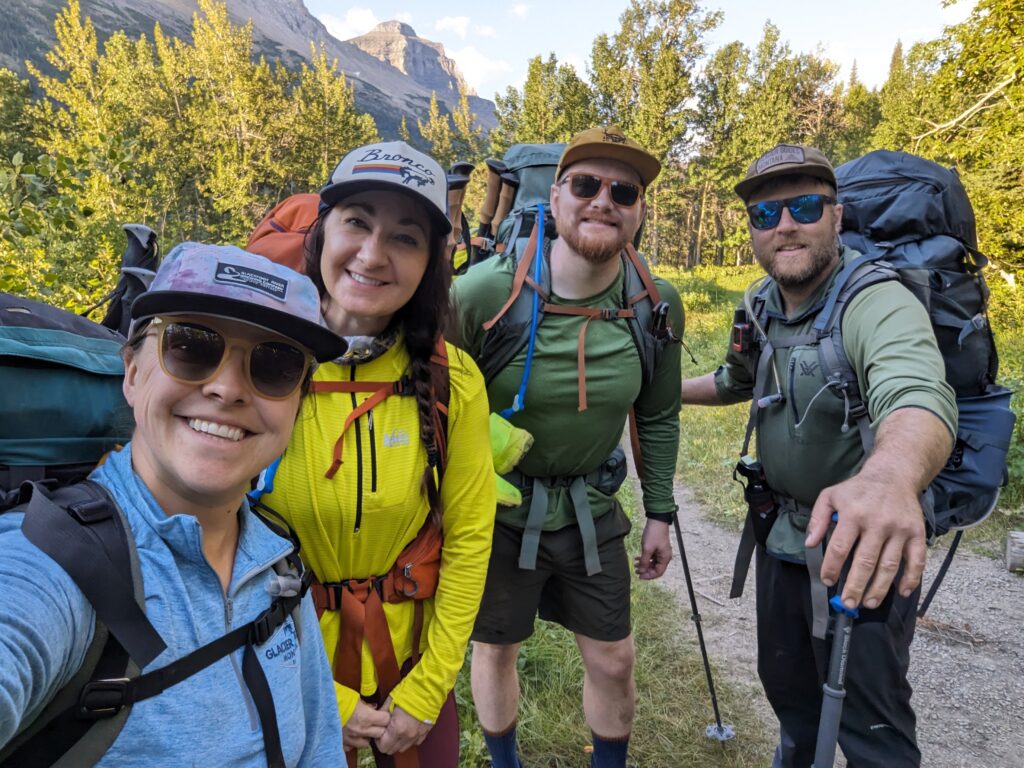 The next day will be an early morning, as you prepared your bodies and minds for the 11 miles out of the Belly River and back to the car. We suggest waking up early, sore before even getting started, and on the trail before the sun gets too hot. The first few miles will go by fast, and before you know it you'll be at another notable waterfall – Gros Ventre Falls.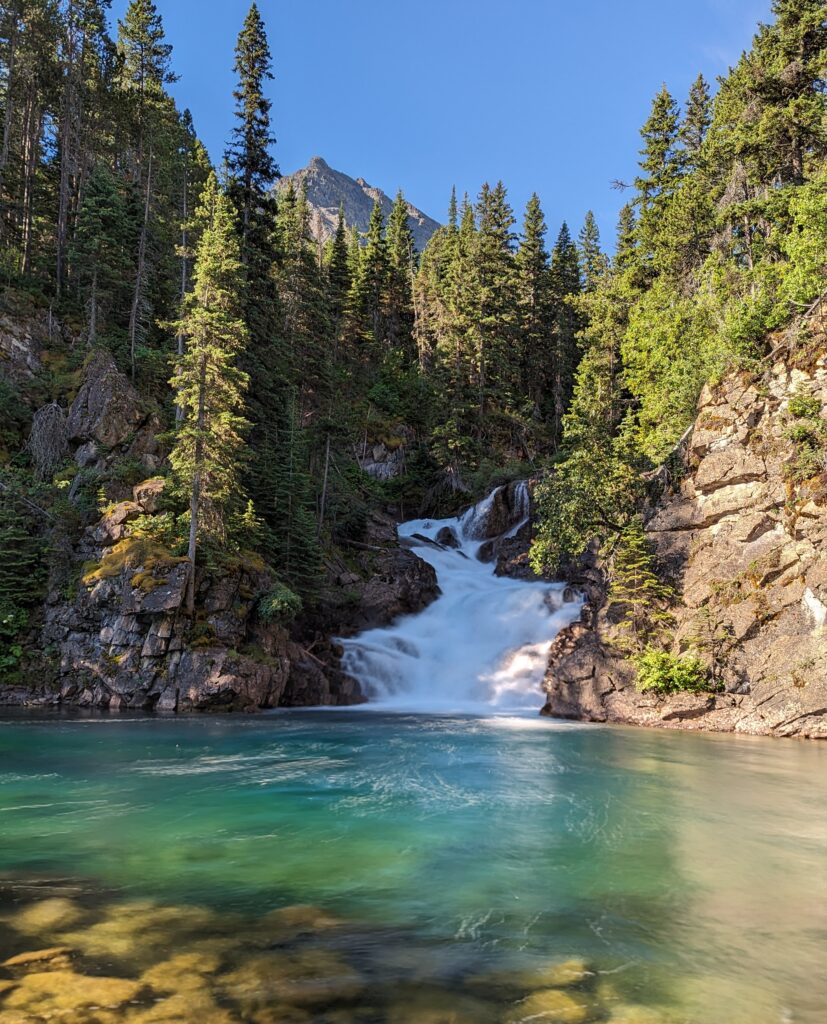 A quick lunch here and back on your feet. You'll hike up on a ridge that will give way to more beautiful views of Chief Mountain, then back to the valley floor, passing your old stomping grounds at Gable Creek Campground. 6 more miles to go, the home stretch.
The last mile feels like it lasts an eternity as the hill slowly climbs out of Glacier's Belly River. You'll sweat, swear and pass happy campers beginning their trips, ready to experience the magic you've already seen. At the top, celebrate, hug and high five – you made it! You experienced the best 4-days in Glacier's beautiful backcountry. Though your feet and back are likely aching, you'll hopefully be planning your next backpacking trip with Glacier Guides.
AFTER THE TRIP
Once your trip is done, take time to look over your photos. It's worth remembering those magnificent days spent on Glacier's trails that lead you to those campgrounds, lakes and waterfalls. Be sure to stretch, ice and heal once you return. Then, thank your body for being remarkable and allowing you to do such an amazing thing.
THINGS TO KEEP IN MIND…
Want to join a guided trip like this?
We have plenty of permits throughout the summer that are very similar to this one. Our guides are encyclopedias when it comes to Glacier, it's flora and fauna, the history and geography. There's no better way to see the park, in our opinion. Head to our website to read more about our 3, 4 or 6 day trips and give us a call. We'll chat all about permits, routes and what to expect on a guided trip. We've been guiding in Glacier's beautiful backcountry since 1983 so take it from us, these trips are bucket list worthy!
Know Your Limits!
As mentioned before, those looking to do any of our trips need to be reasonably fit. A short day is 3.5 miles and a long day is 12 miles with weight of an average pack is 35 to 40 pounds. If you worry about the weight or have youngsters who need help, ask about our Porter Service. No need to be intimidated, here at Glacier Guides & Montana Raft we don't require previous backpacking experience to join a trip, but we also don't want anyone to push themselves past the point of no return. We design our backpacking trips in Glacier to be an enjoyable, bucket list experience.
Additionally, if you have questions, please ask! We love adventuring through Glacier's backcountry, but we understand it isn't everyone's cup of tea. We have plenty of other adventures to choose from if you decide backpacking is too far out of your comfort zone.
Remember Leave No Trace
-Plan Ahead and Prepare
-Travel and Camp on Durable Surfaces
-Dispose of Waste Properly
-Leave What You Find
-Minimize Campfire Impacts
-Respect Wildlife
-Be Considerate of Others
Prepare for All Types of Weather!
Weather can be unpredictable on the Continental Divide. Always bring a rain coat and an extra pair of socks (or two!), hat, gloves, and moisture wicking materials to keep you warm. Go over our packing list when you plan the trip and double, triple check your bag before heading into the backcountry. You'll want to make sure you have everything you need.
Inform Family & Friends
Tell people where you're headed before you take off, especially if you're going out on your own. Being in the backcountry means being okay without creature comforts like cell phone reception. If you have one, a Garmin is a great thing to bring with you into the backcountry. This will allow you to let people know where you are and how things are going. We highly suggest traveling in a group when you go out on your epic adventure.
SEE YOU NEXT TIME!
Don't be sad the trip is over, be happy knowing that you can always come back!
Have more questions about planning a trip to Glacier National Park? Want to raft, hike, fish, bike or stay with us? Fill out the form below!