Glacier National Park has a variety of hikes in it's over 700 miles of trails. There's a chance to take it easy on a family friendly hike like Avalanche Lake or Glacier Guides Wednesday hike to Virginia Falls, but for those of you looking for the ultimate trip that will leave those legs burning and feet sore, you've come to the right place. Take a look at these 5 Butt-Kicking Glacier National Park Backpacking Trips.
First Things First: Permits!
Before you take off on your epic adventure, make sure you head to Recreation.gov or the permitting office the day your trip begins to snag a backpacking permit. Glacier National Park is transitioning to Recreation.gov for online advanced reservations. If you miss the window to get them early, they will still be available at the permit office on a first come, first served basis. Take a look at our post for all things Glacier National Park Advanced and Vehicle Reservations for more information.
If you want to backpack through Glacier with a guide, we have the best permits and have been a Glacier National Park Authorized Concessioner since 1983! Our friendly and knowledgeable guides will take you on the trip of a lifetime and can't wait to share their love of Glacier!
We offer trips of all sizes (3 days, 4 days and 6 days) and if you're looking for something else, take a look at our private trips! These are perfect for those with specific requests, those looking to travel with just friends and family or those with a specific itinerary in mind.
The following routes are all trips that we have done in the past but there's no guarantee that we will visit the same route. Give us a call to see what permits we snagged and pick the one that fits your fancy!
PRO TIP: When you book with us, not only do you get a friendly and knowledgeable guide, delicious backcountry meals provided and transportation to and from the trailhead, but you also don't need to worry about getting a vehicle reservation or a backpacking permit!
Next: Pack Your Gear!
Or, if you don't have any gear, rent it! We rent a plethora of camping and hiking gear to make your trip to Glacier National Park easy and stress free.
WHAT TO PACK:
Equipment
Sleeping Bag (rated 20 to 30 degrees)*
Sleeping Pad*
Tent*
Backpack (70 to 80L for Backpacking Trips, 30L for Chalet or Glacier Challenge Trips)
Rain Cover for Backpack (or line inside of pack with garbage bag.)
Trekking Poles
(Equipment Rental Package includes all of the above – reservations required)
Clothing
Long Underwear Top and Bottom (Midweight, Synthetic)
Midweight Fleece/Wool Jacket or Sweater
Polar Fleece or Insulated Jacket (needed in June and September)*
Rain Jacket (Hooded, Lightweight, Waterproof, Breathable)
Rain Pants
Pair of Hiking Pants (Convertible, Quick-Dry, Lightweight)
Fleece/Wool Hat
Fleece/Wool Gloves
Synthetic Wicking T-Shirt (1 for hiking, 1 for camp)
Pair of Hiking Shorts (Quick-Dry Lightweight)
Lightweight Hiking Boots
2 pairs of wool or synthetic hiking socks – no cotton please
Sandals for Camp/Water Crossing (Teva/Chaco type)
Miscellaneous Essentials
Park entrance pass and ID or money to purchase one – learn more here.
Gratuity for Guide (18 to 20% is the standard for our industry)
Water Bottles (Two 1-Quart) or Hydration System Plus One 1-Quart Water Bottle
Ziploc Bags (larger size; to organize, keep items clean and dry)
Toiletries (toothbrush, toothpaste, personal wipes, wash cloth.)
Sunscreen and Lip Balm
Sun Hat or Ball Cap
Bug Spray
Headlamp with Fresh Batteries
Route #1- Bowman Lake, Boulder Pass, Kintla Lake
The first of our 5-Butt Kicking Glacier National Park backpacking trips explores the North Fork area of The Park. This point to point trip is generally considered challenging and around 39 miles of trail. It's 19 miles of driving between Bowman and Kintla Lake, so plan your shuttle system accordingly. You can begin on either end of the trail, Bowman or Kintla Lake and in that scenic 39 mile trek, you'll climb 2 different passes, Boulder and Brown, pass by a glacial cirque called Hole In The Wall and end your trip at a lake, no matter the direction you choose!
This route will give you everything you're looking for in a GNP backpacking trip. You'll get the big dramatic views, the epic pit toilet locations (with even more amazing views), star studded skies at breath taking wilderness campsites and the chance to encounter some classic Glacier National Park wildlife.
*Disclaimer* We like to remind our readers to keep their distance when you come across wildlife while adventuring in Glacier National Park. We like to live by the "Rule of Thumb." If you hold up an outstretched arm with your thumb up, if your thumb is big enough to cover the animal entirely, you're far enough away. Remember that this is their home, we are the visitors!
PRO TIP: Visit Polebridge Mercantile before or after your trip for some amazing pastries.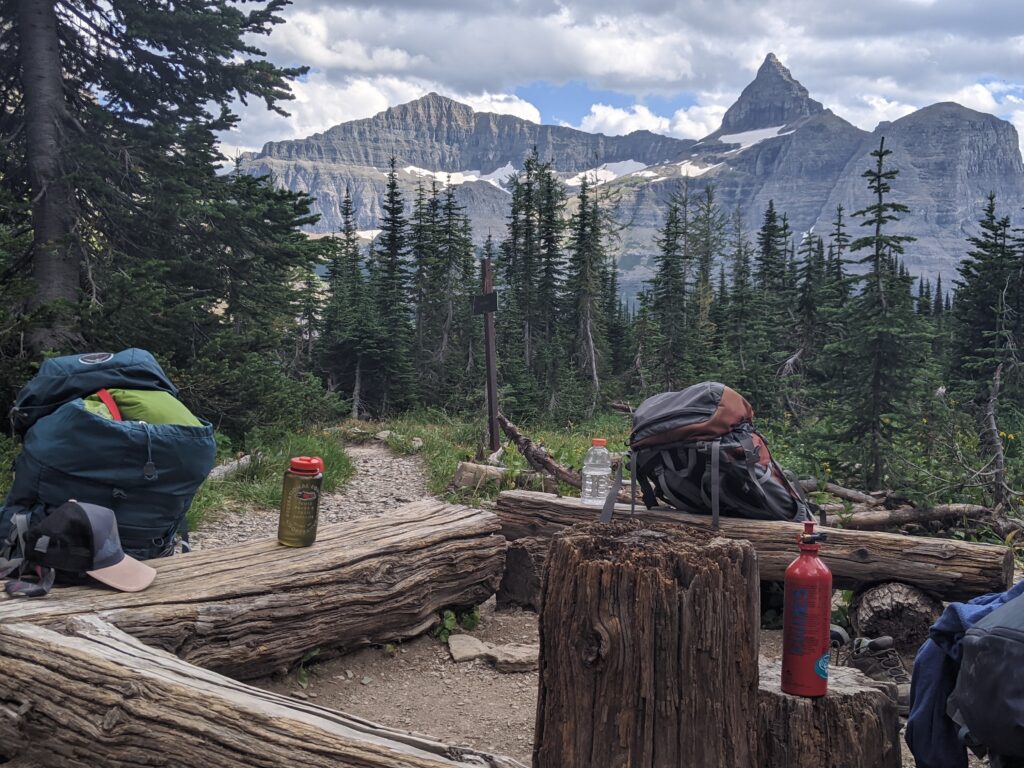 Kitchen set up at Hole in the Wall. Photo by guide David Moench
Route #2- Belly River, Elizabeth Lake, Red Gap Pass
If you're looking for a good 4-day adventure exploring the Many Glacier Valley we recommend starting in Belly River and heading towards Ptarmigan Tunnel. The Belly River is a magical place in Glacier National Park, filled with horses & mules, wild flowers and wild peaks jutting from all directions. The bright green fields will have you in awe as you look up at the towering mountains. Keep your eyes peeled, because there's almost always a moose to be seen in the Belly River due to the salt like provided for the stock. There's several wilderness campgrounds to choose from, and whichever ones you choose, Elizabeth Lake is a must stop. From Elizabeth Lake you can either conquer Red Gap Pass continuing towards Poia lake and extend your trip by a night, or onwards to the Ptarmigan Tunnel.
PRO TIP: After you're done in the backcountry, your legs burning and back aching, head to Many Glacier Hotel for some grub and a cocktail — you've earned it!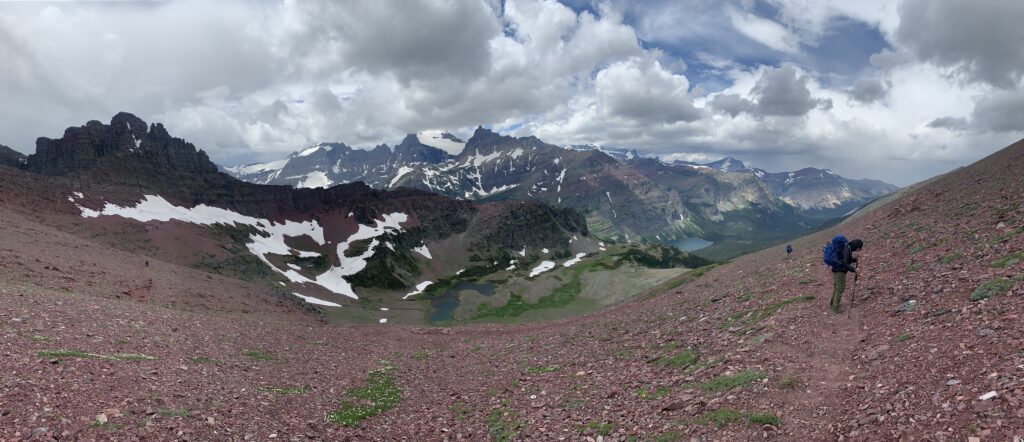 Red Gap Pass. Photo by guide Todd Bauer
Route #3- Dawson/Pitamakan (Option to be a day hike, too!)
Or, depending on the direction you travel, Pitamakan/Dawson. You'll start your adventure with an easy traverse along the north shore of Two Medicine Lake. This beginning portion will be a nice warm up as you approach the start of a strenuous trek. Elevation starts at 5,170 feet at the trailhead and climbs to 7,600 at Dawson Pass, then 8,138 at Pitamakan Pass. The trail travels along the western side of the Continental Divide and offers the most spectacular views.
If you're up to buzz the entire thing in a day, be sure you're ready for it. Another way to go, for those that prefer to stop and smell the wildflowers, is turn it into a two day effort and stay at either No Name Lake or Old Man Lake wilderness campground.
PRO TIP: Take a boat ride across Two Medicine Lake to start out (or end) your trip!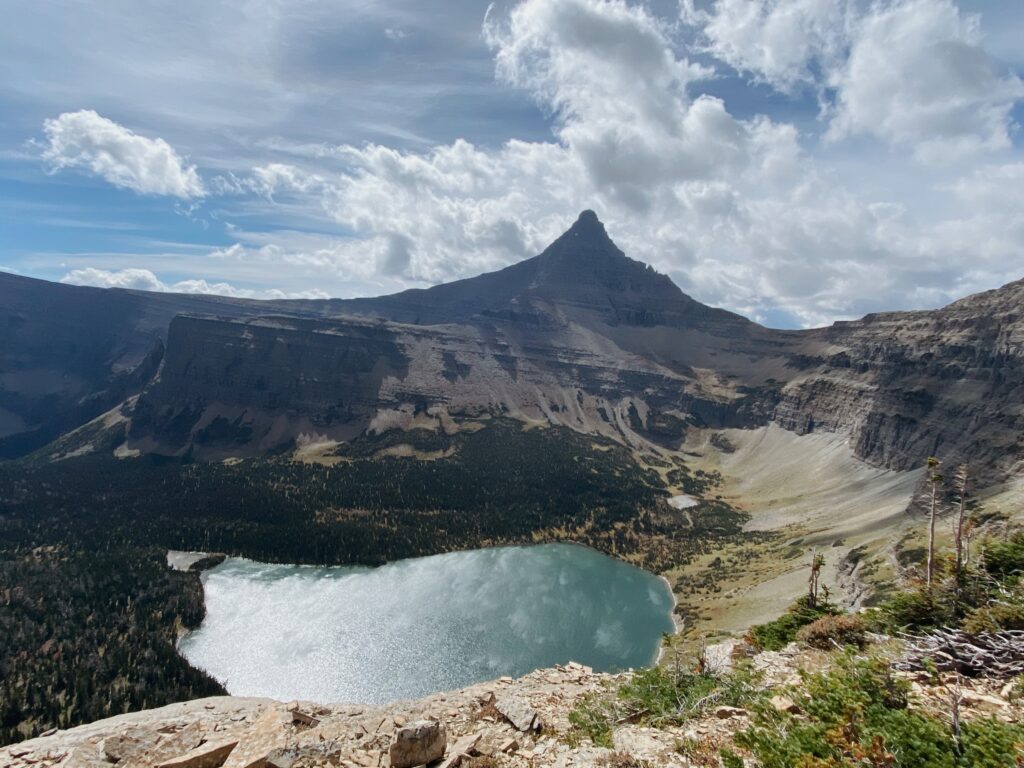 Old Man Lake. Photo by guide Rachel Rimmer
Route #4- Park Creek Trail
The Park Creek Trail in Glacier National Park is a beautiful and moderately challenging hike that takes you through dense forests, alpine meadows, and along the banks of crystal-clear streams. You'll hike both Park Creek and Two Medicine Pass where you'll experience dramatic peaks with thousands of blooming wild flowers in the foreground. Enjoy solitude at Park Creek, make a short detour and cast a line into Lake Isabel for some catch and release native trout fishing, and finish your trip under the stars at Cobalt lake.
PRO TIP: If you're out hiking later in the summer, keep an eye out for huckleberries on the Middle Fork side of Two Medicine Pass. They're the best snack for your longest day.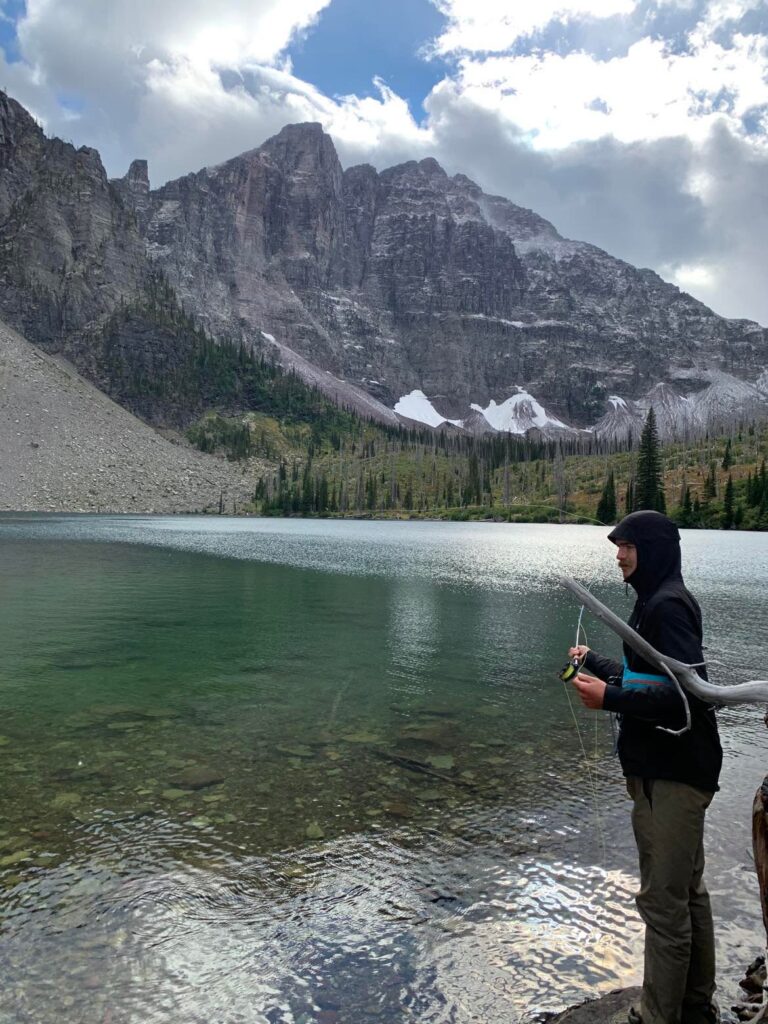 Guide Joe O'Connor fishing at Lake Isabel. Photo by guide Todd Bauer
Route #5-Stoney Indian Pass
Hiking Stoney Indian Pass from Chief Mountain Customs Trailhead and ending at Goat Haunt is one of The Park's more remote and rugged trails but nonetheless an unforgettable backpacking adventure. This is the type of hike where the scenery is always changing, leaving you in never ending amazement. You'll spend your first night at Cosley Lake Campground and on the way, come across Gros Venture Falls, which is definitely worth the very short detour. Another great campground is Glenn's Lake Head, where Pyramid Peak is the main focus as it sits amongst the clouds, looming above the crystalline blue waters. Conquer Stoney Indian pass, and Finish your trip at either Kootenai Lakes, Waterton river or goat haunt. Be sure to have your passport ready to catch a ride back to the Waterton townsite.
PRO TIP: We highly recommend taking the trail from Chief Mountain to Goat Haunt, rather than the other way around. The views as you approach Stoney Indiant Pass from Chief Mountain are breathtaking second to none. If you hike from Goat Haunt to Chief Mountain, the views will all be behind you, requiring you to skillfully walk backwards or constantly turning around to admire the beauty.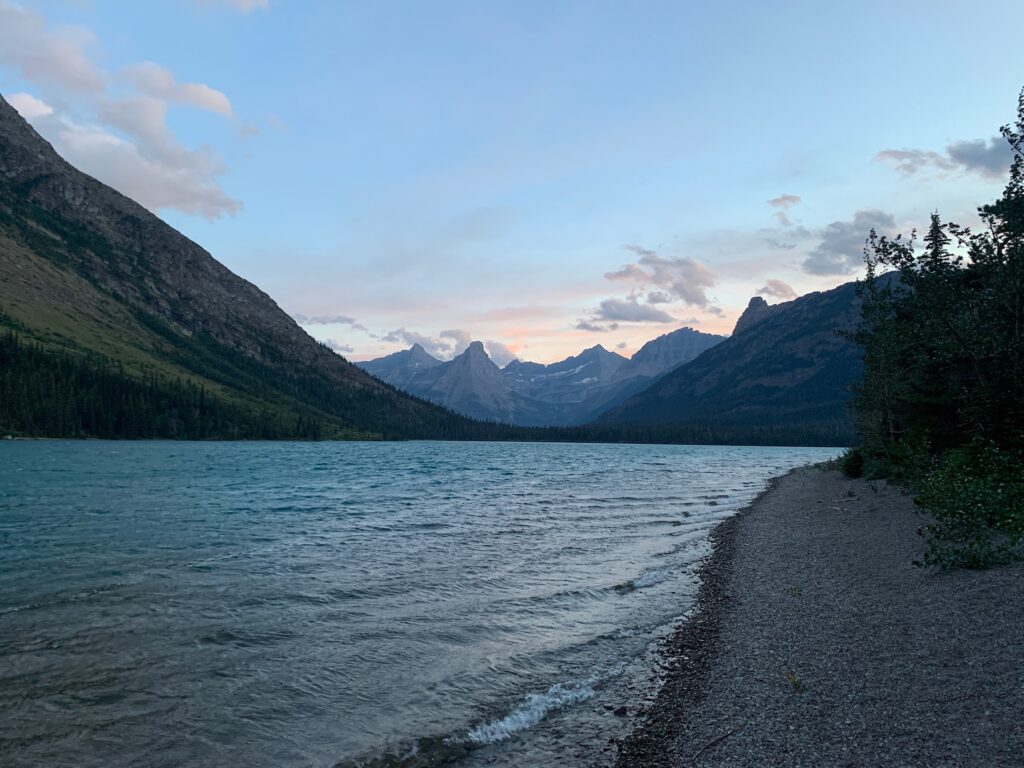 Cosley Lake at dusk, photo by guide Carla Waters
Things To Keep In Mind…
Know Your Limits!
Those looking to do any of these trips need to be reasonably fit. Daily mileage averages six to eight miles per day, but can be much shorter or much longer. A short day is 3.5 miles and a long day is 12 miles. The weight of an average pack is 35 to 40 pounds. If you are worried about the weight or have youngsters who need help, ask about our Porter Service. The highest elevation you can expect to attain is about 8,000 feet with the valley floors at about 4,000-5,000 feet.
Remember Leave No Trace
-Plan Ahead and Prepare
-Travel and Camp on Durable Surfaces
-Dispose of Waste Properly
-Leave What You Find
-Minimize Campfire Impacts
-Respect Wildlife
-Be Considerate of Others
Prepare for All Types of Weather!
Weather can be unpredictable on the Continental Divide, so be sure to pack extra layers, always bring a rain coat and an extra pair of socks (or two!), hat and gloves, and moisture wicking materials to keep you warm. Be sure to go over our packing list when you plan the trip and double, triple check your bag before heading into the backcountry to make sure you have everything you need.
Inform Family & Friends
Tell people where you're headed before you take off, especially if you're going out on your own. Being in the backcountry means being okay without creature comforts like cell phone reception. If you have one, a Garmin is a great thing to bring with you into the backcountry so that you can let people know where you are and how things are going. We highly suggest traveling in a group when you go out on your epic adventure.
SEE YOU NEXT TIME!
Don't be sad the trip is over, be happy knowing that you can always come back! Plan a trip for June, July or August for a full on summer adventure. We will be here waiting for you and ready to show you the best Glacier National Park has to offer.
Have more questions about planning a trip to Glacier National Park? Want to raft, hike, fish, bike or stay with us? Fill out the form below!