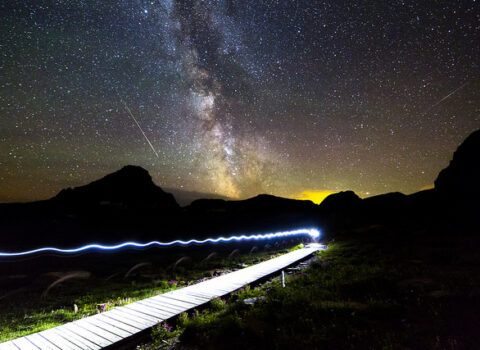 Glacier National Park Star Party Float
About this Trip
So, it's time to celebrate. Let's go on a Glacier National Park Star Party Float! We'll take duckies — also called inflatable kayaks — down the North Fork of the Flathead River. Next, we spend the night in Polebridge. We'll celebrate Glacier's starry, dark skies and set up to watch the Perseids. The next day, we continue our float down the North Fork of the Flathead River. Finally, we'll return to West Glacier around 5pm.
Book Now
Pricing
Price Per Person: $675 (12+)
Other Price: 8% River User Fee (not included in price)
Guide tip: Industry rate is 18-20% (not included in price)
Specials
Plan Your Trip
Dates & Details
August 10th-11th, 2024
You're invited to a triple celebration:
#1 Wild and Scenic Rivers Act is 56 this year! Our Glacier National Park Star Party is on the Wild and Scenic North Fork of the Flathead River. This gorgeous waterway forms the park's southwestern border.
#2 In 2017, Waterton-Glacier International Peace Park became the world's first transboundary International Dark Sky Park! This is kind of a big deal. Especially when viewing Montana's star studded skies.
#3 Every year, between mid-July and the end of August, stargazers watch the Perseid meteor shower. It typically peaks between August 9 to 13. During this impressive annual show, expect to see 60 to 100 shooting stars each hour! The Perseids are often the year's the most spectacular stargazing event.
Our launch date is predicted to be the height of the 2024 Perseids Meteor Shower! You can learn more about the Perseids Meteor Shower here. We're hoping for clear night skies filled with falling meteors. Where could be a better place to watch a major meteor shower than on the border of an International Dark Sky Park? Oh, on the banks of a Wild and Scenic River? Finally, in world famous, beloved, Polebridge, Montana. You don't want to miss this Star Party!
Itinerary & Additional Details
Glacier National Park Star Party Float Trip Day 1
This Glacier National Park Star Party float trip is perfect if you want to explore the the North Fork of the Flathead River. This stretch is a locals' favorite, but a secret to most. The inflatable kayaks / duckies will add an element of adventure to this mostly quiet section of river. However, you do not need prior rafting or inflatable kayak experience. Duckies are like canoes made of rubber. Your guides will teach you how to paddle them.
First, meet us at our office in West Glacier at 9:00 am. Your guides help you pack your gear for the trip. Next, go over the details of the float. Then, drive to the river put-in above Polebridge. This is the most remote and least floated section of this Wild and Scenic river. Moose, deer, bear, and wolf sightings are not uncommon! We'll have lunch along the river's edge. From there, enjoy unique views into the Glacier Park. You'll learn about river ecology, Glacier National Park and its International Dark Sky designation, the 54th Anniversary of the Wild and Scenic Rivers act, flora, fauna, cultural considerations, and more.
Welcome to Polebridge, Montana!
That afternoon, we'll tie off our duckies at soon-to-be-world-famous Polebridge, Montana, a throwback town to the days of old. This area is much like it was 100 years ago. It is centered on a bustling, off grid mercantile renowned for its baked goods. We will check in to rustic accommodations — think bunkhouse style. Dinner will be at local favorite Northern Lights Saloon, where we will dine and share stories before the Perseids make their (hopeful!) appearance. After dinner, we'll learn more about the Wild and Scenic Rivers Act.
Polebridge is off the grid, allowing for ideal meteor shower viewing conditions, if skies are clear. After night falls, we'll gather to watch the show. Your guide will lead a discussion about the Perseids, Glacier's internationally recognized dark skies, and more interstellar topics. Read more about the International Dark Sky Designation here.
Glacier National Park Star Party Float Trip Day 2
Since the Perseids will likely appear later in the evening, we'll have a leisurely start to the morning after our Glacier National Park Star Party. However, if you like, rising early enough to witness the sun rising over Glacier National Park's Continental Divide is a memory you'll keep forever. Either way, enjoy a yummy breakfast featuring locally roasted coffee and homemade baked goods.
Then, we'll continue our float from Polebridge on the North Fork of the Flathead River. Everything on river left is Glacier National Park. On river right, the Flathead National Forest. Keep your eyes sharp — this remote area is a wonderful place to look for wildlife. If you're a birder, you might see nighthawks, eagles, hawks, owls, and stellar jays. Next, enjoy another delicious lunch riverside. Finally, take-out in mid-afternoon for the shuttle to our West Glacier office. We are usually back by 5pm.
Polebridge Facilities
The North Fork Hostel is propane powered. It has washrooms with hot showers and very clean outhouses.
The sleeping quarters are upstairs. They include bunks for men, women, couples, and family accommodations. There is a pleasant living room, along with a fully equipped kitchen, downstairs.
Fresh linens are provided.
Glacier National Park Star Party Notes
Check in over the phone the day before departure at 406-387-5555. Next, on launch day, arrive at our office by 9:00 AM. You'll go over your gear with your guide and pack it in our waterproof dry bags. Then, get fitted for life jackets. Finally, head for the river! Click on directions for how to find us.
All meals, equipment, permits, transportation, and guide services are provided. We take care of all the details so you can relax and enjoy the beauty of the river. See our Packing List – Overnight for more information about what to bring.
Rather camp out riverside than stay in Polebridge? Check out our Custom Overnight Rafting experiences here.
Overnight, Multi-Day Gallery