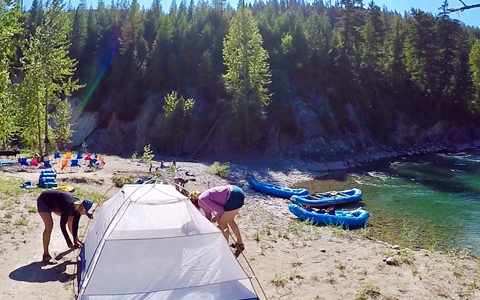 Private Overnight Rafting Adventures
About this Trip
Have you dreamed of seeing Glacier National Park's star studded dark skies without having to carry a heavy pack into the backcountry? Do you want privacy and flexibility customized to your group's desires? This is the trip for you! A private overnight rafting trip in Glacier will leave you with memories you'll keep for always.
For private overnight rafting trips, you choose between the two Wild and Scenic stems of the Flathead River that form Glacier National Park's southwestern border. If you crave adventure, the Middle Fork, with its thrilling class II-III whitewater section, is for you! If you're looking for a quieter experience, choose the remote North Fork. Both trips offer unique, amazing views into Glacier's interior.
Call To Inquire-(406) 387-5555
Pricing
Adult & Child: $300/person/day
Other: Does not include 8% River User Fee or guide gratuities.
Requirements: 4 person minimum, or payment based on minimum of 4 people, i.e. $2400 for a 2 day private overnight rafting trip for a group of 1 to 4 people.
Guide Tip: Industry rate is 18-20%. Your overnight rafting trip will involve multiple guides, shuttle drivers, and kitchen staff. Your lead guide will share gratuities with all members of support staff.
Specials
Plan Your Trip
Trip Details
Dates: June through early September. Advance reservations required. Please call our office at 406-387-5555 or email info@glacierguides.com to arrange the perfect private overnight rafting trip in Glacier experience for you and yours!
Difficulty: Easy or Moderate, Family Friendly
Trip Duration: 2-3 days – your choice!
Age Limits: 5 and up, with season limitations – see more info below
Includes transportation, equipment, and meals beginning with lunch on day 1 through lunch on the final day. Does not include 8% River User Fee or guide gratuities.
Also, some trips may require an entrance pass into Glacier National Park – this is not included in the price. Purchase your pass in advance here.
River Time
At the end of each day on the river, your guide will pick a beautiful , secluded spot on the river to set up camp. At mealtimes, you'll enjoy largely organic, locally sourced meals prepared by your guides, who pride themselves on being backcountry gourmet chefs. We can take into consideration any dietary restriction or request that you may have – just ask! That night, sleep soundly in tents on our comfy sleeping pads and cozy sleeping bags. In the morning, sip steaming coffee or tea as the sun comes up.
What To Bring
What's provided? Do you need a sleeping bag? View our overnight packing list.
View Packing List
Safety First
Safety is always the #1 priority. Guides undergo training in river rescue techniques, first aid, and more. Many guides return year after year. If conditions call for wetsuits and river shoes, or if you would prefer to wear splash gear, it is always available at no extra cost. Helmets are mandatory in the whitewater section of the river.
Additional Trip Details
How to Book

Let us know which river you prefer, how many days you'd like to spend on the river, and when you'd like to go. Need help deciding? That's what we're here for. Just call or e-mail and we'll talk it through. 406-387-5555 or info@glacierguides.com
A four person minimum, or cost equivalent, is required.
Cost is per person/per day, i.e. a one night overnight rafting trip is two days long.
Meeting Notes
Generally, our overnight raft trips meet at 9am on launch day, but for private, custom overnight rafting trips we can meet at our office at any time that is convenient for you. Your guide will go over your gear with you, pack it into our waterproof dry bags, and fit you for a lifejacket and any other appropriate safety gear, depending on river conditions. Next, you'll head for the river!
Directions
We are located 1.5 miles west of West Glacier on Highway 2. Look for our Glacier Guides and Montana Raft sign on the north side of the highway between mile marker 151 and 152. Our property is just off the highway tucked in the trees. When you see our sign turn to the north and you will see us shortly thereafter. Detailed directions are here.
Overnight, Multi-Day Gallery