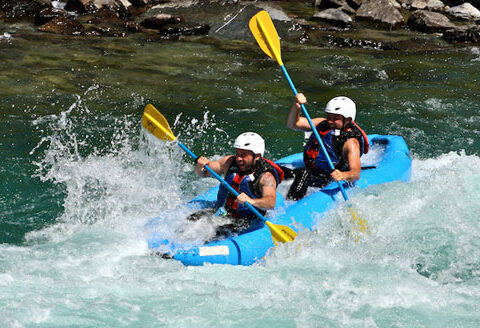 Full Day Inflatable Kayak Whitewater Trip
About this Trip
Paddle the day away and experience whitewater from the perspective of a duck! Enjoy captaining your own kayak alongside our full day raft trip. We'll teach you how to paddle, point the way down, and follow our guides and rafts through the best whitewater on the Middle Fork of the Flathead River. No experience needed, just a desire to paddle like crazy and get really wet! The trip winds about 8 miles through the John F. Stevens Canyon. The 9 named rapids are typically rated class II and III, making for a fun and splashy whitewater rafting adventure!
Book Now
Pricing
Price Per Person: $149
Other Price: Includes lunch. Does not include 8% User Fee
Guide Tip: Industry rate is 18-20% (not included in price)
Specials
Plan Your Trip
Trip Details
This full day Glacier Park inflatable kayak adventure is typically available from mid-July into early September.

Difficulty: Advanced
Availability: July 8th through September 5th
Times: 9:45 AM
Trip Duration: Approximately 6 to 6.5 hours
Age Limits: 12 with parent, 16+ solo.
What To Bring
You're gonna get wet, and it's gonna be fun! We have all of the safety gear that you'll need. View the full packing list for more information.
View Packing List
Safety First
Safety is always the #1 priority. Guides undergo training in river rescue techniques, first aid, and more. Many guides return year after year. If conditions call for wetsuits and river shoes, or if you would prefer to wear splash gear, it is always available at no extra cost. Helmets are mandatory.
Additional Trip Details
Arrive 30 minutes prior to departure to meet your guide and get fitted for lifejackets, helmets, and any other necessary equipment, such as wetsuits. If you have an epi-pen or other medication, your guide can stow it safely for you in a dry bag. Next, take a short bus ride — approximately 20 minutes — to the river put in. You'll launch your inflatable kayak there and begin floating down the stunning Wild and Scenic Middle Fork of the Flathead River
First, we'll explore a particularly scenic and tranquil section of the Middle Fork of the Flathead River. This stretch of river is perfect for learning the paddle strokes and getting a feel for the inflatable kayak. For lunch, we'll find a great beach alongside the river to enjoy a delicious deli-style lunch along with spectacular views of Glacier National Park.
In the afternoon it's off to the whitewater and the excitement of the John F. Stevens Canyon (class II-III rapids). The rapids come towards the end of the trip. Photographs of each boat are taken in the rapid called Bonecrusher. Float under Glacier National Park's historic Belton Bridge towards the end of the trip. Take out of the water in West Glacier. From there, it's a 5 minute bus ride back to where you started.
The More You Know – Full Day Glacier National Park Inflatable Kayak / Duckie Trip Details
Please check into our office 30 minutes prior to the departure time. Click on directions for how to find us.
No experience necessary.
No maximum weight, but must be able to buckle a 58″ chest life jacket.
Trips depart rain or shine.
Typically, the full day floats from Paola to West Glacier on the Middle Fork Flathead River, but river conditions may warrant an itinerary change.
The length of the trip depends on the river flow. In June through early July the full day trips return around 3:00 PM. Mid July through early August they return around 4:00 PM. Mid August to the end of season the trips return around 4:30 PM.
Minimum age: 12 years old with parent, 16+ solo
Helmets and life jackets required for all participants.