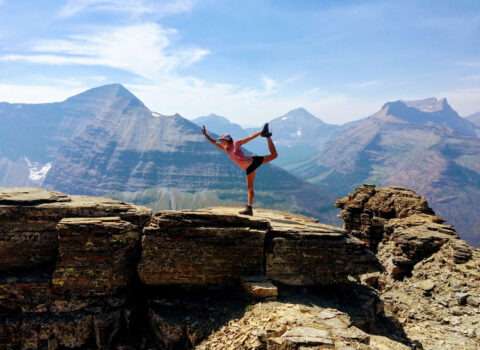 5 Day Glacier National Park Adventure for Women
About this Trip
Women. We're different. And if you ask our female guides about our Glacier National Park Adventure for Women trips, you'll hear that those experiences are different, too. Good different.
On this 5 Day Glacier National Park Adventure for Women, you and your girlfriends — the ones you make or the ones you bring — will renew your minds, bodies, and souls. You'll spend three days backpacking in Glacier National Park's stunning interior and two days rafting Glacier's turquoise river, enjoying another unusual perspective into the park. Vinyasa yoga and meditation sessions will be offered during the 3 day backpacking portion of the trip. Our professional female guides will educate you about Glacier's flora, fauna, geology, culture, and women-specific concerns in the backcountry. Meanwhile, they take care of every logistical detail while ensuring that safety and fun remain at the forefront of this wellness experience. No experience is necessary, as long as you come with a reasonable level of fitness and an open mind.
Book Now
Pricing
Price Per Person: $1473 (18+)
Other: Glacier National Park Entrance Fee (not included in price)
Guide Tip : Industry rate 18-20% (not included in price)
Hotel stay on night 3 (the night between backpacking and rafting): You can choose from a variety of accommodations in West Glacier (not included in price)
Specials
Plan Your Trip
Safety First
Safety is always our #1 priority. Our guides undergo rigorous training each year in river rescue techniques, wilderness first aid, and more. Many of our guides return to us year after year, decade after decade. Our new guides are required to run hundreds of miles of the Flathead River before they can graduate from our Guide School. We carry radios on all of our raft trips. All of our equipment is state of the art and impeccably maintained. If conditions call for wetsuits and river shoes, or if you would prefer to wear splash gear, it is always available at no cost.
Additional Trip Details
You'll wake up to steaming organic coffee or tea each morning of this Glacier National Park Adventure for Women. Later, you'll have the opportunity to stretch your body and relax your mind with an optional morning meditation and yoga session taught by one of our certified yoga instructor guides during the 3 day backpack portion of the trip.
In the backcountry, pit toilets will be available in each campsite, and hand sanitizer available at any time you might request it. On the river, you'll enjoy portable toilets placed in a private location, and hand wash systems that provide running water via foot pump.

All meals offer locally sourced, largely organic, nutritious and delicious choices. If you have dietary preferences, concerns, or restrictions, don't hesitate to reach out to us. Our in-house kitchen staff takes pride in its ability to accommodate almost anyone.
The Glacier National Park Adventure for Women allows you to experience the park from the river and the trails, while focusing on your mind and body. Prepare to challenge yourself, to deepen your concept of trust, to completely relax, and to relish this experience all of your life.
Backpacking and Rafting Trip Details
Hiking and Whitewater Rafting Glacier National Park Allows You To See It All – Almost!
There are over 700 miles of hiking trails in Glacier National Park, so the best way to see the interior of the park is on foot. The 3 day Glacier National Park backpacking trip is jam packed with fun and the perfect introduction to the backcountry. You'll be visiting parts of the park that most visitors driving through don't even know exist. You'll spend your days in subalpine and alpine environments among Glacier's towering peaks. On the trail, your guide will point out features of interest, identify flora and fauna, and be on the lookout for wildlife. You'll be camping in Glacier's beautiful and remote backcountry campgrounds. Almost all campsites are located near lakes or streams, offering opportunities for fishing or swimming.
After 3 stunning days in the backcountry, an overnight rafting trip on the Wild and Scenic Middle Fork of the Flathead River will allow you to fully recover and recharge. Looking into Glacier from its border river allows a unique perspective. In addition to thrilling whitewater rapids, you'll also pass through peaceful, stunning, scenic sections of calm, glacially fed water. These turquoise waters are home to native Westslope Cutthroat, along with Rainbow and some Brook trout. Your comfy raft will carry your gear, and you'll have the chance to put your feet up and enjoy Glacier with very little effort — the perfect end to a backpacking trip.
Glacier National Park Adventure for Women: Backpacking Itinerary
Here's the thing. Although we've been Glacier National Park's exclusive, trusted backpacking partner since 1983, we have to stand in line for backcountry permits like everyone else. So, we can't give you an exact itinerary for our Glacier National Park backpacking trips. We won't know exactly where we're going until the day before the trip. However, we can give you an example of what you might expect!
Day 1
Arrive at our West Glacier office at 8:30 am to meet your guide. You'll go over your gear and split up food and equipment amongst the group. Depending on the itinerary, you may expect a 1 to 3 hour van shuttle to the trailhead. We should be on trail between 11:30 to 12:30! Expect to hike approximately 6-8 miles the first day.
Our guides are passionate and encyclopedic about Glacier National Park — no matter your level of hiking experience, we promise they'll teach you something new as you hike. Our first night's camp is likely to be on the shore of a beautiful alpine lake, surrounded by majestic snow-capped peaks, or nestled in a secluded valley next to the peaceful sounds of a babbling creek. After setting up camp, your guide will prepare an incredible backcountry meal and led an optional vinyasa yoga and meditation session.
Let's eat!
On the subject of meals, you will be amazed by what our guides cook for you. We like to eat, and it shows. Our in house kitchen staff, who assists our guides in trip preparations, believes in sourcing locally, purchasing organic when possible, and fueling your body with the best available, homemade food. You won't find commercially freeze dried one bag meals on this trip! We can also accommodate nearly any dietary restriction or preference – just ask.
Day 2
The next morning you'll awaken to a cup of fresh, organic, fair trade coffee or tea and a hearty breakfast. In late summer, your guide might sprinkle freshly picked huckleberries onto your protein packed pancakes! You'll also have the opportunity to awaken your body in a beautiful and invigorating setting with an optional vinyasa yoga and meditation session.
After breaking camp, expect to be on the trail between 9:00 am to 10:00 am, depending on the mileage for the day. The average backpacking day is about 8 miles. A longer day could be up to 10 miles – in that scenario, expect to break camp a little earlier. Lunch is usually made along the trail next to a relaxing creek or on a scenic pass. After arriving at that night's campground, you will set up camp and refill water while your guide prepares another delicious dinner.
Day 3
This morning, you'll have another opportunity to awaken your body and mind with meditation and yoga. Afterwards, you'll hike out to the trailhead. A delicious deli lunch awaits you, which will be a fine treat after 3 days in the backcountry. Typically, you'll return to the Glacier Guides and Montana Raft office around 4 pm, although that can vary. You'll need lodging in West Glacier on this night — if you book early enough, we may be able to offer you a room at our cozy Glacier Guides Lodge. We'll be happy to give you a ride to your West Glacier accommodation, and to pick you up the next morning, too – just ask.
Frequently Asked Questions
Mileage ranges from 5 to 12 miles a day, with an average of 8 miles/day.
Elevation gain and loss on an average day will be about 500 to 800 feet, while a more strenuous day will be 2,000 to 3,000 feet, i.e. if you are hiking over a pass.
Weight of your backpack will depend on the weight of what you choose to bring. Upon arrival, your guide will give you 6-8 pounds of food to add to your bag. Most people end up with a pack weight of around 40 pounds. Remember, ounces make pounds!
Our guides pack and prepare all meals and are great backcountry cooks. You'll enjoy delicious, largely locally sourced and organic meals. We are happy to accommodate special dietary needs upon advanced request. Please let us know what they are when you book your trip.
Group size will be no larger than 8 people per backcountry trip. 7 guests per guide.
Don't forget your passport, because some of our trips either start or end in Waterton, Canada!
Glacier National Park Adventure for Women: Rafting Itinerary
Ready for adventure? Dreamed of seeing Glacier National Park's star studded skies without having to carry a heavy pack into the backcountry? This is the trip for you! Our 2 day Glacier rafting trip will give you an experience on the Middle Fork of the Flathead River that you'll never forget. The Middle Fork is designated as a Wild and Scenic River. It also forms Glacier's southwestern border. As a result, this 2 day rafting adventure offers unique and amazing views into Glacier's interior. In addition to thrilling whitewater rapids, you'll also pass through peaceful, stunning scenic sections of calm, turquoise water.
Day 4
On the first afternoon on the river, your awesome female raft guides will pick a beautiful spot on the river to set up camp. That night, sleep soundly in tents on our comfy sleeping pads and cozy sleeping bags. In the morning, sip steaming coffee or tea as the sun comes up. At mealtimes, enjoy largely organic, locally sourced meals prepared by your guides, who pride themselves on being backcountry gourmet chefs. We can take into consideration any dietary restriction or request that you may have – just ask!
Day 5
On the second day on the river, experience the thrilling whitewater section of the John F. Stevens Canyon. Don't worry, we will take pictures! After the most exciting experience in Glacier National Park, we'll take off the river at West Glacier in the late afternoon. You'll be back to our office in West Glacier around 5:00 PM where we'll all be waiting to hear of your adventures!
Other Notes
The speed of the current — and therefore the length of the trip — changes with varying water levels, so the put-in may differ from trip to trip.
Most, but not all, of the whitewater occurs on the last day in the John Stevens Canyon.
The rapids are rated class II and class III, making this trip a fun and splashy adventure.
Early season — June and early July — you'll appreciate our wet suits and splash gear, which are provided at no additional cost.
Glacier National Park Adventure for Women Meeting Notes
Guests should call our office the day prior to departure at 406-387-5555 or 1-800-521-7238 to check-in. The day of the backpacking trip, you should arrive at our office by 8:30 AM to meet your guide. Click on directions for how to find us.
Hiking & Backpacking Gallery