This week, my favorite Glacier Guides and Montana Raft caller hails from Athens, Georgia, where I occasionally attended classes in the late 90s. At any rate, this caller and I immediately bonded over grits and the Georgia Theatre. He had just checked in to our charming Guest House and wanted to know what to do when the Going to the Sun Road is closed.
"Well," I answered, "the Going to the Sun Road is actually not closed. Some part of it is always open, it just might not be open to vehicle traffic."
He was surprised by my answer, and so we spent some time discussing the many adventures to be had on the Going to the Sun Road. I personally make it a point to visit the road every month of the year, and have found greater joy in hiking, skiing, and biking it than I ever have in driving on it. Then we discussed what a tiny portion of the park the road actually affords access to. By the time we got off the phone, we had come up with this list:
Top 7 Things to Do When the Going to the Sun Road is Closed
#1 – The Sun Road Isn't the Only Scenic Drive In Glacier
If you visit Glacier when the Going to the Sun Road is closed and you really like scenic drives, you can still enjoy them.  On the west side of Glacier National Park, take the Camas Road to the Outer North Fork Road to Polebridge. Eat some world famous pastries while you're there. Gorgeous views of the remote North Fork area of the park abound on this drive. Your wildlife viewing chances are high – and really, what's more fun than seeing a bear from the safety of your car?
Pro Tip: Don't become a Darwin Award. Remain in your vehicle. Never harass wildlife. Or other people. Be nice.
On the east side of the park, try out beautiful Highway 49, also known as Looking Glass Pass, from the Two Medicine area towards St. Mary.
The stunning Many Glacier Road might also be open, although you should top off your gas tank and pack a lunch, as there are generally no services available in the shoulder seasons there. All park roads are subject to closure at any time, so always check their status on the official park website before you go!
Pro Tip: wherever you are going in Montana, it's a good idea to pack a lunch and a jacket.
#2 –Bicycle the Going to the Sun Road
When the Going to the Sun Road is closed to vehicle traffic, it is often open to hiker/biker access. And you're in luck – we think biking the Going to the Sun Road is a far better way to experience the road than by car. Without cars, you can soak in the silence of Glacier's alpine environment nearly all by yourself. Wildlife sightings are likely. Fragile wildflowers will make your heart skip a beat, as you contemplate their will to live. And in the spring, the waterfalls thundering off the Garden Wall are simply enchanting.
If you go on an interpretive bike tour with us, we'll teach you about Glacier's history along the way. If you'd rather go on your own, we rent bikes and carriers, too. And if you'd rather not ride on the Sun Road, check out our general biking GNP FAQ here.
Pro Tip: Biking the Going to the Sun Road is the perfect excuse to eat chocolate chip cookies. And ours are really good.
# 3 – Raft Glacier National Park
Did you know Glacier's southwestern border is formed by the Middle and North Forks of the Flathead River? These Wild and Scenic rivers are home to fun and splashy whitewater  that makes for the ultimate spring adrenaline rush. Have grandma or your kiddos along? There are smooth, peaceful waters perfect for a scenic float, too. Rafting Glacier National Park when the Going to the Sun Road is closed is the perfect adventure for nearly all ages and abilities!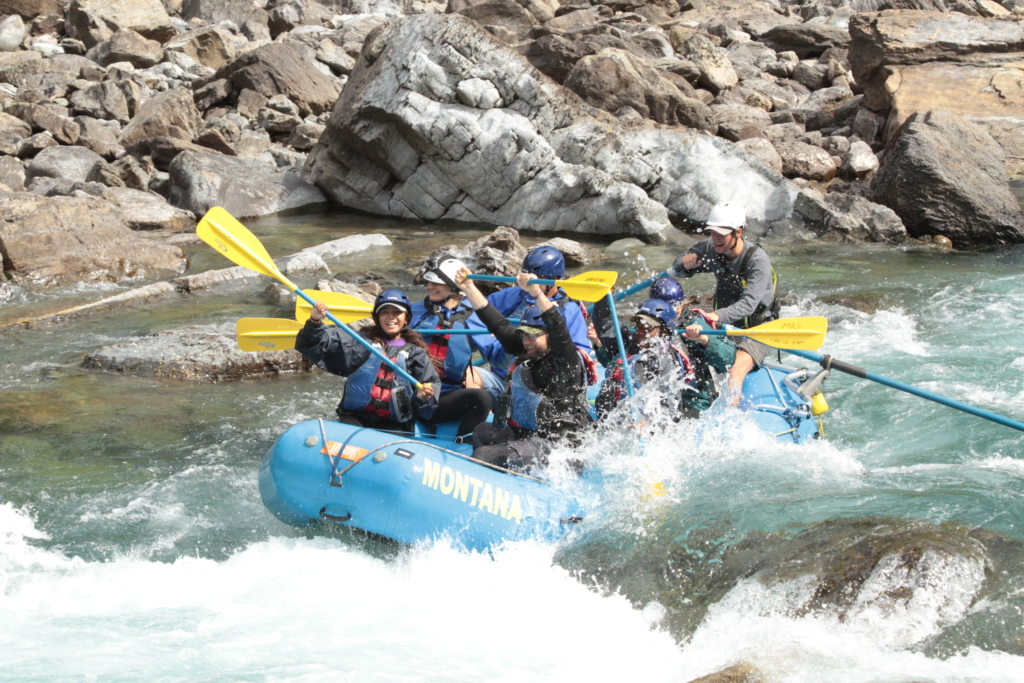 #4 – Go for a hike!
There are fantastic hikes that explore the areas of Glacier National Park that are typically the earliest to open to hiker traffic.  Try easier hikes like Avalanche Lake by Lake McDonald, Aster Park in Two Medicine, or Red Rock Falls in Many Glacier.  If you are an avid hiker and want something more challenging, head up Firebrand Pass along Highway 2 or Scenic Point in Two Medicine. These are often the first hikes to clear of snow when the Going to the Sun Road is closed.
# 5 – Go Fishing
Glacier is bordered by two fabulous Wild and Scenic rivers, the North and Middle Forks of the Flathead River. These pristine, turquoise waters are home to cutthroat, rainbow, and brook trout.  We think river time is just about the most relaxing way to spend a day, even if you're not into fishing. Bring your binoculars or a good book, and enjoy the views from the river into Glacier's interior.
Pro Tip: Pick fall over spring for going on a fishing trip, as the rivers can be too muddy for reelin' 'em in in the early spring.
# 6 – Explore Glacier National Park's Southern Border
From West Glacier, drive Highway 2 into Glacier National Park. Stop for lunch in Essex, and enjoy the delightful year-round Izaak Walton Inn — especially a hit with train lovers! You can even stay in a caboose at the Izaak Walton.
Keep driving on Highway 2, but take time to commune with the mountain goats at Goat Lick. If you didn't stop at the Isaak Walton, Bear Creek is a great place to picnic. Restless kids also enjoy throwing glacial rocks into the frothy confluence of the creek and the Middle Fork of the Flathead River.
In the spring, the Silver Stairs waterfall makes for a great photo opp. Continue on Highway 2 to East Glacier and down the Two Medicine Road for stunning views of Two Medicine Lake, Rising Wolf Peak, and Scenic Point. At the end of the day, return to East Glacier and savor a Serrano's Montana-Mexican dinner. Serrano's opens as reliably as the sun every year on May 1, and remains open through September 30. Enjoy a different perspective of the park as you retrace your path, westbound now, back to West Glacier.
# 7 – Adventure Outside of the Park
Here's an extensive list of places we love to play.
Have any other questions about what to do when the Going to the Sun Road is closed? Give us a call at 406-387-5555 or shoot us a note below – as the official Glacier National Park backpacking guide service since 1983, we're here to help. And if you think we're helpful, we'd just love it if you shared this with your friends.
[contact-form][contact-field label="Name" type="name" required="true" /][contact-field label="Email" type="email" required="true" /][contact-field label="Website" type="url" /][contact-field label="Message" type="textarea" /][/contact-form]