Interpretive, Guided Biking on the Going to the Sun Road
The hush of winter 2017 in the Glacier Guides and Montana Raft office was punctuated by the occasional big noise. Snow avalanched off the roof. Longtime guides stopped by with cookies and tales of winter adventures. And then there were the excited howls we collectively let out when we got the approval from the park service to offer interpretive, guided biking on the Going to the Sun Road, in the spring, when it is closed to vehicle traffic!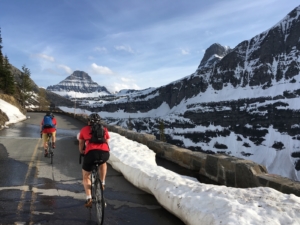 We will guide bike tours on other closed roads in the park, too, but it is the Sun Road we, and everyone else, gets so excited about each spring. So, at long last, we are thrilled to announce that we are your shoulder season Glacier National Park biking guides!
What's So Great About Biking on the Going to the Sun Road?
Biking on the Going to the Sun Road is always an incredible experience. Whether you're 8 or 98, we think it should be on your bucket list. However, biking the road can can be a stressful experience when it is open to vehicle traffic, especially with kids involved. As your local Glacier National Park experts, we know how to experience the Going to the Sun Road without having to dodge distracted drivers or stop for traffic jams.
What if we told you that you could have long, meandering, peaceful stretches of this iconic road all to yourself?
Visit Glacier National Park in the spring, and your biking tour with us will be the highlight of your trip! No cars to worry about, no logistics to figure out. Our friendly, knowledgeable, and entertaining guides, will help you choose the right bike for this particular Glacier National Park adventure, cheer you on, and let out the call for the break everyone looks forward to.
Did you know our kitchen lovingly prepares largely organic, locally sourced, delicious sack dinners for every biking trip? The cookies, we dream about the cookies … back to biking, sorry. We get distracted when we think about food sometimes. Especially cookies.
What To Expect Biking the Going to the Sun Road with Glacier Guides and Montana Raft
Fun! You should expect so much fun, and time for quiet introspection, too, as you climb steadily upwards and drink in the silence of Glacier National Park in the spring. Because there are fewer people, and hikers and bikers are much quieter than cars, wildlife can often be seen near the road.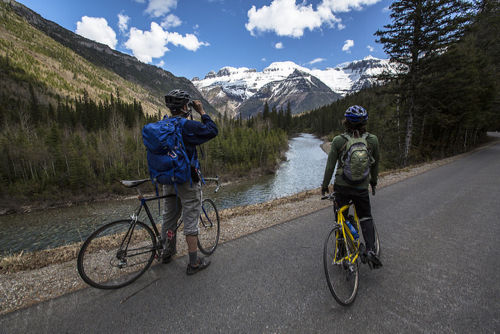 Biking in Glacier National Park provides the perfect opportunity to look for wildlife. Photo by Jacob W. Frank, Glacier NPS.
You can expect to depart our West Glacier campus around 1:30pm and to return around 7:30pm. We offer this trip daily from early May through mid-late June, when the Going to the Sun Road opens to vehicle traffic.
Want to go to the east side of the park, and try biking on the Going to the Sun Road from St. Mary towards the Jackson Glacier Overlook? Just ask. Depending on road conditions, we might also bike on the lovely Camas Road, a hidden gem in Glacier National Park.
How Far Will We Bike on the Going to the Sun Road?
That answer will change as the snowplows advance to Logan Pass and as the park service opens up interior roads to public access. We can only go as far as hiker/biker access allows us to go. The turnaround point will vary depending upon a number of factors. The first 6 miles are fairly level, as measured from Lake McDonald Lodge. The Going to the Sun Road begins to climb after that point, at Avalanche Lake Trailhead.
From the west side of the park:
Mile –2 – Glacier Guides and Montana Raft
Mile 0 – West Glacier, Montana (3,215' elevation)
Mile 1 – West Glacier Entrance Station
Mile 11 – Lake McDonald Lodge (3,153')
Mile 12 – McDonald Falls, McDonald Creek
Mile 16 – Avalanche Trailhead/Trail of the Cedars (3,301')
Mile 17 – Red Rock Point
Mile 23 – West Side Tunnel
Mile 24 – The Loop (4,400')
Mile 27 – Bird Woman Falls Overlook
Mile 28 – Haystack Falls
Mile 29 – Weeping Wall
Mile 30 – Big Bend
Mile 31 – Triple Arches (6,181')
Mile 32 – Logan Pass (6,646')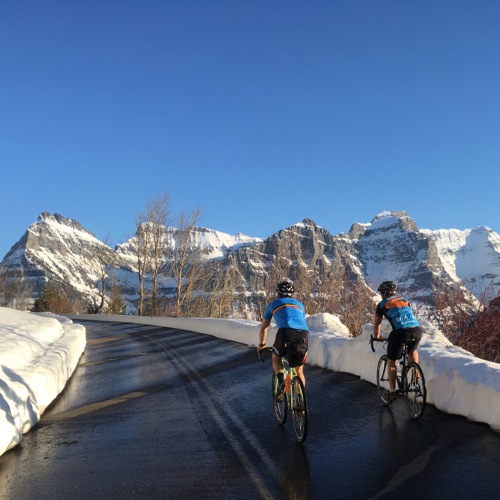 One of Glacier's best kept secrets is early season cycling on the Going-to-the-Sun Road. Photo by Marc O'Brien (IG: marc_obrien)
What Do I Bring?
We suggest preparing for our interpretive Glacier National Park biking tours as though we were going hiking. On a nice day, shorts will work just fine! However, keep in mind that rain and snow are always possible in the mountains. Even if you think the day is nice enough for shorts, bring synthetic layers, such as long underwear or high-tech exercise leggings. Definitely bring rain pants and rain jacket, as conditions are likely to change. We have most of these items available in our store for purchase, too.
After you reach the turnaround point and begin the fun downhill ride, you'll be glad you packed a puffy coat or fuzzy fleece jacket to put on. Gloves and a warm hat are a must in the high country this time of year. Hiking shoes are advised. Bring a water bottle, too.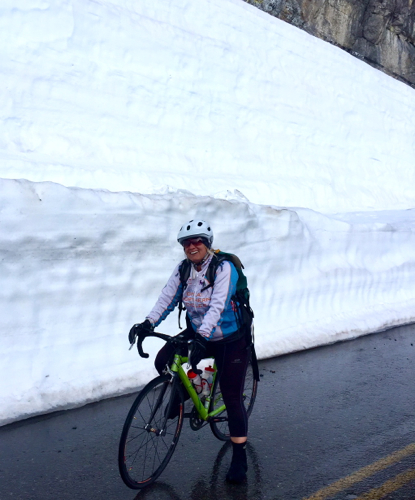 Make sure to bring lots of layers, or the ride back down could get chilly.
Are you ready for the ultimate spring Glacier National Park adventure? Give us a call to get your Going to the Sun Road biking tour set up today! 406-387-5555 or info@glacierguides.com
p.s. Looking for self-guided Glacier National Park biking and need to rent a bike? We're taking reservations for our brand new fleet – men's, women's, and children's bikes. Helmet included with rental. We're located on the Gateway to Glacier bike path.  Ride from our office directly into Glacier National Park, skipping the vehicle traffic!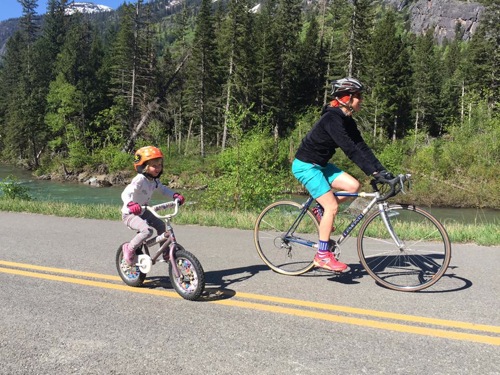 Shoulder season biking on the Going to the Sun Road is fun for the whole family!