Six Days in Glacier's Backcountry
Backpacking in Glacier National Park is our passion. As a company, we were founded because of the need we saw for ecologically sensitive backpacking in Glacier Park. That was back in 1983. Since then, we've taken thousands of guests on 2, 3, 4, 6, and even 10 day backpacking tours of the park.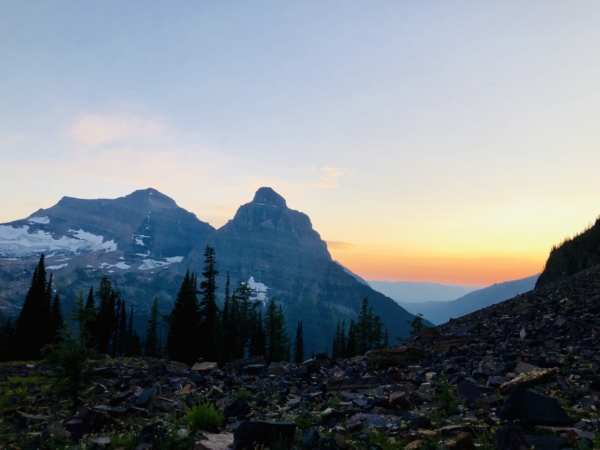 At over a million acres in size, Glacier National Park features many different environments, ranging from mature forests to grasslands to alpine meadows, high passes to riparian river zones. How can you maximize what you see? Plan for 6 days backpacking in Glacier!
Backpacking isn't for everyone, but if you're in shape to do it, it's the best way to get an intimate look into the park. Not to mention, 6 days backpacking in Glacier will allow you to fully disconnect from the virtual world and re-connect to the physical world.
Every trip is different, but here's a look at what you can expect on a 6 day backpacking in Glacier National Park experience with us. (Wondering about the permit process itself? Check out this Backpacking in Glacier National Park FAQ blog that we wrote.)
Where Are We Going?
We usually don't know.
On a 6 day backpacking in Glacier National Park trip, we might cross over the Continental Divide, and explore different valleys in the park. At other times, we might enjoy a deep dive into one area of the park, with layover days and day trips from backcountry campgrounds. It depends on what's available and what's best suited for our guests.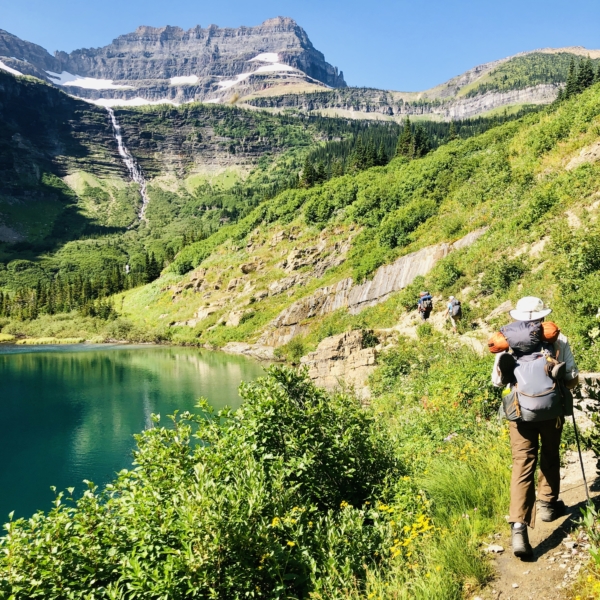 Pro tip: you don't have to be an athlete rippling with muscles or a marathon runner to go backpacking. It's as much a mental game as it is a physical one. But the better shape you're in, the more fun you'll have.
Each day on the trail will bring new panoramas and breathtaking vistas. Backcountry campsites are generally near streams or lakes. We love the magnificent solitude of the wilderness, far removed from the hustle and bustle of Glacier's front country sites.
Example Itinerary: 6 Days Backpacking In Glacier National Park
Here's the thing. Although we've been Glacier National Park's exclusive, trusted backpacking partner since 1983, we have to stand in line for backcountry permits like everyone else. So, we can't give you an exact itinerary for our Glacier National Park backpacking trips. We won't know exactly where we're going until the day before the trip. However, we can give you an example of what you might expect!
On Day 1, In the morning, travel to our office in West Glacier to meet your guide and check over your gear. Here's a link to our suggested packing list. Remember: ounces make pounds!
Meet Your Guides
Our guided Glacier National Park hiking trips are focused on safety and ecological responsibility. Guides are highly trained and hold multiple backcountry certifications such as Wilderness First Aid, National Park Service Bear Management, and Leave No Trace backcountry ethics training. You will receive an education about Glacier National Park's flora, fauna, geology, history, and more while in the care of our guides — who are also highly entertaining!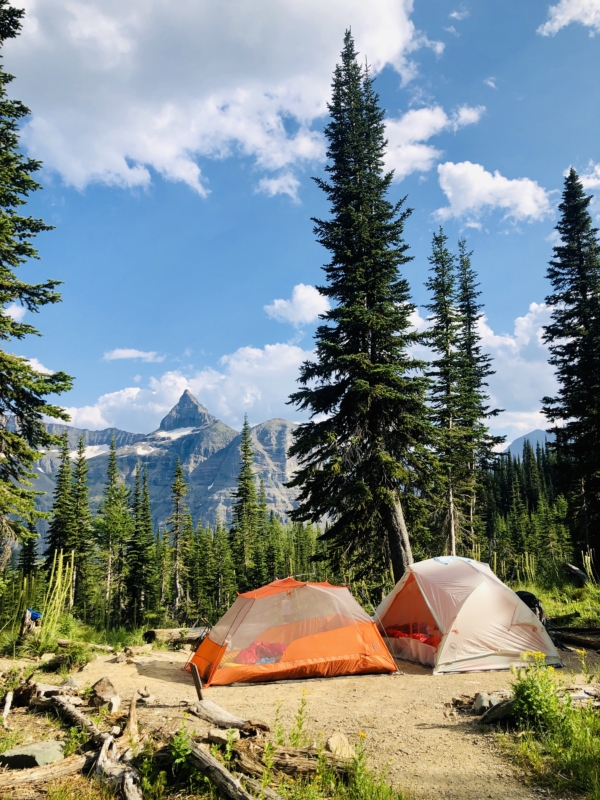 Leave No Trace
At Glacier Guides and Montana Raft, we're the guides, but the Leave No Trace Principles are our guide. On all of our trips, we will teach you about the importance of these 7 principles. In accordance with Be Considerate of Others, we'll ask you to turn your cellphones and other technology off, or to airplane/silent mode if you'd like to use them to take pictures. And you should definitely take pictures.
Day 1
Arrive at our West Glacier office to meet your guide. (You can virtually meet our guides here.) You'll go over your gear and split up food and equipment amongst the group. Depending on the itinerary, expect a 1 to 3 hour van shuttle to the trailhead. We should be on trail between 11:30am to 12:30pm!
Expect to hike approximately 6-8 miles the first day. Our guides are passionate and encyclopedic about Glacier National Park — no matter your level of hiking experience, we promise they'll teach you something new as you hike.
Our first night's camp is likely to be on the shore of a beautiful alpine lake, surrounded by majestic snow-capped peaks, or nestled in a secluded valley next to the peaceful sounds of a babbling creek. After setting up camp, your guide will prepare an incredible backcountry meal.
Let's eat!
On the subject of meals, you will be amazed by what our guides cook for you. We like to eat, and it shows. Our in house kitchen staff, who assists our guides in trip preparations, believes in sourcing locally, purchasing organic when possible, and fueling your body with the best available, homemade food. You won't find commercially freeze dried one bag meals on this trip! We can also accommodate nearly any dietary restriction or preference – just ask during the trip planning process.
Days 2-5
In the mornings, you'll awaken to a cup of fresh, organic, fair trade coffee or tea and a hearty breakfast. In late summer, your guide might sprinkle freshly picked huckleberries onto your protein packed pancakes! After breaking camp, expect to be on the trail between 9:00 am to 10:00 am, depending on the mileage for the day. The average backpacking day is about 8 miles. A longer day could be up to 12 miles – in that scenario, expect to break camp a little earlier.
Lunch is usually made along the trail next to a relaxing creek or on a scenic pass. After arriving at that night's campground, you will set up camp and refill water while your guide prepares another delicious dinner.
Day 6
On the last day, you'll hike out to the trailhead to meet your shuttle driver. A delicious deli lunch awaits you, which will be a fine treat after 6 days in the backcountry. Typically, we return to the Glacier Guides and Montana Raft office around 4 pm, although that can vary.
Frequently Asked Questions About Backpacking In Glacier National Park with Glacier Guides and Montana Raft
Mileage ranges from 5 to 12 miles a day, with an average of 8 miles/day. On longer trips we sometimes incorporate a layover day. That allows guests to explore without a heavy pack. Early season (through June and into first few days of July) our backpacking trips tend to base camp more, and then day hike to explore the alpine passes. This is due to winter snows lingering in the high country.
Elevation gain and loss on an average day will be about 500 to 800 feet, while a more strenuous day will be 2,000 to 3,000 feet, i.e. if you are hiking over a pass. We usually have 1-2 strenuous days over the course of 6 day Glacier National Park backpacking tours.
Weight of your backpack will depend on the weight of what you choose to bring. Upon arrival, your guide will give you 6-8 pounds of food to add to your bag. Most people end up with a pack weight of around 35-40 pounds. Remember, ounces make pounds! We do offer a porter service.
Our guides pack and prepare all meals and are great backcountry cooks. You'll enjoy delicious, largely locally sourced and organic meals. We are happy to accommodate special dietary needs upon advanced request. Please let us know what they are when you book your trip.
Group size will be no larger than 8 people per backcountry trip. 7 guests per guide.
Don't forget your passport, because some of our trips during mid July through early September either start or end in Waterton, Canada!
Pro Tip: After Your Backpacking Glacier National Park Trip
Rest and relax after your hiking or backpacking adventure on the river! A full day or overnight rafting tripis the perfect conclusion to your guided Glacier National Park hiking adventure. Plus, you'll then be able to engage in lively debate about whether Glacier is prettier from the trail or from the river.