(And Overnight Rafting Regulations, Too)
Get your Glacier National Park raft rental here! We rent rafts, SUPs, inflatable kayaks/duckies, and all the gear that goes with them.
Curious about overnight rafting regulations on the Middle and North Forks of the Flathead River? Find those Glacier National Park and Flathead National Forest requirements below.
**PLEASE NOTE THAT WHILE WE ARE HAPPY TO HELP YOU LOAD RAFTS/SUPS/INFLATABLE KAYAKS/BIKES/BIKE CARRIERS, ETC, ON/IN YOUR VEHICLE, YOU ASSUME RESPONSIBILITY FOR ANY DAMAGE INCURRED TO THE BIKE CARRIER, BIKES, AND YOUR VEHICLE, IN SAID INSTALLATION/UNINSTALLATION AND WHILE THEY ARE IN YOUR POSSESSION.**
Glacier National Park Raft Rental
---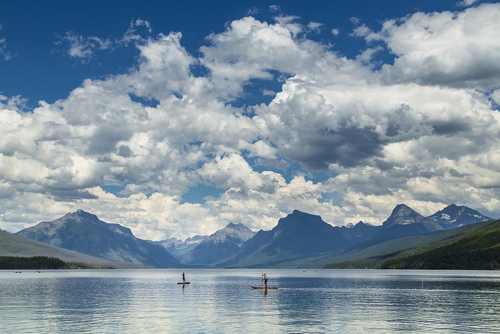 14 ft. Self-Bailing $180/day
13 ft. Self-Bailing with Fishing Frame $245
Raft Frame and Oars $25/day
2 Person Inflatable Kayak/Duckie $75/day
1 Person Inflatable Kayak/Duckie $65/day
Stand Up Paddleboard (SUP) $47/day or $20 for 4 hours
Zayak $45/day
*Life Jackets and Paddles Included in Raft, Duckie, SUP, and Zayak Prices*
**We do not allow our raft rental equipment on the technical whitewater section of the Middle Fork Flathead, i.e. Cascadilla to West Glacier.**
Other River Gear Rentals
---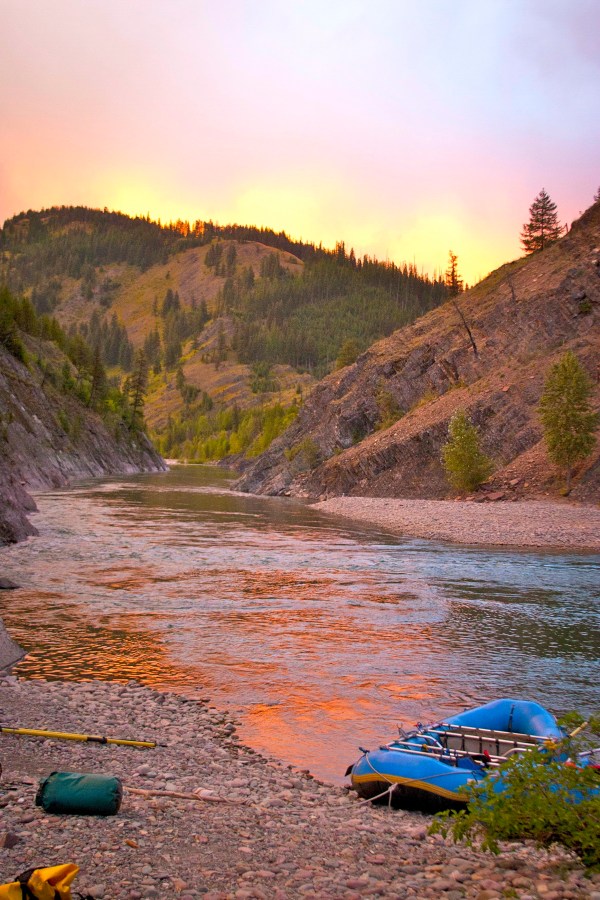 Farmer John Wetsuit $12/day — sizes XS to 4XL
Booties Only $3/day
Lifejacket $5/day — up to 58″ chest/girth
Helmet $5/day
Throw Bag $5/day
Paddles $4/day
Pump $10/day
Dry Bag Large $8/day
Dry Bag Small $5/day
Kayak Paddle $10/day
Fire Pan and Grill $15/day
Raft Oars (3) $15/day
Paco Pad $13/day
Toilet System $20/day, plus $30 cleaning fee per can
Bear Spray Rental (UDAP) $9.25/day
*Guided raft trips include gear in trip price.*
Camping Equipment A La Carte
---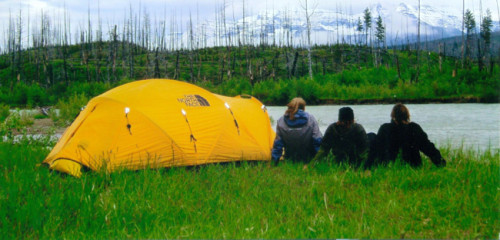 4 Man Tent (Kelty) $15/day
Sleeping Bag + Sleep Sheet (Sierra Designs, rated to 30 degrees) $12/day
Sleeping Pad (Therma Rest) $10/day
Cooler $10/day
Sleeping Pad (foam) $5/day
Two Burner Camp Stove $25/day — frying pan and pot included in rental, propane sold separately
Roll-A-Table $10/day
Camp Chair $5/day
Water Jug $5/day
---
Flathead River System
---
Are you planning a rafting trip on Glacier's border rivers, the North and Middle Forks of the Flathead? Glacier's southwestern border is formed by these gorgeous Wild and Scenic Rivers. In fact, the Middle Fork Flathead River played a large inspiration for the Wild and Scenic Rivers Act itself.
North Fork Flathead River – Overnight Rafting Regulations
Enabling legislation for Glacier National Park established the northwestern park boundary as the middle channel of the North Fork of the Flathead River. The US Forest Service (USFS)/Flathead National Forest (FNF) has administrative authority on the Flathead Wild and Scenic River including the North Fork. FNF provides primitive camping locations at Ford Creek, Big Creek, and Glacier Rim. Glacier National Park has one designated river campground at Round Prairie (ROU) available for overnight boater use. The park also allows limited undesignated camping along the North Fork. (This information provided by the National Park Service.)
Camping Sections Spruce Creek to Round Prairie – 1 party/night
Bowman Creek to Anaconda Creek – 1 party/night
Anaconda Creek to Blankenship Bridge – 2 parties/night
Here's a link to the river maps that help make these section requirements clearer.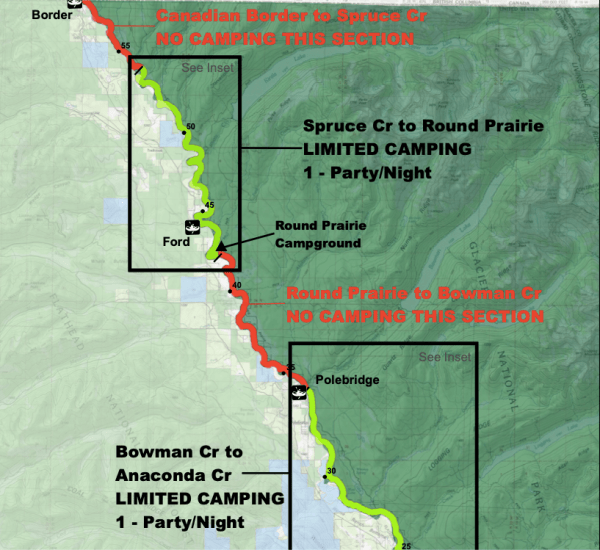 Middle Fork Flathead River
Middle Fork river camping is administered by the USFS/FNF and is subject to Flathead National Forest camping regulations. Glacier National Park does not issue camping permits for the Middle Fork.
Undesignated River Camping Regulations for Glacier National Park
---
Party size is limited to 12 People.
Camping is limited to designated river sections; see maps.
It is also limited to one (1) night in any campsite. Parties must move at least one (1) mile each day before establishing a new camp.
Campsites MUST be located on durable surfaces, gravel and sand bars below high water mark are preferred.
Wood fires are allowed if contained in a fire pan with an air space between the fire and the ground to protect dormant insect larvae that may be present in gravel river sediment. Use of fire blankets (old USFS fire shelters) is prohibited.
All food, cooking gear and refuse must be secured from bears at all times except mealtime. This requires either suspending these items a minimum of 10 feet (3 m) above the ground and 4 feet from any tree trunk or utilizing an Interagency Grizzly Bear Committee (IGBC) approved bear-resistant food container (BRFC) at all times, except mealtime. All cooking gear that cannot be stored in a bear resistant container MUST be cleaned and kept 100 feet (30 m) from your sleeping area.
Distance between the sleeping area and the food prep/storage area should be a minimum of 100 feet.
Glacier National Park river users (day and overnight use) are REQUIRED to use some type of self-contained waste disposal system (Groover, Rocket box, WAG bags, etc.).
No pets allowed.
Glacier National Park Overnight Rafting – Trip Preparation
---
Boaters should familiarize themselves with current river conditions and levels;
And should have appropriate maps; Three Forks of the Flathead Wild and Scenic River Float Guide is recommended.
River users must have their non-motorized watercraft inspected for Aquatic Invasive Species by an NPS inspector prior to river camping on the Glacier side, even if they are launching from the Flathead National Forest. Clean, drain, and dry boat to be ready for inspection.
Overnight camping regulations apply to river use within Glacier National Park. For complete Flathead National Forest rules and regulations, visitors should consult the Flathead National Forest Supervisor's Office in Kalispell, MT at (406) 758-5208.
Required Gear for Glacier National Park Overnight Rafting Trips
---
An overnight backcountry camping permit.
Boaters must have their non-motorized watercraft inspected for AIS by an NPS inspector prior to river camping on the Glacier side, even if they are launching from the Flathead National Forest.
Personal flotation device (PFD). Must be carried on board the vessel. All children 12 and under must wear a PFD when the vessel is underway.
Interagency Grizzly Bear Committee (IGBC) approved bear resistant food container. The Apgar Backcountry Permit Center has a limited number of bear resistant food containers and coolers to loan as a courtesy for river users. They are issued on a first come first serve basis.
A self-contained human waste disposal system. (groover, rocket box, WAG bags, etc.)