If you're looking for things to do in Glacier National Park with kids, we're here to help. The magic of the national parks can be even more so when experienced through the eyes of a child that you love. There's so much to do in Glacier, but here are our:
Top Ten Things To Do In Glacier National Park With Kids
This program is great because it can done in conjunction with other activities in the park. Glacier Junior Rangers have to complete tasks to earn their badge: visit the park, attend a ranger-led program, and correctly complete at least 5 of the activities in the Junior Ranger booklet. Booklets are available from the visitor centers at Apgar, Logan Pass, and St. Mary. When you are finished with the booklet, take it back to any of these visitor centers to have a ranger check your answers and receive your badge. Take it from us, kids love badges! And talking to rangers. Parents really like the booklets because they can be done on a car ride or at camp. This is a great first stop on your list of things to do in Glacier National Park with kids.
Teach your children about river magic while you're here. After all, how often will you get to float the rivers that helped to inspire the Wilds and Scenic Rivers Act? Especially on a warm day, there's no better place to be than on the river! If it's raining, keep in mind that if you're on the whitewater trip, your kids are going to get wet anyways. So, might as well go anyways. Some of the happiest kids we've seen on the river have been catching rain drops with their tongues.
On the river, which forms the southwestern border of Glacier National Park, the view is always changing. Kids love looking for birds and animals. We often see mountain goats and bald eagles from the comfort of the raft. We might be biased, but rafting is probably our favorite of the things to do in Glacier National Park with kids.
How Old Do My Kids Have to Be to Go Rafting?
Minimum ages will vary with the levels of these undammed rivers, but typically we recommend that children be at least 3 to join a scenic float trip, and 5 for whitewater. Got bigger kids? If they're 12 and up, and the river levels are right, they can go with a parent in an inflatable kayak, and follow the big rafts down the river. If they're 16 and up, they can go solo! We offer half day, full day, and overnight rafting trips. When your kids are ready, overnight rafting is the perfect way to introduce them to Montana's starry backcountry with no heavy pack involved.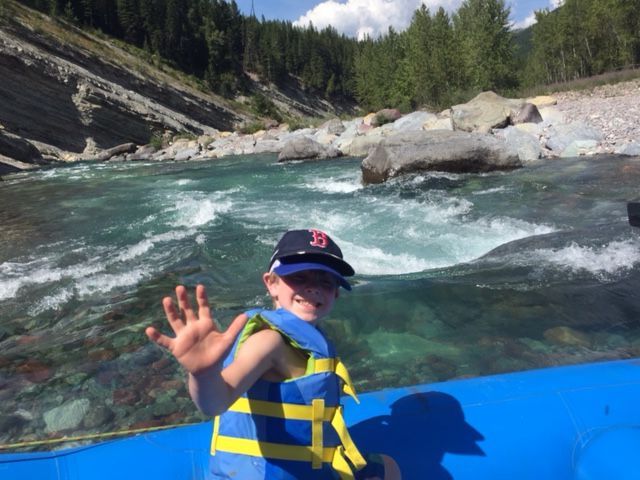 Pro Tip
Wear synthetic clothing for rafting — avoid wearing cotton clothing since it does not keep you warm if it gets wet. Wear shoes that you can get wet, but not flip-flops, as they are a great way to get an ankle injury.  If you have glasses, invest in a strap so you don't lose them to the river.  Check out our packing list for rafting trips for more information.
Glacier is known for it's phenomenal hiking, and while the abilities (and enthusiasm!) of your kids will narrow your choices, there are still plenty of great walks in the park. Guided hikes, led by us, the Park Service, or the Boat Company, are great ways to learn about the park's history, flora, and fauna. Kids are often very open to learning in natural environments. Our best advice to you is to remember that hiking with children is about the journey, and not the destination. Keep it fun and you'll keep them wanting to go hiking! If you have a small child, you can rent a child carrier. Plenty of our kids spent plenty of hours sleeping in those carriers when they were very small.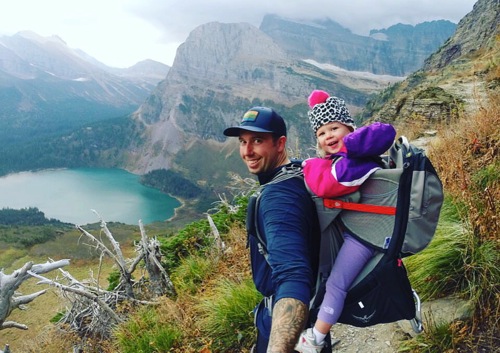 Pro Tip
Glacier is home to many animals, from big to small.  Please make sure your children are close by and within eyesight.  Explain to them what to do if they see bigger animals: don't run, back up, give them space. For smaller animals, please keep your child and the animals safe by not allowing your child to feed them. Teach your child about micro trash, and pick up the crumbs, no matter how small, they will inevitably drop.
Further Reading
How To Hike with Kids in Glacier National Park
Top Ten Best Hikes for Kids in Glacier National Park
Ten Short, Easy Hikes in Glacier National Park
4. Get Out On the Lakes!
Going out on stunning glacial lakes is definitely one of the top ten things to do in Glacier National Park with kids. The 360 degree views are amazing out on the water, and sometimes it gives your family a better chance to see animals like moose, bear, beavers, and ducks, than from the shore.  Glacier Park Boat Company has boat rentals and tour boat rides on several  lakes within the park.  Docks are located on both sides of the park, in Two Medicine, St. Mary, Many Glacier and on Lake McDonald. Looking for boat rentals in the North Fork Valley?  North Fork Recreation Rentals offers river and lake kayaks, bikes, and paddleboards in Polebridge.
Montana and horses, horses and Montana. They are inextricable. Swan Mountain Outfitters is the only outfitter that offers horseback rides in the park, and they're great at what they do. Children 7 years and older can ride at the Apgar and West Glacier Corrals and on the one hour and two hour rides at the Lake McDonald Corral. Children 8 years and older can ride at the Many Glacier Corral. Just be careful – we know more than one little girl that left Glacier National Park with a lifelong love for horses.

PRO TIP:
Wear long, sturdy pants, heeled shoes or boots, weather protection, and bug spray!
More of the Top Ten Things To Do In Glacier National Park With Kids
6. Car Camping
For adventurous parents and kids, there's camping.  Kids usually love eating outside, roasting marshmallows on an open fire, and jumping into their sleeping bags at night.  There are campgrounds inside the park, many of which have great views and are often located by lakes or rivers, but which generally have very minimal amenities. There are also several outside the park — these are usually located in the woods and have extra amenities like showers, restaurants and sometimes even pools! It does take quite a bit of planning to ensure a happy camping experience, from gear to meals and beyond.
Here are a handful of things (beyond the basics) that you may want to bring:
Tarp to hang over eating area (for rain or sun).  Freestanding tarps are best so you don't have to rely on having trees around to hang them.
Headlamps and a lantern (the battery operated ones are the best for kids).
Cards, games, magnifying glass, etc…to keep them occupied while you set up camp or make dinner.
Camp chairs – picnic tables are provided at each site, but are generally not very comfortable for long.
Firewood, kindling, a lighter, and s'mores fixin's.
For those people looking to backpack with their children, we recommend making sure that your kids are very comfortable with car camping first.  When they're ready, custom guided backpacking trips can be a great way to take the stress out of planning an overnight trip and introduce your kids to Glacier's backcountry.
7. Stargazing
Your children's wonder over the Milky Way, or maybe even the Northern Lights, is a memory you'll treasure forever. Glacier is known for spectacular vistas, but sometimes we think the views are even more amazing once the sun goes down.  Did you know that Glacier and its sister park, Waterton Lakes National Park of Canada, have been designated as an International Dark Sky Park? This is the first IDA designation in the world to cross an international border. The park has several "night sky" programs throughout the summer, including Logan Pass Star Parties — tickets are required. Learn more via Glacier's fundraising partner, the Glacier National Park Conservancy.
Pro Tip
It does not get dark in Montana until very late in the summer months.  Make sure your kids take naps so that they don't have a meltdown by the time the stars finally come out!
8. Let's Go Fishing!
Fishing is also a great pasttime for families in the park.  There are guided fishing trips on the river, or pick up a brochure about fishing policies inside Glacier (no permit required) at the park entrances.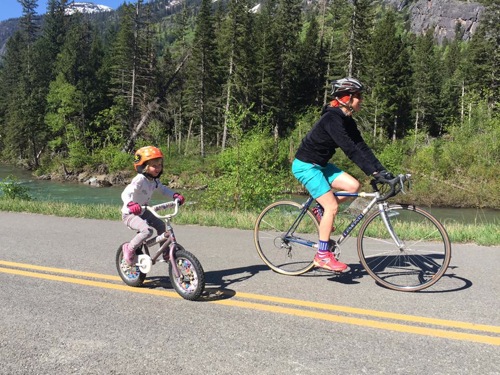 One of the top ten things to in Glacier National Park with kids is definitely bike riding – especially if you are here in the spring! Riding a bike on the closed-to-vehicles-sections of the Going-to-the-Sun Road is an absolutely incredible experience in May and June, and you don't have to bike very far to know you experiencing something special. We offer guided tours geared more towards adults — although you can always inquire about a custom tour — but simply renting a couple of bikes and heading up the road with your kids can be an absolute blast.  There's also good spring biking on the Inner North Fork, Camas, and Bowman Roads, before these roads open to cars. If you are looking for something short and closer to West Glacier, the bike path from Apgar to park headquarters is nice.  No bikes are allowed on trails within the park, although Waterton Park does allow them in selected areas. There's also the Gateway to Glacier Bike Trail, which runs from West Glacier to Hungry Horse. To rent a bike, give us a call at 406-387-5555.
There is a reason why bears love huckleberries…because they are so tasty!  In July and August (and sometimes into September!) picking huckleberries can be a fabulous way to spend some time with kids.  Save one, eat two, save one, eat two….kids get into picking huckleberries quickly, and this is definitely one of the top ten things to do in Glacier National Park with kids.
You can pick up to one quart of huckleberries to keep per person, as per Park Service policies. Keep in mind that there are lots of other berries that are edible in the park (huckleberries, serviceberries, strawberries, raspberries, thimbleberries), and there are lots that are not.  Make sure your kids can identify what they are eating and have them check with you before they eat anything new.  Also, make sure you are always keeping your eyes, ears, and nose open for animals!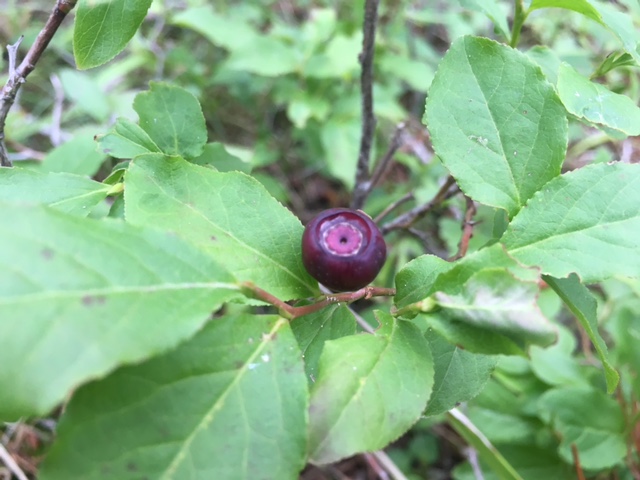 Parting Advice on the Ten Things To Do In Glacier National Park With Kids
It's all about the journey, not the destination.  It's okay if you don't get very far, as long as they enjoy being out there.
Make sure they are comfortable.  Kids are much happier when they are warm enough, not thirsty or hungry or cold, don't have sun in their eyes, etc …
Be cautious with children around water. Creeks are cold and often fast flowing.  Drowning is the number one cause of death in the park.  The park cannot put signs and railings in all places with water hazards, so it is up to you to keep your child safe.
Share the rules of the woods with them.  Get kids learning at an early age by teaching them Leave No Trace Principles, water safety, and being Animal Aware.
Bring an extra set of clothes and shoes for afterwards.  You'll be happy you did.
Have fun! If nothing else, doing things in Glacier National Park with kids should be fun. Make it fun, and they might go with you for years.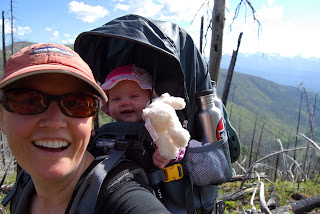 PS.  It's worth the extra effort…the memories are priceless!
This post about things to do in Glacier National Park with kids was updated by Courtney Stone on July 17, 2018, but was originally written by longtime Guide and Mama Extraordinaire Corrie Holloway, pictured above.