Fall Hiking in Glacier National Park
In the fall, the answer to the question "What is the best time of year to visit Glacier National Park?" is easily answered for hikers. The best time to visit Glacier is autumn, of course, if you're a hiker. With a bit of planning and preparation for the possibility of wintry weather and the definite lack of services, you'll be greatly rewarded by fall hiking in Glacier National Park. The trails are nearly empty of people. The wildlife is preparing for winter, and often easy to view. The contrast of that big, cornflower-blue Montana sky against the golden trees is something to behold.
I am someone who loves to hike. So, during the last week of September, I decided to adventure to Iceberg Lake, located in a stunning glacial cirque in the Many Glacier area of Glacier National Park. The weather was … rapidly changing, which is typical for Montana.
"If you don't like the weather in Montana, wait 5 minutes."
But I sifted through the various layers of down and Gore-Tex in my gear bin and figured I might as well justify their purchase. I layered up in long underwear, a down sweater, and a light down jacket. For the first time since spring, I tugged my trusty stocking cap onto my head and pulled on my fleece gloves. I tucked another down coat, rain gear, lunch, water, map, and first aid kit into my pack. As always, I clipped my bear spray to my shoulder. I laced up my hiking boots and headed to the Iceberg trailhead, located at the end of the Many Glacier road, behind the Swiftcurrent Motor Inn.
Pro Tip: the Swiftcurrent Pass trailhead is located at the end of the Many Glacier road, too, but it's in the parking lot in front of the Swiftcurrent Motor Inn, not behind it. You're looking for the Iceberg trailhead, not the Swiftcurrent one.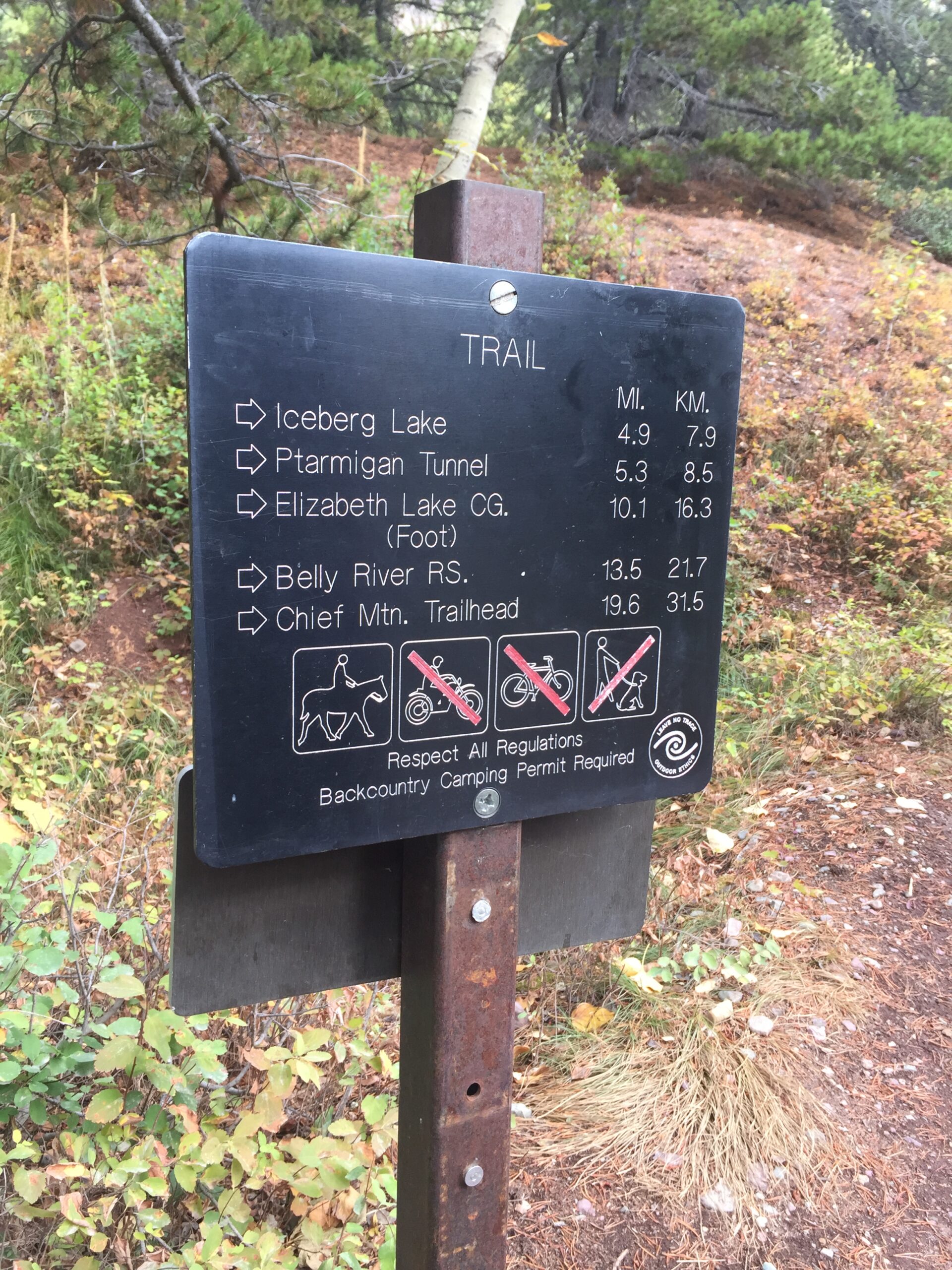 I like to call Iceberg Lake the easiest 10 miles in Glacier National Park. I have very fond memories of my youngest brother successfully hiking it at age 5. (There were Reese's Cups involved.) On a typical summer day on the Iceberg Lake trail, you might literally pass and be passed by hundreds of people. During the last week of September, we saw about twenty people. All of whom had great big smiles on their faces, despite the intermittent snow and wind. Yep, that's fall hiking in Glacier National Park!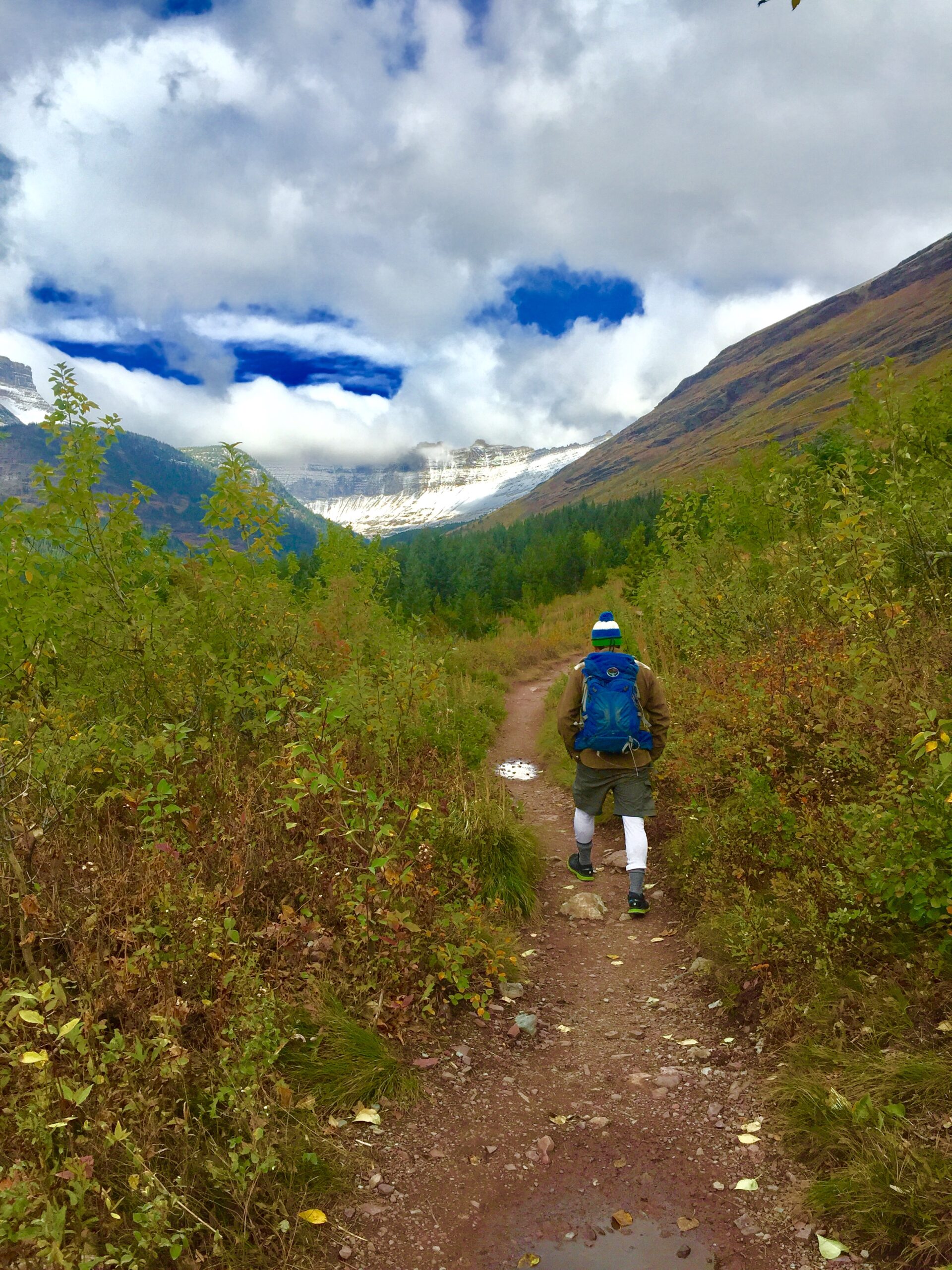 The hike to Iceberg Lake is very gradual — the first 100 yards are by far the hardest part, so don't get discouraged right off the bat! The trail undulates through open mountainsides and forests that smell like Christmas. About halfway to the lake, you pass spectacular Ptarmigan Falls, before emerging into the open basin Iceberg Lake sits in.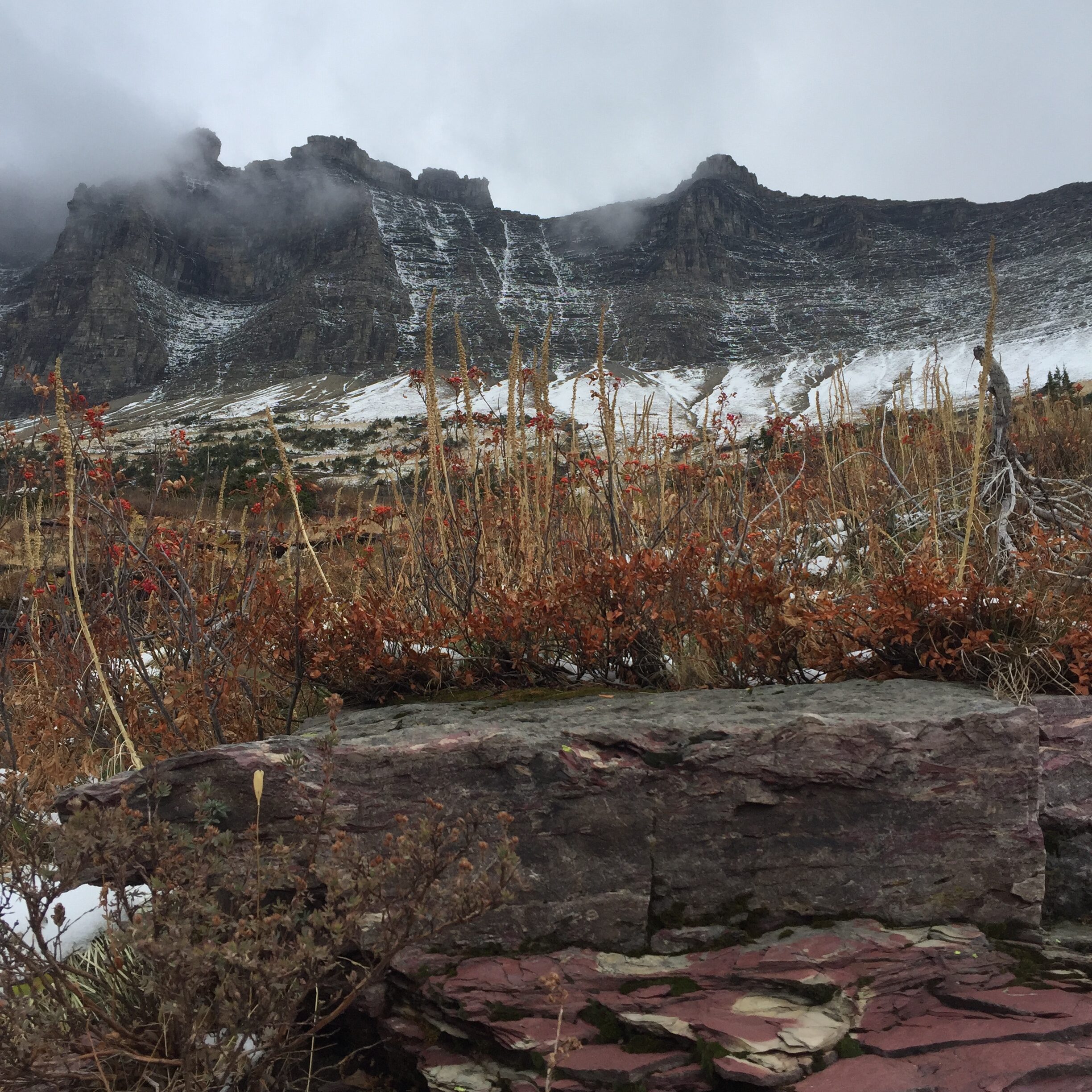 The fall colors were absolutely fabulous! We heard from other hikers that there was a bear digging high in this basin, but we didn't get to see him. However, we did see a gorgeous bull moose below us.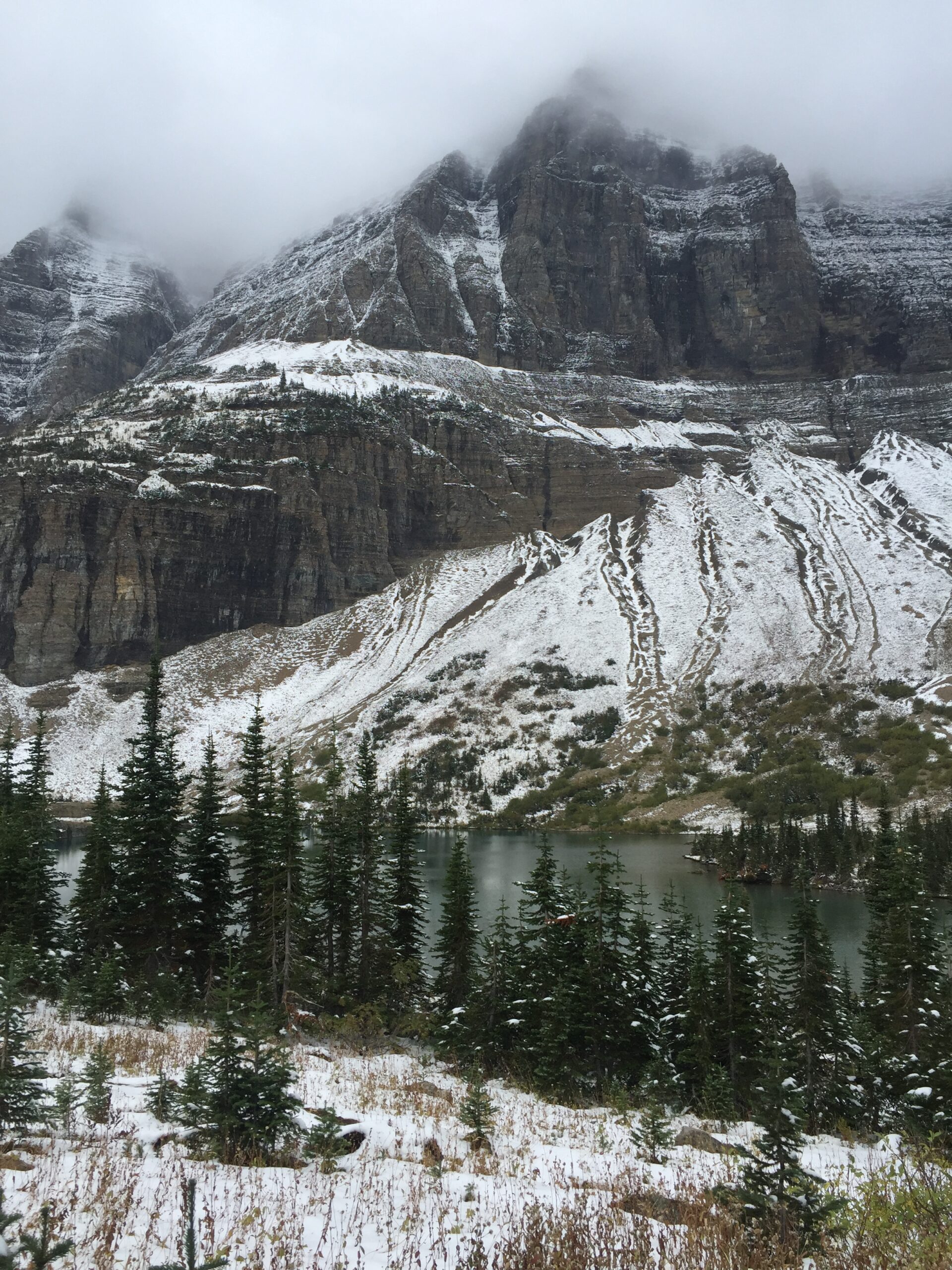 Just before arriving at Iceberg Lake, you pass this unnamed lake on your right. It's just as beautiful as the actual destination, and in the summer, this field is carpeted in vibrant, magenta hued Indian Paintbrush.
The Goal: Iceberg Lake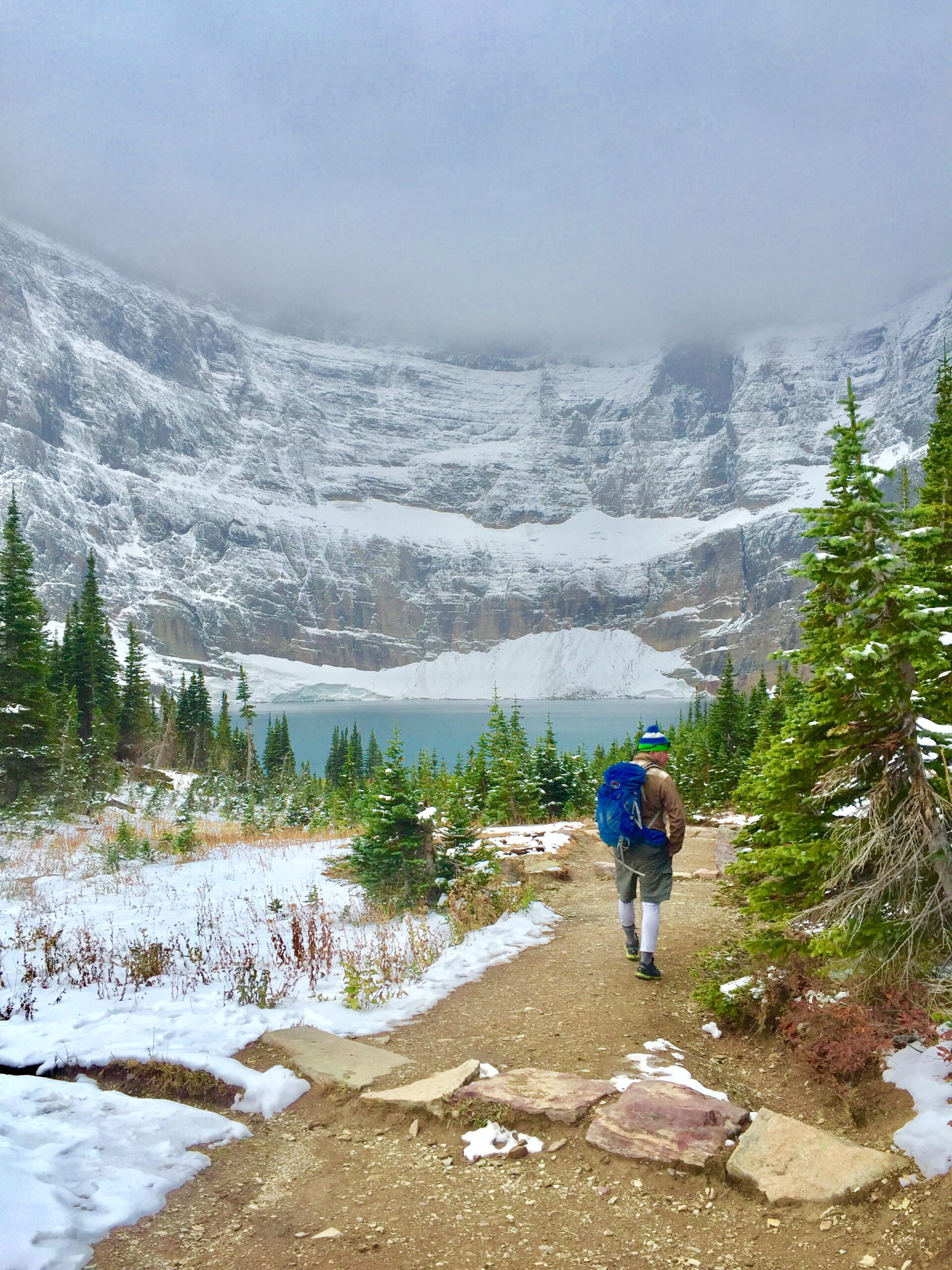 We made it! It was spitting snow, but Iceberg Lake was completely free of the icebergs it is named for. No worries though — winter will replenish those for next summer. We wolfed down our sandwiches and wished aloud we'd thought to bring a thermos of coffee. And then we turned and retraced our steps, 5 miles back down to the Swiftcurrent Motor Inn. Sometimes I think I like loop hikes best of all, but then I do out-and-back hikes like Iceberg and remember how much fun it is to get a completely different perspective on the way home.
You Won't Know If You Don't Go!
Interested in fall hiking in Glacier National Park, but rather not guide yourself to Iceberg Lake? We go to Iceberg every Friday, and other fabulous places on other days of the week, and we have limited availability for September 2018. Guided hikes are always subject to trail conditions, of course, but give us a ring if you'd like more information! 406-387-5555 or e-mail info@glacierguides.com
[contact-form to="courtney@glacierguides.com" subject="Fall Hiking in Glacier National Park"][contact-field label="Name" type="name"][contact-field label="Email" type="email" required="1″][contact-field label="Website" type="url"][contact-field label="Message" type="textarea" required="1″][/contact-form]