The glaciers of Glacier National Park give the park its name. Giant glaciers once covered this area and carved out massive amounts of rock to form our picturesque, u-shaped valleys with long, deep lakes.
The current glaciers of Glacier are from our most recent "ice event" (which are not the massive glaciers that formed our major valleys) peaked in the mid 1800's with about 150 glaciers.  Since then they have been on a steady decline.
In the past 15 years however, the process seems to have sped up.  Now with only 25 or so named glaciers left, experts say the glaciers of Glacier National Park will be completely gone by the year 2030.
Because of this, Glacier National Park has made several "must see" lists and many people are coming here in hopes to see the glaciers before they're gone.
We took the boat across Swiftcurrent and Josephine Lakes and hiked the 3.5 miles up to the glacier basin.  The views on this trail are spectacular.
Wildflowers, waterfalls, winding streams into pristine technicolor lakes, bighorn sheep, marmots and of course glaciers adorn this must-see trail.
Covering the world's news can be hard work in harsh conditions, but these folks toughed it out.  It seems this was a good day at the office for them.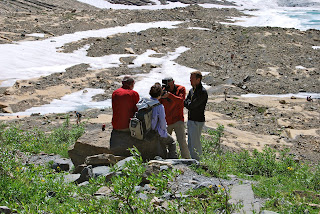 They interviewed lots of folks up at the glacier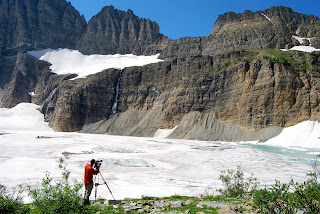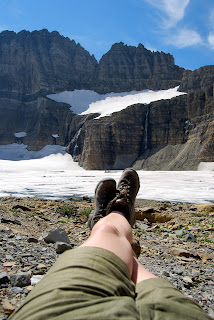 I got to sit and enjoy one of my favorite spots while they filmed (I love my job).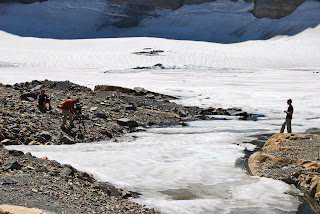 Every time that I get to go to the glacier it's wonderful.

Especially since it is supposed to be gone within my lifetime.

The day ended with a hike back down to the lake to cool our feet as we waited for the boat (and eventually to drink a nice cold beer).
Thank you for another great day with the glaciers of Glacier National Park!