Activities Near Glacier National Park
Planning your Montana vacation? Looking for activities near Glacier? Especially if you've got little kids, we've got the perfect itinerary solution: Whitefish Mountain Resort! Winter and summer, it's an incredible place to take kids of all ages, even little kids. This past summer, I took my 6 year old and 4 year old and my mama — who is a kid at heart — up to the mountain to report back on some of their newest kiddo activities. Here's a look!
If you're not familiar with Strider Bikes, they're teeny, tiny bikes with no pedals — the perfect way to learn to ride a bike, as they help kids focus on balance, but eliminate the fear of falling. Feet stay on the ground. So, super fun for kids, and easy enough that I know plenty of 2 year olds that can rock a Strider Bike. Buy a fleet of them and create a course with gentle rolls, berms, and curves, and you've got the newest addition to Whitefish Mountain Resort: the Strider Bike Park!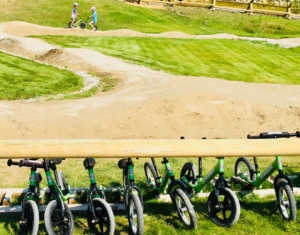 I can't think of other activities near Glacier more fun for both halves of the toddler set — kids and parents alike.
Your attention and supervision are required … but you can also grab a glass of wine from the Base Lodge Bar, take a seat on the sunny patio, and simply enjoy watching your child have a blast on the course. My enormous 6 year old was really too tall for the strider bikes — max height is 44″ and she was pushing that, and dragging her legs — but she would've stayed for hours, which surprised me.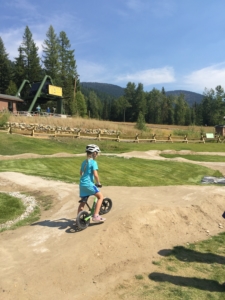 She's a good bike rider, but she thought practicing her balance and skills on the pedal-less bikes, and negotiating the various course challenges, was a hoot. Also, the attendants were great, and I appreciated the time they took to fit the kids with correctly sized helmets. Plus, it's only $12 and you can stay as long as you want.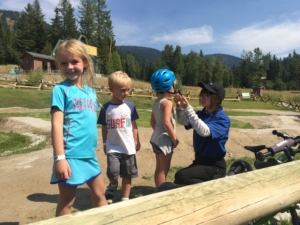 This inflatable climbing challenge is located between the Strider Bike Park and the Alpine Slide, and my 4 year old son's only sadness of the day was that he could not slide, climb, and stride all at the same time. At the Spider Monkey Mountain Adventure, kids 4 and older can climb through four webbed floors, two stories up in what looks similar to an inflatable bouncy house, and then either slide down the giant slide or climb back down through the webbing. It's pretty challenging, and he was very proud of himself when he got up to the top.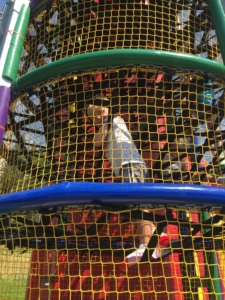 For the supersized 6 year old, it wasn't quite as challenging, but she still loved it and enjoyed "lapping" her brother while my mom and I relaxed in the shade.
Whitefish Mountain Resort sums up the allure of this adventure perfectly — Warning: This activity is highly addictive to young children and they may want to do it over and over again, which will improve coordination and strength while expending energy. Definitely gets my vote in the top activities near Glacier for the 4 and up set.
Take sliding to a whole new level on the Alpine Slide.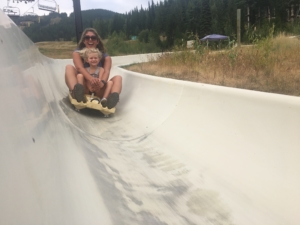 Ride a sled one-third mile down dips, around banked turns, under bridges, and through a tunnel while controlling speed with a hand brake. I surprised myself and had an absolute blast with my kids on the Slide — my daredevil girl wanted to go as fast as we could. She delights in hearing me scream, I think. My little boy is more like his mama, and we enjoyed a calmer, quieter ride down the mountain. Maybe my favorite part on the adventure was the big smile on my own mama's face!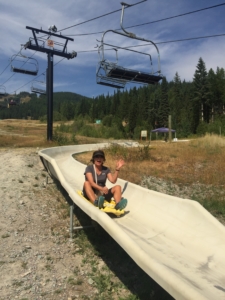 Another thing that's great about the Alpine Slide is that kids under 48″ ride for free with a paying adult. That is awesome.
Don't Miss the Summit House!
Got bigger kids, and the young at heart? Be sure to check out the other activities near Glacier National Park at Whitefish Mountain Resort, including the Aerial Adventure Park, Zip Line Tours, Mountain Biking, Hiking and Huckleberry Picking, Summit Nature Center, and Scenic Lift Rides to the Summit House — offering 360 degree views and Montana's only mountaintop restaurant. Whether we ride up or hike up, I never miss taking a summer visitor to the summit of Big Mountain.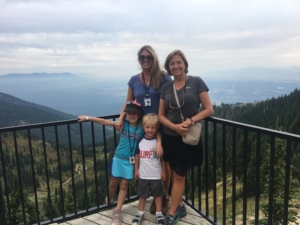 Especially for those who find hiking challenging — for whatever reason — it's a thrill to summit a mountain via chairlift and soak in the views with minimal effort. My 4 and 6 year old weren't quite up for the challenge of hiking up the mountain, but they adored riding in the gondola, and sharing a cold drink on the porch of the Summit House.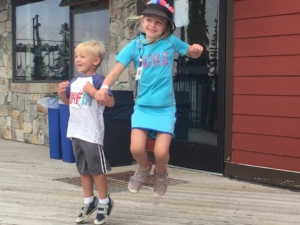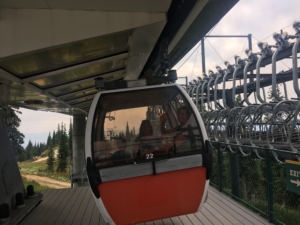 Can We Help Put Together Your Activities Near Glacier National Park?
If you're putting together a Glacier National Park itinerary that includes little kids, we recommend a day trip to Whitefish Mountain Resort. If you have questions about planning any aspect of your trip to the last best national park, ask us! When we're not skiing at Whitefish Mountain Resort, we're answering your emails, Facebook messages, and phone calls. So don't hesitate to reach out. And don't forget that we'd love to take you rafting, hiking, fishing, or biking, too.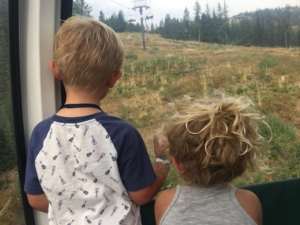 Pro Tip
P.S. At the base of Whitefish Mountain Resort is the absolute charming town of Whitefish – be sure to download our popular Insider's Guide to Glacier National Park to check out our recommendations on where to eat, drink, and play while you're passing through!