Everything You've Always Wanted to Know But Were Afraid to Ask About: 10 Days Backpacking in Glacier National Park
If you've ever poked around on our backpacking page, you've seen that we go on 3, 4, 6, and 10 days backpacking in Glacier National Park adventures. It's a tough job, but someone has to do it. Have you ever wondered what it's like to spend 10 days backpacking in Glacier National Park? Where do we go? How far do we hike each day? And most importantly, what do we eat? Here's a hint: we don't do freeze-dried. We do largely locally sourced, organic breakfasts, lunches, dinners, snacks, and desserts, all prepared with love and pizzazz by your guide! More on that below.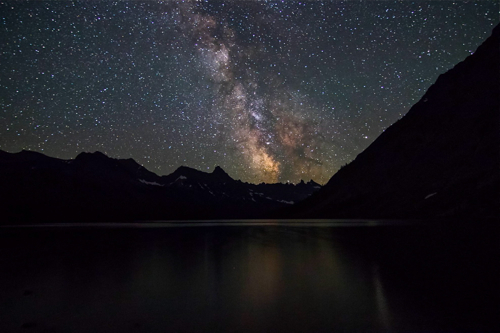 Earlier this week, a few spots opened up on our last 10 days backpacking in Glacier National Park trip of Summer 2017, which departs Friday, August 25th. I'm thinking I might want to hop on that trip, but I've never backpacked in Glacier for 10 days before. So, I interviewed some of our long time guides, who are in charge of these incredible 10 day experiences, and here's what I learned!
Where do we go when we go 10 days backpacking in Glacier National Park?
That's a good question. As with all of our backpacking trips, we might not know our itinerary until the day before. Although we have been Glacier National Park's exclusive backpacking concession partner since 1983, we stand in line for backcountry permits just like everyone else. But generally speaking, we normally begin our journey either in the northwestern section of Glacier National Park, heading east over stunning Boulder Pass, or in the northeastern section, heading west over remote, majestic Stoney Indian Pass.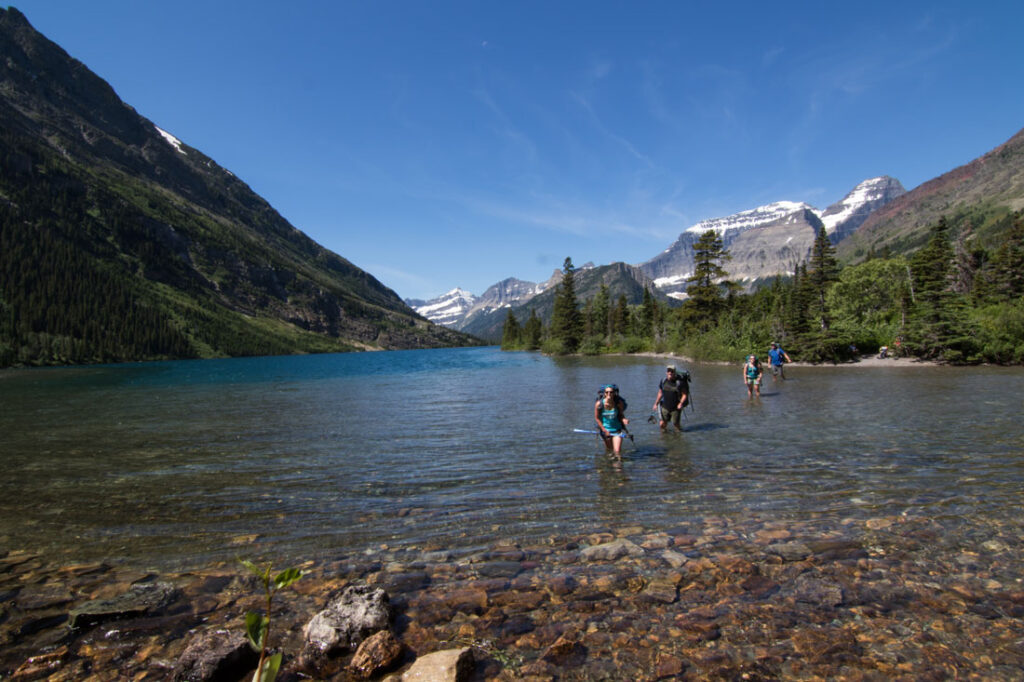 Almost all of the campgrounds we will travel to are located by lakes or streams which offer opportunities for swimming and fishing. Campgrounds we often visit on our 10 day trip include Bowman Lake, 50 Mountain, Kootenai, Lake Frances, Hole in the Wall, Upper Kintla,and Mokowanis Junction. On the trail, your guide will point out features of interest, identify flora and fauna, and be on the lookout for wildlife. In camp and on the trail, there will be opportunities for quiet reflection and reconnection with the pristine environment around you. There will also be pit toilets, in case you were wondering.
How far we do we hike each day on a 10 days backpacking trip in Glacier National Park?
Over 35 years of providing guests with relaxing, renewing, refreshing backpacking trips in the park, we've learned a few good rules of thumb. On average, with a fully loaded pack, most people hike about 2 miles per hour. YES, you might be able to run 10 miles per hour on a treadmill, at no elevation, in your gym back in Atlanta. But that is a completely different experience than backpacking.
The 10 days backpacking in Glacier National Park trip is for advanced hikers, and there will be days when we will backpack 11-12 miles. Some days the mileage will be less. Sometimes we will take a layover day for rest, fishing, reading, swimming, napping on a sunny beach — our guides know all of the best secret spots — or taking side trips, if you're so inclined. It depends on the itinerary and the desires of the group. The miles will be big miles, but the goal of a 10 days backpacking trip in Glacier National Park is to completely unplug and recharge. Well, and to have fun. We're big believers in fun.
How much weight do we carry on a 10 days backpacking trip in Glacier National Park?
You'll be carrying between 35 to 45 pounds in gear and food while hiking in subalpine and alpine terrain. How much your pack weighs largely depends on what you choose to bring – remember, ounces make pounds! Here's our recommended overnight packing list. We advise training before the trip, as it is intended for advanced hikers, and carrying weight on your back as part of your exercise routine.
On the morning of the trip, you'll go over the contents of your backpack, from your personal gear to the food we've prepared for you, with your guide. He or she will help you adjust your pack, or one you rent from us, to make it as comfortable as possible. We are experts in such matters!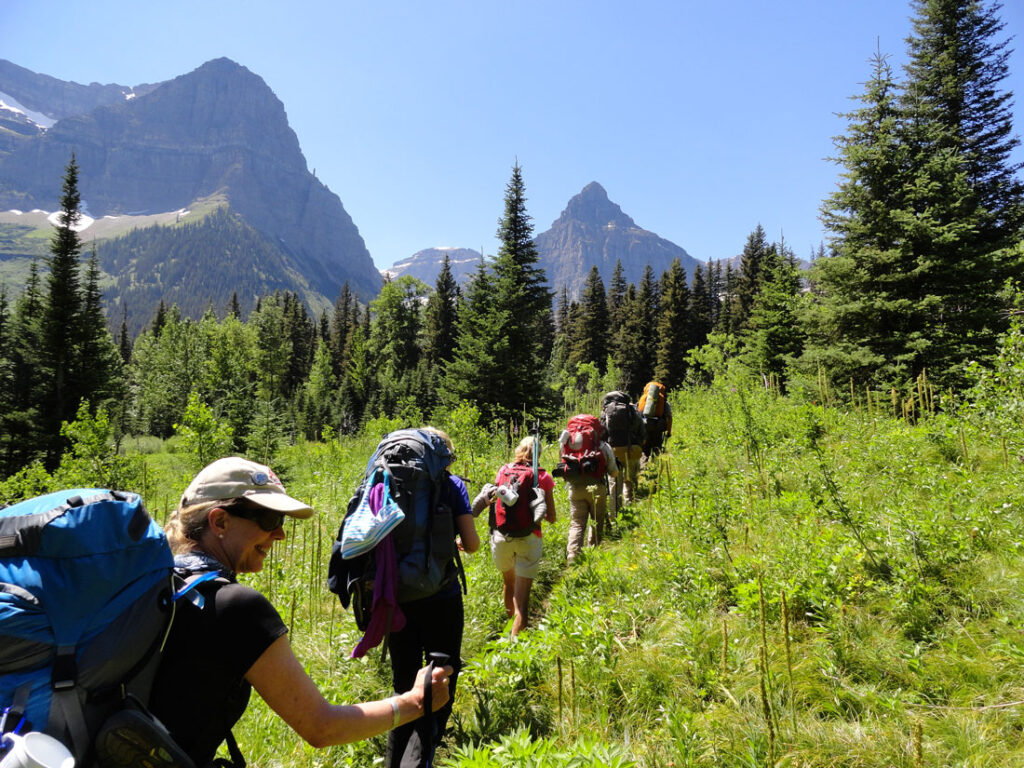 What about trekking poles?
Many of us recommend backpacking with trekking poles — they're like hiking in 4WD, and offer additional stability on rocky trails and stream crossings. I find that my hands tend to swell when I hike without poles, and so I've backpacked and hiked with my sturdy sticks since I was 21. It's not an age issue as much as it is a comfort — and in my case — coordination concern. Pro Tip: we rent Black Diamond trekking poles if you don't want to invest in a pair.
You'll need a backpack, sleeping bag, and tent for sure, and you're welcome to rent those from us. Fun fact: we are Glacier National Park's camping equipment concession partner, and we carry great brands like Kelty, Big Agnes, and Mountainsmith. Especially if you're flying in to adventure with us, it can be a lot easier to let us prep your gear for the trip. For a complete list of what we recommend packing for a backpacking adventure, check this out.
What do we eat on a 10 days backpacking trip in Glacier National Park?
A lot. We eat a lot.
Before your trip, we'll send you a questionnaire where you'll tell us a lot about yourself, including what you like to eat, what you don't like to eat, and how much you like to eat. We have an amazing in house kitchen staff, who focuses on high quality foods, and sourcing locally and organically whenever possible. We can accommodate almost any food allergy, restriction, or concern — just ask!
Your guide will plan out your meals for this trip, and you'll be met with a resupply guide about a week into your adventure, so you won't be carrying all of the food for the entire trip. The morning that you leave, your guide will lay out a selection of snacks, so that you can customize your snack sack. We find that even folks who never snack tend to snack while backpacking. It's good to keep a flow of calories going when you're hiking! What goes in that snack bag? Well, there's a selection of things to choose from like bars, nuts, chocolate, and dried pineapples, bananas, and mangos. Fun fact: we dry our own fruit.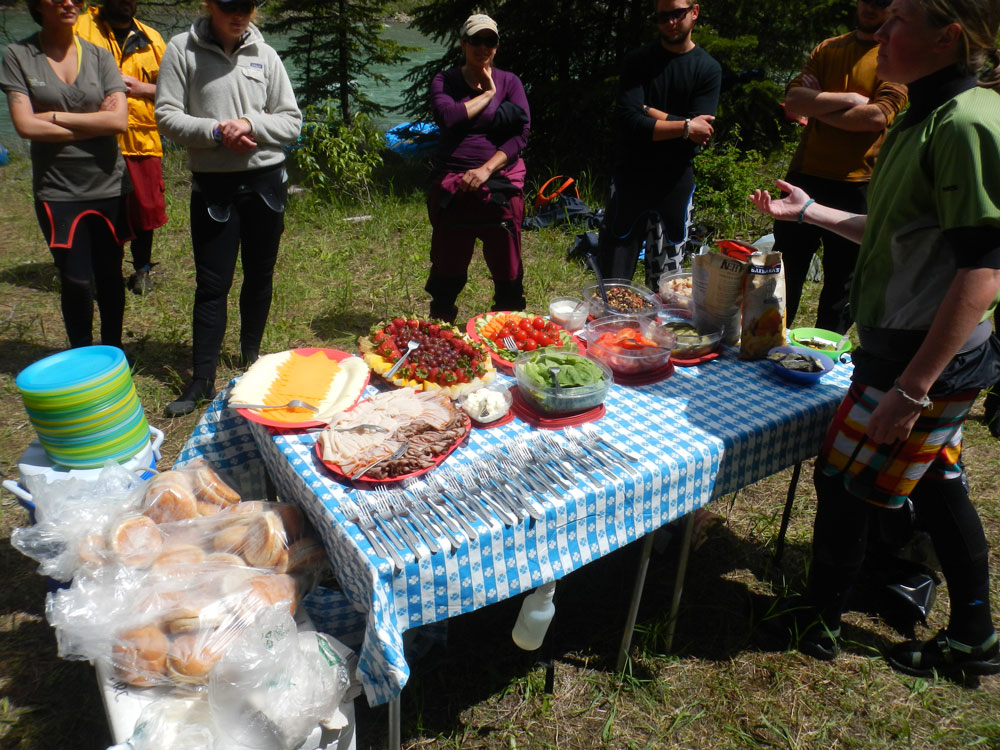 Breakfast in the Backcountry
Your guide will also do the cooking on this trip, though you will help carry the weight of the food and gear. Our guides pride themselves on their backcountry culinary skills, and we promise you will be wow-ed at what they can do on a backpacking stove! Examples of meals you might have on the 10 days backpacking trip in Glacier National Park include breakfasts of cherry walnut couscous, pancakes topped with fresh huckleberries you picked in camp that morning, or english muffins and eggs. There's always a good selection of hot tea and fair trade, organic Montana Coffee Traders coffee, too. I personally live for coffee, and watching the sun rise over Chief Mountain while sipping a steaming cup of fabulous coffee is about as good as it gets in my book.
Light Lunch
What's for lunch, you ask? Bagels and cream cheese with red peppers or cucumbers, perhaps. Peanut butter and huckleberry jelly on a tortilla. Ham, cheese, peppers, cucumbers, pesto and humus on a baguette. Cheese and crackers with salami and prosciutto is also a popular trail lunch. We find that a morning snack, a lighter lunch, and an afternoon snack work best for backpacking purposes.
Stupendous Supper
When you get into camp, don't be surprised if your guide whips up rainbow rotini pasta with sun-dried tomatoes, basil, and garlic. Are you a meat eater? How about pasta swimming in mushrooms and bacon for supper? Hate mushrooms? No problem! Just mention it when you're filling out your profile and we'll be sure to accommodate your request. Other nights might be a stir fry. Fajita night is always a hit!
We believe in eating healthfully in the backcountry, and giving our bodies the best fuel possible for the task at hand: the ultimate exploration of Glacier National Park. That being said, we also believe in dessert, and chocolate fondue, rice crispy bars, and cheesecake topped with more freshly picked huckleberries often accompany our backcountry dinners.
Let's Go Backpacking in Glacier National Park
Are you ready? Do you want to join us for a mind, body, and soul renewing experience in Glacier National Park? What are your questions about 10 days backpacking in Glacier National Park? Let us know! Call 406-387-5555 or email: info@glacierguides.com
See you on the trail,
Courtney