Glacier National Park Fire Update
Everything You Always Wanted to Know About Stage II Fire Restrictions But Were Too Afraid to Ask
On Saturday, August 11, 2018, several fires started in Glacier National Park. One of those, the Howe Ridge fire, began across the lake from Lake McDonald Lodge. Hot, dry, and windy conditions prompted rapid growth and extreme fire behavior. As a result, a number of evacuations occurred on Sunday night, August 12, 2018. These evacuations included the Avalanche Campground, North Lake McDonald Road (private residences and the Ranger station), the Lake McDonald Lodge Complex, and private residences along the Going to the Sun Road. Sprague Creek campground is also being evacuated as of Monday morning, August 13, 2018.
The park is reporting that structures on the north end of Lake McDonald were lost. This post will be updated when the details of those losses are made available.
Today, Monday, August 13, 2018, the Going to the Sun Road is closed between the foot of Lake McDonald (near Apgar) and Logan Pass. The Pass remains accessible from St. Mary, on the east side of the park. A number of trails are closed on the west side of the Going to the Sun Road. Access the latest information on those closures here. In the meantime, stay tuned on our social media pages for updates.
Also, tonight at 12am, Glacier National Park will enact Stage II Fire Restrictions. The Flathead Forest will also enact Stage II on Wednesday, August 15, 2018. Wait, what about Stage I? Well, the fire danger rating is so extreme right now that we skipped right over Stage I! So, let's focus on Stage II Fire Restrictions.
What Do Stage II Fire Restrictions Mean to You if You are a Glacier National Park Visitor?
#1 The restrictions ban the use of fires or campfires. Smoking outdoors is prohibited, except at developed recreation sites or while stopped in an area at least 3 feet in diameter that is cleared of all flammable material. The use of fireworks also is prohibited under the restrictions — duh.
So, you won't be building a campfire at night — but trust us, this un-Montana-like weather we've been experiencing is so warm that you won't be wanting a campfire anyway. But, but, but … how will we brew coffee and make supper? Never fear, keep reading.
#2 Operating motorized vehicles off designated roads and trails is prohibited except for people engaged in a business or occupation where off-road travel is required. Off-road operators are required to have fire extinguishers and fire tools with them.
If you are here to enjoy Glacier National Park, this restriction doesn't impact you in any way. You'll be traveling by foot, bike, horse, or boat.
#3 The operation of internal-combustion engines is restricted from 1 p.m. to 1 a.m., along with welding, acetylene or other torches with an open flame, and the use of explosives during those hours. These are known as "hoot owl" restrictions.
Again, if you're here to fish, raft, bike, ride, or hike Glacier National Park, this restriction doesn't affect you.
#4 Barbecue grills may be used on private property in areas that are barren or closely mowed and cleared of all surrounding flammable materials.
If you're coming to Glacier National Park, you may or may not be staying on private property. Our advice: Check with your host. If the answer is private and you want to grill, keep your garden hose handy! Have a plan already in place in case an errant spark surprises you. Remember: only YOU can prevent forest fires!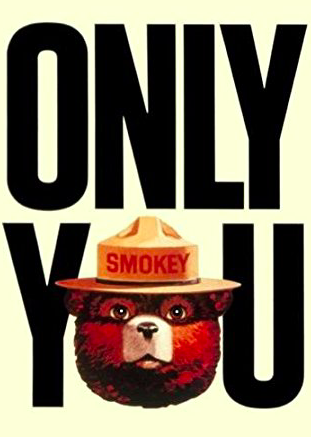 Exemptions to the Stage II Fire Restrictions
Ok, there are a lot of exemptions. We're not going to list them all here except for the big one that affects Glacier National Park visitors:
An exemption also will be made for people using a device fueled by liquid petroleum or liquid propane gas that can be turned off and on in an area that is barren or mowed and cleared of flammable materials.
What this Stage II Fire Restriction Exemption means for our clients: fear not, we cook on backcountry stoves like those in this exemption, so your dinner and your breakfast will be just as delicious as ever! And if you're self guided, you'll be fine too.
We run biking, hiking, backpacking, fishing, floating, and rafting trips in and around Glacier National Park. Our adventure experiences are completely unaffected by these Stage II Restrictions, though we are exercising utmost caution in our outdoor activities, of course.
Takeaway: August is always a slow news month for the media. One place in Montana catches on fire and sometimes reporters act like the whole state is burning down.
Keep your eyes on the webcams if you're curious about how wildfire smoke affects the skies in different areas of the park. If one area of Glacier National Park does catch fire, often other areas of the park are totally unaffected. After all, Glacier holds over a million acres of wonder.
Glacier National Park Webcams
There are multiple webcams in Glacier – you can check in on them here. Here's a screenshot of what some of them looked like on Monday, August 13, 2018 around 11am: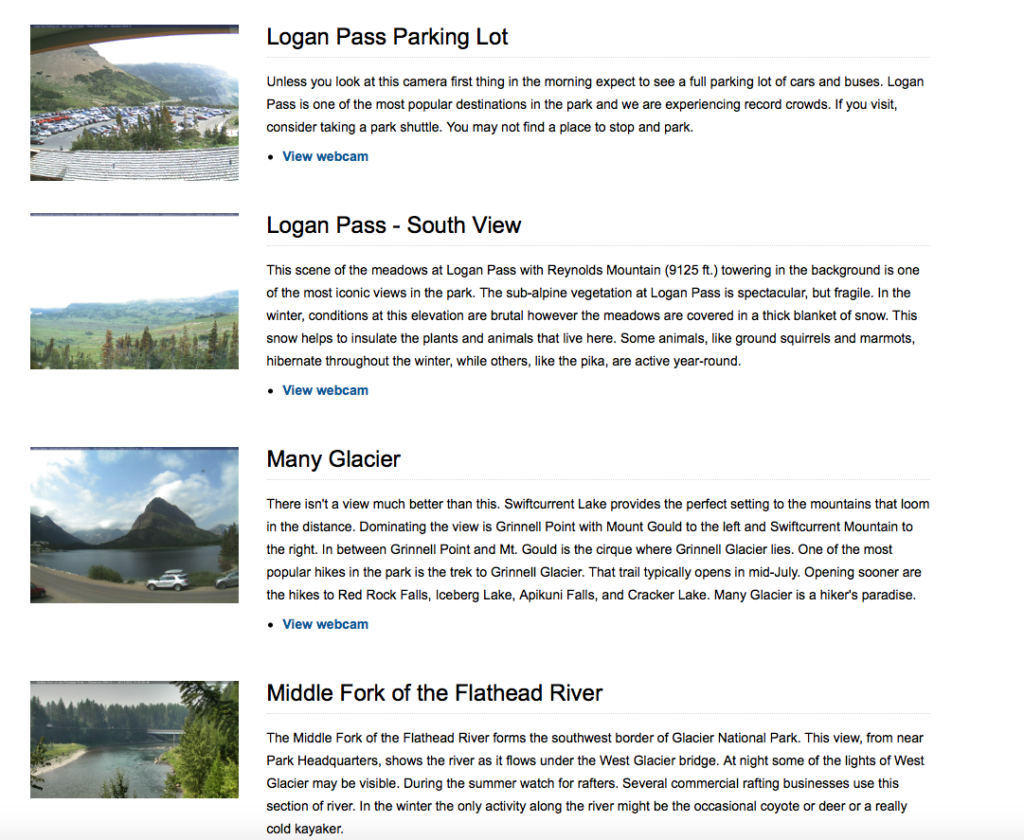 p.s. Don't be scared by forest fires. They are an integral part of forest ecology in the American West. Our forests are not healthy without burning. The beauty a forest fire leaves behind is worth seeing, and you can see evidence of the effects of former fires in many areas of the park.
p.p.s. Don't be afraid to call us with your questions, either! We're here to help. 1-800-521-RAFT
p.p.p.s. Take these fire restrictions seriously! These sanctions are real:
You could be fined up to $5,000 individually or $10,000 for an organization and imprisonment up to 6 months for violating restrictions and closures.
You can be held liable for all suppression costs and damages if you start a fire.
Put it ALL the way out!
Love,
Your Friends at Glacier Guides and Montana Raft