An updated version of this love letter to Granite Park Chalet was published on April 25, 2018. Click here to read.
BRIEF HISTORY:  "The chalet was built in 1914 by the Great Northern Railway and is a National Historic Landmark contributing property, being one of five structures in the Great Northern Railway Buildings district." The Chalet was closed in 1992 due to "safety and environmental concerns."  Luckily, it was restored and reopened in 1999.  When it reopened, Glacier Guides and Montana Raft operated the Chalet for several years until their contract was up.  After that Belton Chalet Inc, the company that originally ran it (and that had first right of refusal for the permit) decided that they wanted to run it again.
I can't help but love this place.  Over my fifteen years of living and guiding in Northwest Montana there are few places that have left me with so many good memories.
When I first started working for Glacier Guides they had just received the permit to operate Granite.  We had at least one week a summer where we got to take a break from guiding and work at the Chalet.
I was lucky enough to get scheduled up there several times.  Times that were filled with amazing sunrises and sunsets, grizzly bears, bighorn sheep, prolific wildflowers and wonderful people.
One of a kind memories that make me smile.
This trip was especially great because it has been over three years since I have been there.
Having two kids has been wonderful, but it certainly has made it harder to get out into the backcountry for overnight trips.
This trip was twelve great guests and two guides for three days in one of the most spectacular backdrops in the world.
We hiked up the Loop Trail since the Highline was still closed due to a snow hazard.  So up we went.  A cool breeze accompanied us, which was a welcome reprieve from the hot sun.
Once at the Chalet, the friendly staff welcomed us and guests got to relax and enjoy a generous dinner with fresh baked brownies for dessert.
Of course Granite never disappoints, as the sunset was as beautiful as I remembered.
The next morning we ate a hearty breakfast and headed up to Grinnell Glacier Overlook.  It was short yet demanding hike up to the top of the "backbone of the world" with rewarding views of Grinnell and Salamander Glaciers.
The wind howled as we rounded the corner to the top and we found a nice spot nestled in the rocks out of the wind.  We all relaxed and tried to take it all in,
until Clay spotted a wolverine just 50 yards away coming towards our group.
As soon as it saw us, it made a 180 and high tailed it the opposite direction.  It scurried onto the snow and cruised straight down the gully.
Towards the bottom it actually started to slide.  When it finally came to rest, it stopped to look back up at us.
We were all standing in amazement, a rare animal sighting right before our eyes.
People were pretty excited about it.
What a great morning,
and a great day out of the office for me.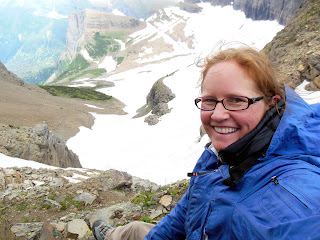 After all the excitement, we headed back down to the Chalet.
After lunch some of our group headed up to Swiftcurrent Lookout, but most hiked back down the highline to try and look for animals (we were on an adrenaline high after the wolverine sighting).
The flowers were gorgeous
and we didn't see anyone else except a few bighorn sheep above us (what a great view they have on a daily basis).
This hike was a nice break from all the uphill we had been doing.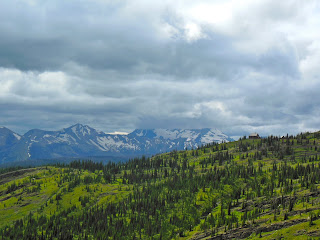 We had a fabulous view of the chalet from there.
What a great spot.
To top it all off when Clay and I were cooking dinner a grizzly made an appearance on the hillside behind the Chalet (a nice safe distance away…with a rock building between us).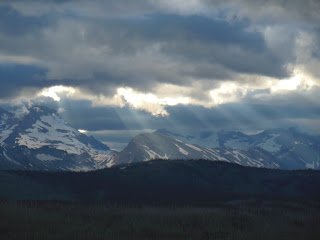 The sun set in a spectacular fashion once again after dinner
as we all chattered about the great day.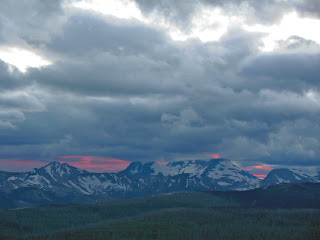 Then it was off to our bunks to rest our tired bodies.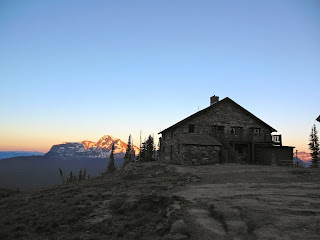 On the last day we were greeted by a splendid sunrise.  We ate a big breakfast (you certainly do not starve on these trips) and gathered our last round of water.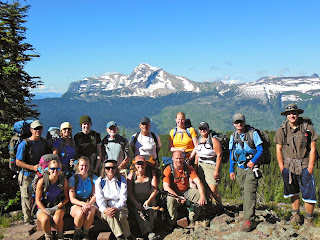 Thank you to the Chalet staff, and the warm easy-going guests for some good laughs another set of unforgettable memories.
It was truly a pleasure hiking to Granite Park Chalet.
-Corrie