Granite Park Chalet Hike: The Photo Tour
We're starting to plan out next summer's adventures, including our 3 day Granite Park Chalet hike! Although we won't have firm Summer 2020 trip dates until January 2020, we are signing people up to be on the first-to-know-trip-dates email. We'll send that email in January. If Chalet trips interest you, be sure to sign up here. There's no commitment, you'll just be the first to know when we're going to Granite Park and to Sperry Chalet, too.
Check out these gorgeous Granite Park Chalet hike photos from 2019 guest Connor Joslin: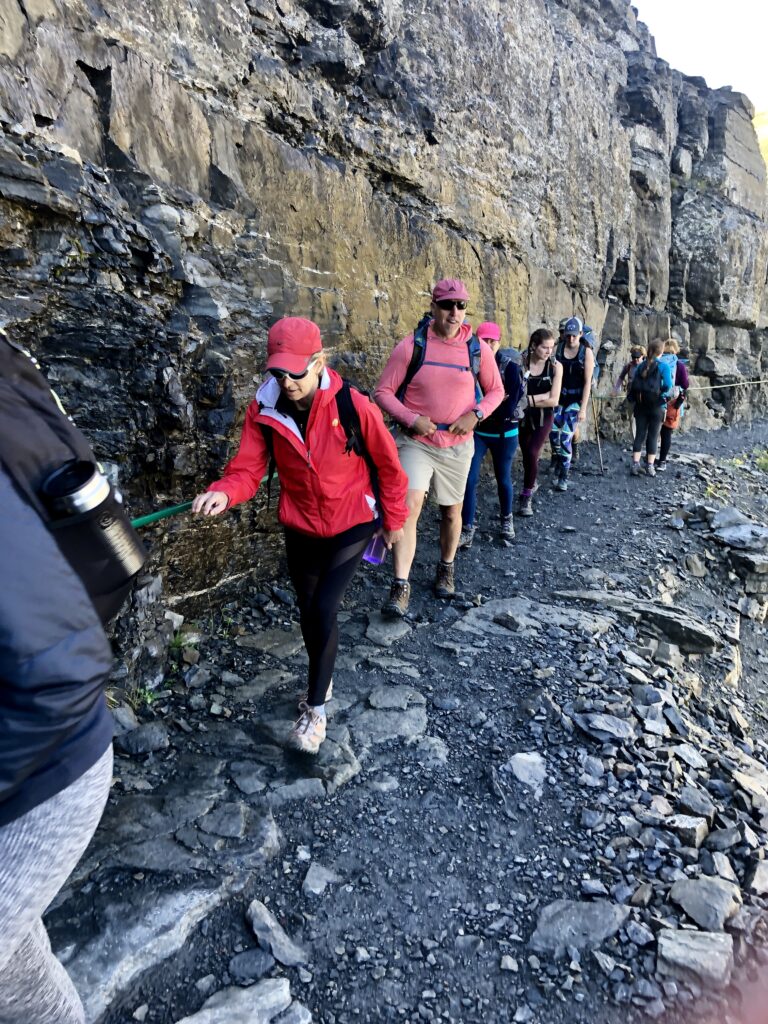 The morning of your trip, you'll hike to Granite Park Chalet. Depending on conditions, you'll either start from Logan Pass and travel down the Highline Trail to the Chalet, or you'll come up from the Loop. Both trails are extremely scenic. The Highline Trail is longer with less elevation gain. The Loop is shorter but steeper. The picture above is from the Highline Trail.
The Highline Trail is fairly level, but you will gain and lose elevation along the way. The biggest elevation gain will be coming up Haystack Butte, about 275 feet. Well worth it, and a great spot for lunch!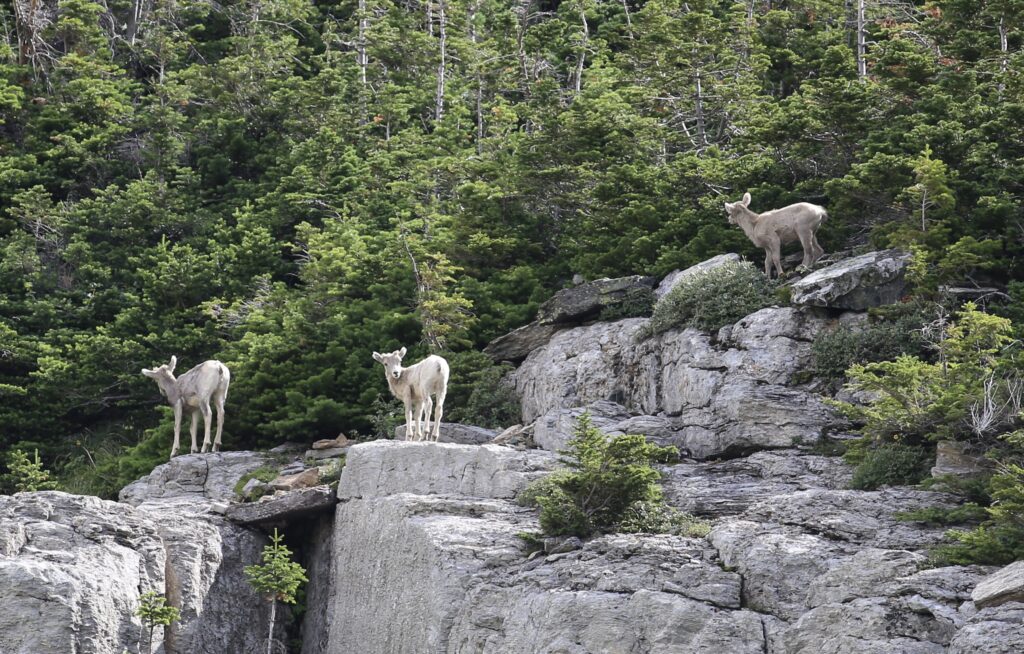 Be sure to keep your eyes open for the wildlife we frequently see on our Granite Park Chalet trips. Those are immature Bighorn sheep, above.
Wildlife Watching At Granite Park Chalet
You'll likely have some free time the afternoon that you arrive at the Chalet. Some guests bring spotting scopes or cameras and look for wildlife. Keep in mind that respecting wildlife by giving them their space is an integral part of the Leave No Trace ethics that we follow on all of our rafting, hiking, fishing, and biking trips. You should give bears a minimum of 300 feet / 100 yards when observing them. The photos below were taken with a telephoto lens.
Isn't this bear beautiful?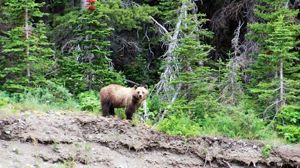 Options: Granite Park Chalet Hikes
On Day 2, your guides will flex their backcountry culinary skills in Granite Park Chalet's propane powered kitchen. Sometimes they'll delight you with homemade quiche or fresh pancakes! Next, the group will typically split up. Hikers wanting to stretch their legs with mileage, but not with much elevation, might choose to head north on the Highline Trail towards Ahern Pass.
Those hikers craving elevation gain might choose the shorter hike up to the Swiftcurrent Fire Tower. The picture below is from a morning excursion to that fire tower. The views looking east highlight a string of lakes in the Many Glacier valley, all the way out to the neighboring Blackfeet Indian reservation – the last lake you can see is Duck Lake. The biggest lake is Sherburne.
Granite Park Chalet Weather
You might spend the second afternoon watching various weather patterns roll in and out of the Lake McDonald valley and around the Livingston Range. Like these: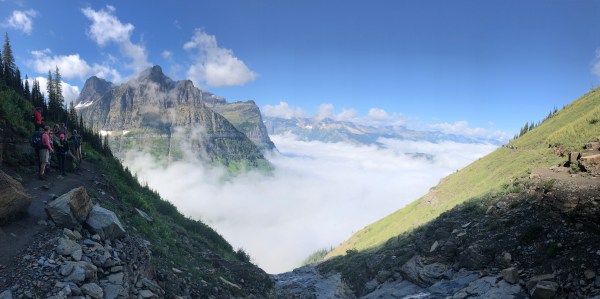 In Montana, we like to say that if you don't like the weather, just wait 5 minutes. And that is often very true in the mountains! Watching the changing conditions from the Granite Park Chalet porch is an experience you'll never forget.
Grinnell Glacier Overlook
On the final morning of the trip, you'll have the option to hike the short but very steep hike to Grinnell Glacier overlook. This is a 1.5 mile hike with an elevation gain of 900 feet — worth it! From the Overlook, enjoy staggering views of Grinnell Glacier, one of the largest remaining glaciers in the park. Total mileage is 3 miles round trip.
After returning from Grinnell Glacier overlook, descend the Loop trail down to the Going to the Sun Road. This hike is 4.5 miles with 2,200 feet elevation loss. Expect to return to the Glacier Guides and Montana Raft office around 4 p.m., where everyone will want to see pictures like these of your adventures!
All photos courtesy of guest Connor Joslin except where noted – we love it when guests share their experiences with us! Thank you, Connor. You can follow Connor on Instagram at @cojoslin.