Glacier Park's West Side is our home, and we couldn't love it more! We take visitors rafting, hiking, fishing, and biking from our West Glacier office May 1 through October 15 every year, and host them in our Lodge. But even after our doors close for the guiding season we're here all year, soaking up all the magic that the west side has to offer us – which is a lot.
Glacier isn't one of those parks where you can check out one thing and call it done. There is so much here to see that many of us here at Glacier Guides and Montana Raft have spent a lifetime exploring Glacier, and we're not done yet! At any rate, the Continental Divide splits the park geographically, and in other ways, too. No trip is complete without exploring Glacier Park's west side, including West Glacier, the Lake McDonald valley and Logan Pass, the North Fork, and Nyack/Middle Fork corridor.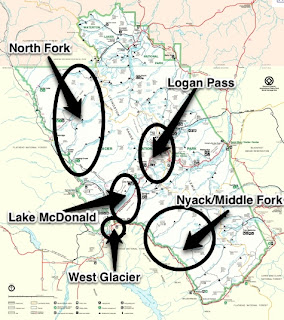 Glacier Park's west side – this map does not label east side areas, but you can read all about them in the companion piece to this post.
The west side includes the Middle Fork/Nyack region, the West Glacier/ Lake McDonald area, the North Fork Valley, and the Logan Pass/Highline region. Glacier Park's west side weather tends to be wetter, with milder temperatures and calmer wind than the east side typically experiences.
Glacier's West Side: West Glacier
West Glacier, Montana is the most popular entrance to Glacier National Park. Its proximity and easy access to Glacier International Airport in Kalispell makes it the best place to start or end your trip.
Quick Guide to West Glacier
Recreation: Hiking, Rafting, Fishing, Golf, Horseback Riding, Biking, Camping (KOA and Glacier Campground)
Lodging: Several options (Glacier Guides Lodge)
Restaurants/Bars: Several options (Belton Chalet, the Highland, West Glacier Restaurant/Bar)
Shopping: Yes (West Glacier)
Laundry: Yes
Transportation: Shuttle (with fee), Rental cars (from Kalispell)
Glacier's West Side: Apgar and Lake McDonald
Lake McDonald/ Apgar is minutes away from West Glacier and has several restaurants, hotels, campgrounds, gift shops, as well as horseback riding, boat tours/rentals and hiking. Farther down the lake (about 20 minutes) is another lodge with restaurant options, gift shops and even an adjacent post office, as well as a campgrounds.
The forests around the lake are some of the oldest in the park, with gorgeous cedar and hemlock, although there have been forest fires on the western side of this area within the past decade.
Quick Guide to Apgar / Lake McDonald
Recreation: Hiking, Rafting (in West Glacier), Fishing, Horseback Riding, Boat Rentals, Red Bus Tours, Camping
Lodging: Yes
Restaurants/Bars: One in Apgar, Two at Lake McDonald
Shopping: Yes (gift shops in Apgar and Lake McDonald Lodge)
Transportation: Red Bus Tours, GNP Free Shuttle System (for the GTTSR starts in Apgar at the Transit Center)
Glacier Park's West Side: Middle Fork / Nyack Corridor
The Middle Fork/ Nyack region is one of the least visited areas (due to thicker forest and less trail maintenance). If you are looking for hiking in wilderness, this is as close as you will get in Glacier.
South of this region is the boundary of the park and a corridor that connects West Glacier and East Glacier.
This corridor is home to the Burlington Northern Train, Hwy 2 and the Wild and Scenic Middle Fork of the Flathead River. All of the local rafting companies use the Middle Fork for their rafting trips (although we use others as well). There are a few smaller places to stay along the highway, most with restaurants and bars.
Quick Guide to the Middle Fork / Nyack Region:
Recreation: Hiking, Backpacking, Rafting (from West Glacier), Fishing
Lodging: Limited (Isaac Walton Inn)
Restaurants/Bars: Limited (Isaac Walton Inn)
Shopping: No
Transportation: Train (Amtrak)
Glacier Park's West Side: The North Fork and Polebridge
The North Fork Valley is one of the most remote areas of Glacier.
A dirt road is the only way to access this valley. The road parallels the North Fork of the Flathead River, which is the western boundary of the park. This river is great for float trips and fishing. The only amenities are located in the small town of Polebridge, which has a mercantile and the Northern Lights Saloon. There are a few rustic options for lodging (this area is "off the grid," aka, no electricity) and there are several campgrounds.
There are also several large lakes in the area on which to boat (low or no horsepower only) and the hiking is great, with most trails winding through dense timber.
Quick Guide to the North Fork
Recreation: Hiking, Backpacking, Rafting, Camping, Fishing, Boat Rental (from the North Fork Hostel)
Lodging: None / Limited outside of the park (North Fork Hostel, Road Less Traveled)
Restaurants/Bars: One (Northern Lights Saloon and Eatery)
Shopping: Polebridge Mercantile (try the baked goods!)
Transportation: None (unless with fishing or hiking guide companies). It is actually against park regulations to have any transportation systems in this area.
Glacier Park's West Side: Going to the Sun Road and Logan Pass
The west-side of the Going-to-the-Sun Road (Apgar to Logan Pass) is spectacular, and most all visitors come to drive it (for good reason).
It is open throughout the summer and into the fall. The exact dates of it's opening and closing depend on snow (this is a blog topic all of it's own). There are length and width restrictions for vehicles (aka…no huge RV's, 18 wheelers, etc…). There is a free shuttle during the busiest months of the summer that goes from West Glacier to St. Mary and carries anyone wishing to be car free. A fun, historical way to see the road is via a Red Bus.
There are also 2 historic backcountry chalets (accessible only by trail).
The highest part of the road – where it crosses the Continental Divide – is Logan Pass, home to Logan Pass visitor center. The views from trails here are some of the best in the park.
Quick Guide to Going-to-the-Sun Road and Logan Pass:
Recreation: Hiking, Backpacking, Camping
Lodging: Lake McDonald Lodge (along Lake McDonald), Granite Park and Sperry Chalets
Restaurants/Bars: Lake McDonald Lodge
Shopping: Lake McDonald Lodge and Logan Pass Visitors Center
Transportation: Glacier Park Shuttle, Red Bus Tours, Sun Tours
Now you're ready for adventures on Glacier Park's west side! Looking for information about adventures on the east side? Check out this post!
Questions? Get in touch. We're always happy to help.
[contact-form][contact-field label="Name" type="name" required="true" /][contact-field label="Email" type="email" required="true" /][contact-field label="Website" type="url" /][contact-field label="Message" type="textarea" /][/contact-form]