Giving Tuesday 2017
We don't know about you, but the amount of e-mails we received over the weekend urging us to #OptOutside or to participate in Black Friday, Small Business Saturday, and Cyber Monday, was a little overwhelming. You may have noticed that we stayed out of the fray. Of course, we did choose to spend as much of our weekend outside as possible — but that's nothing unusual around here. And we did do some shopping at local businesses on Saturday, because we try to shop small in every way we can, all year long.
What was behind our absence in your inbox? It's certainly not the we don't want to offer you steals and deals — we've got a few of those up our sleeve for later this month! To ensure you don't miss them, sign up for this blog, on your upper right. Or simply follow us on Facebook, Instagram, Google Plus, or Twitter. We won't hide the ball. And actually, we always have a few posted to our website — you can check those out here.
It's just that as a company, we would rather focus on tomorrow's event: Giving Tuesday 2017. This movement asks us to consider what could happen if the entire world united to do good on one day each year. And that's a concept we stand firmly behind: doing good in and for the world.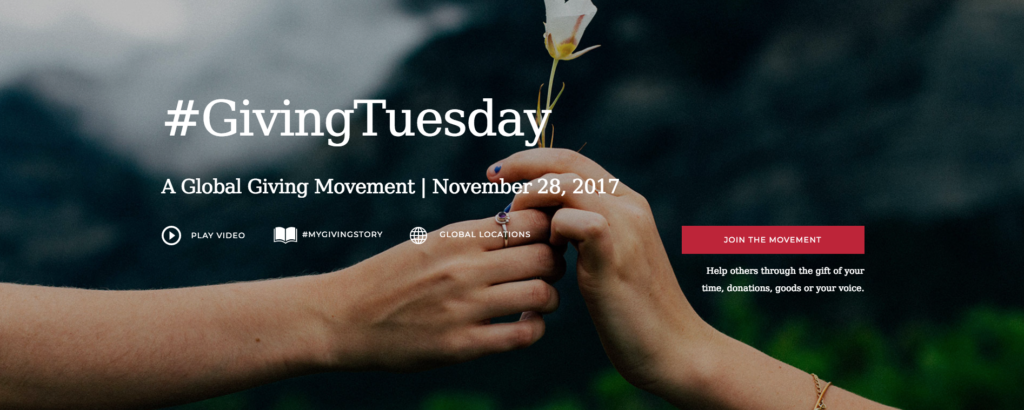 Our Pick for Giving Tuesday 2017: Glacier National Park Conservancy
If we're going to make a digital bid to get your attention over the Thanksgiving holiday, Giving Tuesday 2017 is what we want to focus on. There are many individuals and organizations out there that are worthy of your gifts. This year, we are focusing our powers for good on the Glacier National Park Conservancy. Did you know the Conservancy is Glacier National Park's official fundraising partner?
Tomorrow, Giving Tuesday 2017, the Conservancy is partnering up with us — and others — to raise badly needed funding for our favorite national park. For example, if you book a 1/2 day rafting trip with us Giving Tuesday 2017 through Sunday with code GLACIER, we'll donate 15% of the proceeds to the Conservancy. In turn, the Conservancy will allocate those funds for Glacier's needs, of which there are many.
So, for tomorrow's Giving Tuesday 2017, you might consider the trails around Bowman and Kintla lakes, and choose the Conservancy.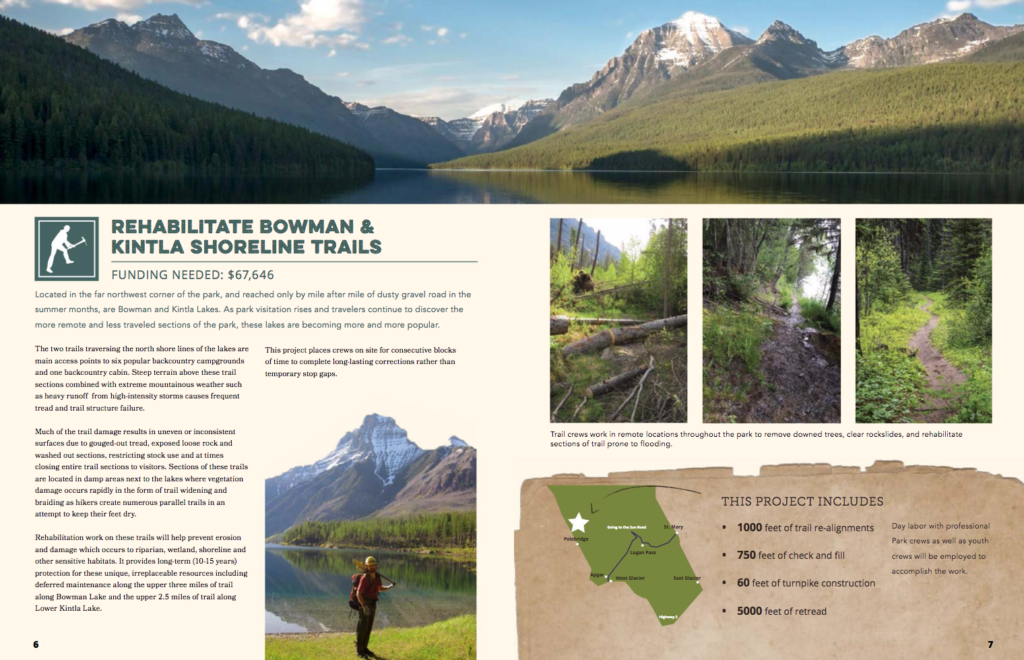 Or you might think about giving to support Glacier's wildlife, from its iconic mountain goats to its lesser known animals, such as bats and black swifts.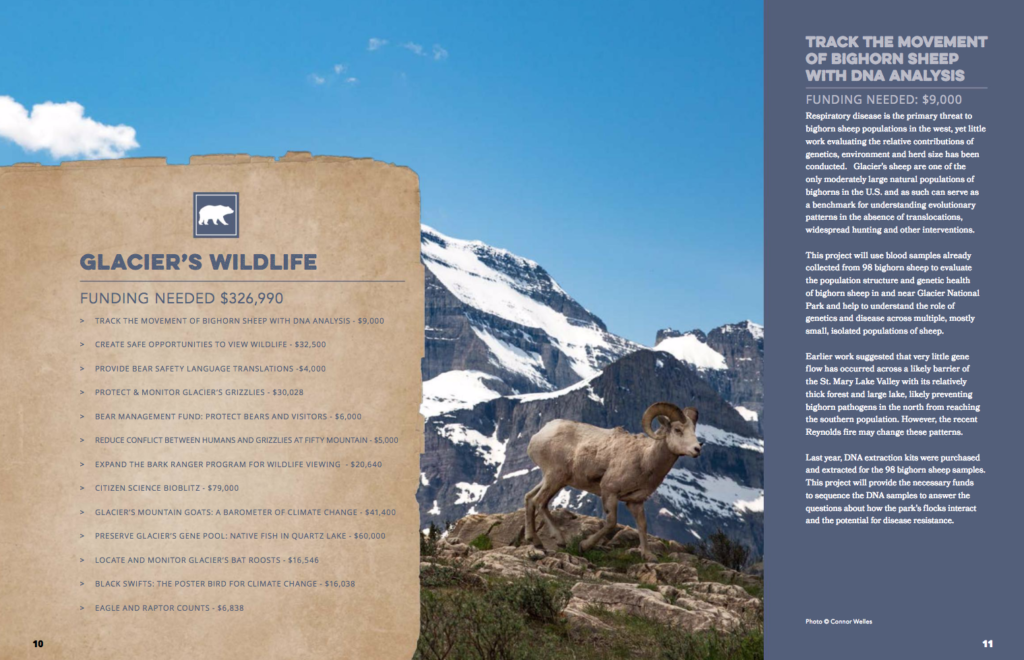 Finally, there's Glacier's new position as the world's first International Dark Sky Park. Glacier National Park staff and the Conservancy are brimming with ideas for new programs tapping into its Dark Sky Designation. But those need funding, of course. Why not on Giving Tuesday 2017?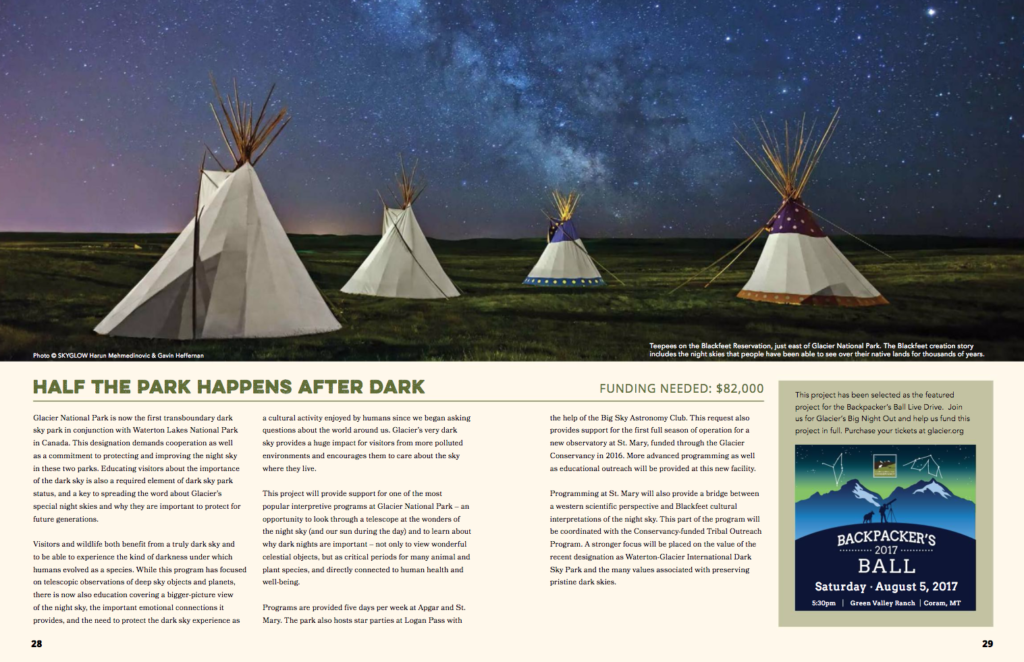 Questions?
Let us know if you have questions about Giving Tuesday, or the Glacier National Park Conservancy. Happy Giving Tuesday 2017.
Want to learn more about Glacier's funding needs? View the entirety of the 2018 Field Guide to Glacier Park Funding Needs here.
Want to go rafting with us, and support the Conservancy, all in one shot? Make your Summer 2018 reservations here. Use code GLACIER and we'll donate 15% of the cost of your trip to the Conservancy!