Ultimate 6 Day Tour: Glacier National Park Chalets
---
OUR CHALET EXPERIENCES ARE SOLD OUT FOR THE SUMMER 2022 SEASON!
BE THE FIRST TO KNOW ABOUT 2023 CHALET DATES
---
Reservations for 2022 will be available starting 8 AM MST on January 10th, 2022. It will be best to confirm online by clicking the yellow button above.
Meeting Time: 7:30 AM (Granite Park); 6:30 (Sperry)
Trip Duration: 6 Days
Difficulty: Moderate
Minimum Age: 10
Description
---
This is the ultimate trip in Glacier National Park! We spend two nights at Granite Park Chalet and two nights at Sperry Chalet.
Hike into the backcountry while your interpretive guide points out all the details. Get up close and personal with two of the largest remaining glaciers in the park. Enjoy delicious, home cooked meals while you relax and spend time with others. End your day with an amazing sunset and then enjoy the crisp feel of real sheets while being miles from any road. We take care of the details, so you can relax and enjoy Glacier! On the hike to and from the Chalets your daypack will weigh approximately 20 pounds. You will be responsible for carrying your clothing and miscellaneous gear (i.e. 2 water bottles or 1 Camelbak or similar hydration pack), lunch, raingear, and optional items like camera, binoculars, sunscreen, etc.
You can book the 3 Day Granite Park Chalet Trip and 3 Day Sperry Chalet Trip back to back to create this ultimate 6 day trip. We will let you know which dates work for this combination. The suggested itinerary below is structured around visiting Granite Park Chalet first and then Sperry Chalet.
Critters, Glaciers, and Chalets
Explore the habitat of mountain goats, big horn sheep, grizzly bears, moose, mountain lions, and golden eagles while hiking through glacial valleys. Take the opportunity to hike to and touch Sperry Glacier, one of the largest remaining glaciers in the park, and to observe spectacular Grinnell Glacier, too.
The Chalets themselves are great examples of the Arts and Crafts architectural period from the turn of the century.
More Glacier National Park Chalets Ultimate Six Day Hut Hike Details
Minimum age: 10.
Lodging in between the Chalets is on your own, i.e. night 3. Lodging before and after the trip is also on your own. Our lodging recommendations are here.
All meals are included on each 3 day trip from lunch on day 1 to lunch on day 3. When staying in West Glacier between trips we recommend making reservations at the Belton Chalet for a fabulous meal you won't soon forget!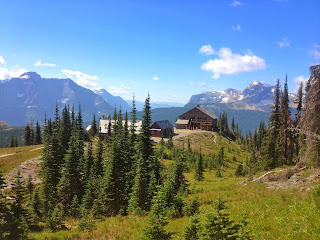 Ultimate Six Day Hut Hike Itinerary
---
Day 1
Meet at 7:30 am at our office in West Glacier. Drive up the historic Going to the Sun Highway to Logan Pass. Hike 7.5 miles on the Highline Trail to famed Granite Park Chalet. There is not a lot of elevation gain on this hike, but it does have some short climbs of 100 to 400 feet at a time. This area is a great place to view mountain goats, bighorn sheep and to look for bears in Bear Valley. First night is spent at Granite Park Chalet.
Day 2
Day hike towards Ahern Pass (about 8.5 miles round trip, not much elevation change) or Swiftcurrent Lookout (4 miles round trip with a 2,500 foot elevation gain/loss), for more views of glaciers, alpine lakes, and glaciated peaks. Final night at Granite Park Chalet.
Day 3
Enjoy the morning on your own with coffee by the fire or join the group to go for a short hike to Grinnell Glacier Overlook (3 miles round trip with a 1,500 ft elevation gain/drop). In the afternoon, hike 4.5 miles down from the Chalet on the Loop Trail (2,200 feet elevation drop). There, your shuttle (stocked with ice cold beverages!) meets you on the Going to the Sun Road.
Return to West Glacier by 5pm. West Glacier lodging and dinner is on your own – the restaurant at the Belton Chalet is highly recommended. Refresh, repack, and get ready for second part of our backcountry Glacier National Park hut hike.
Day 4
Meet at 6:30 AM at our office in West Glacier. It's time to saddle up! We ride horses up to Sperry Chalet, allowing us to take in the views. If you prefer, you're welcome to hike up to the Chalet instead – just keep in mind that the trails is about 6.7 miles with a 3,000 foot elevation gain. After arriving at Sperry, there's an option to day hike to Lincoln Pass. From there, enjoy views of Mt. Jackson, one of the largest peaks in the park. The hike to Lincoln Pass and back is a beautiful 2 miles. After a delicious meal in the full service dining room, spend the first of two nights at Sperry Chalet.
Day 5
Day hike up to Comeau Pass and Sperry Glacier. Here we will have the opportunity to view the glaciated, scoured effects of Sperry Glacier and to touch the glacier itself! The trail to Comeau Pass rises 1,600 feet over 3 miles making it a challenging hike, but well worth the effort. Final night at Sperry Chalet.
Day 6
Today we hike about 6.5 miles down to Lake McDonald through a diverse cedar forest. Return around 4pm to West Glacier.
Glacier National Park Chalets Ultimate Six Day Tour Meeting Notes.
Guests should call our office the day prior to departure at 406-387-5555 to check-in. The day of the trip, you should arrive at our office at 7:30 AM to meet your guide. (6:30 on day 4 for Sperry Chalet Portion). Click on directions for how to find us.
Facilities at Sperry Chalet
---
There is no electricity or shower/hot water facilities at either Granite Park or Sperry chalets.
Both chalets have drinking water.
Flashlights or small battery lamps are recommended for night use in your room.
Granite Park Chalet is equipped with a propane-powered kitchen. Your guide will prepare and serve delicious, home cooked meals. Adjacent to the kitchen is a comfy, rustic dining room where you can relax and enjoy the atmosphere.
Sperry Chalet has a full service dining room with sit-down dining and wait staff.
At Granite Park Chalet, the sleeping accommodations are in the upper level of the main chalet or in "The Annex," about 200 feet from the chalet. The rooms are furnished with single bunk beds, 2 to 6 beds per room.
At Sperry the sleeping accommodations are about 200 feet from the main chalet. The rooms are furnished with single beds and accommodate 2 to 4 people.
For Glacier Guides and Montana Raft chalet guests, your family unit is the unit you are traveling to Montana with – you will not share rooms with anyone else on a Glacier Guides tour of the chalets.
The walls are thin at both backcountry chalets and you can hear just about everything. If you are a light sleeper, we recommend earplugs.
Linens are provided.
There are pit toilets equipped with toilet paper and hand sanitizer near both chalets.
COVID-19 Procedures at Glacier National Park Chalets
---
This update come directly to us from the operators of Granite Park Chalet and Sperry Chalet"As we learn more from county and state health agencies and stay in communication with the National Park Service we are growing cautiously optimistic that the chalets will be able to open in the face of the Covid-19 pandemic.Our guests should be advised that this will not be a typical season of chalet comforts in the wild. We will be on high alert for any illness or cation. We are expecting a lot of changes in how the chalets operate. For example:
Social distancing must be maintained with all other parties and staff. We will treat your party as a family unit that can interact and share rooms with each other. (For Glacier Guides and Montana Raft guests, your family unit is the unit you are traveling to Montana with – you will not share rooms with anyone else on a Glacier Guides tour of the Chalets.)
There will be restrictions on building access. To manage expose the chalet structures will only be available to reserved guests and occupancy of common areas will be limited.
Attractive nuisances that invite crowding or virus transmission will be removed. The fireplace will be cold and the books and games library will not be available.
If any visitor begins showing signs of illness while at the chalet the entire party will be evicted and must evacuate to the front country for medical attention. The chalets are too far from medical help and too close quarters to take any chances.If any member of your party shows signs of illness in the days leading up to your reservation we ask that you cancel your trip. Please do a good service for the health of our National Park, our communities, and your fellow travelers by not spreading possible infections.If you do not have a chalet reservation but are interested in visiting us on a day hike, be advised that the chalet structure cannot shelter you and food service will be limited or unavailable.We will be fine tuning the details of our Coronavirus plan as summer approaches and we will work to keep our guests informed on what to expect. We are taking unusual and extreme measures because we hold the health of our staff and guests as our highest concern. It is unfortunate that safety measures prevent us from opening our doors to everyone. Thank you for the kind understanding. With this season of sacrifices we will be in a better position to offer the warm embrace of chalet hospitality in the future.Be safe out there."-Kevin Warrington, Glacier National Park Chalets Concessioner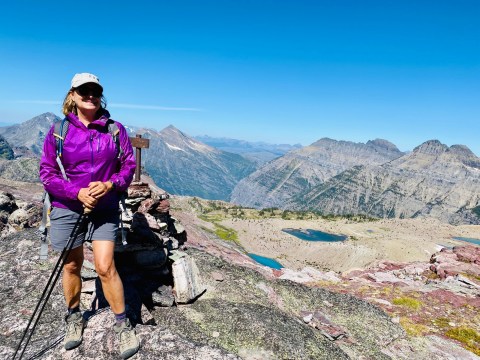 Further Reading About Glacier National Chalets
---
Interested in learning more about the Glacier National Park Chalets? There were once 9 chalets in the park that predated the Going to the Sun Road. Today, only 2 remain in service as chalets: Sperry and Granite Park. The main building at the Sperry complex burned in 2017, but re-opened in Summer 2020. The Two Medicine Chalet is now a camp store. Here's a list of good reads about the chalets: