When all of this is over, and we again lace up our boots and set off down the Highline Trail, the world will be different. But Glacier National Park won't be.
As we approach Granite Park Chalet, sunshine will light up the ice on Heaven's Peak and make it gleam like a silver kettle, as always. Mountain goats will land leap after impossible leap along the Garden Wall. The silvery gray, black mottled stromatolites along the trail will still be there, too. But we will realize that they were always magical reminders of what really joins us together – our staggering will to live. That devotion to life will mean something a bit deeper than it did before COVID-19.
When all of this is over, we're going backpacking. And we're going to pause as we swing our backpacks up onto our shoulders, and give thanks. We will know better than ever our mental ability to carry heavy loads. And we will appreciate all the more our physical health that allows our legs and lungs to carry us into the backcountry. We did before, but it will be different, this time.
Pink Paintbrush
We'll pause along the trail and crouch down to really examine the vivid Indian Paintbrush. Their variegated fuchsia and cream colors fascinated us before, but it's different now. For all the weeks we stayed in our homes, magenta was a color we only saw unnaturally, as we folded our daughters' unicorn heavy laundry or put away an annoyingly cheerful bag of iced animal cookies. The Paintbrush's passionate pinks and puces that we thought of during those long weeks can only be found in the alpine.
Thoughts on Tent Stakes
Backpacking was always worth doing, but when all of this is over, it will be all the more so. We will push tent stakes into the rocky ground, cursing when we bang our fingers with a rock – because not everything will change, when all of this is over. The stakes will slide into the earth and we will think of the way we slid under the blankets in our homes as we tried out new vocabulary: social distance, remote learning, working from home, and finally, shelter-in-place. The words that sounded so foreign at first are now hardwired into our brains, just as victory gardens, atomic energy, and Pacific Theatre were learned and never forgotten by those who came before us.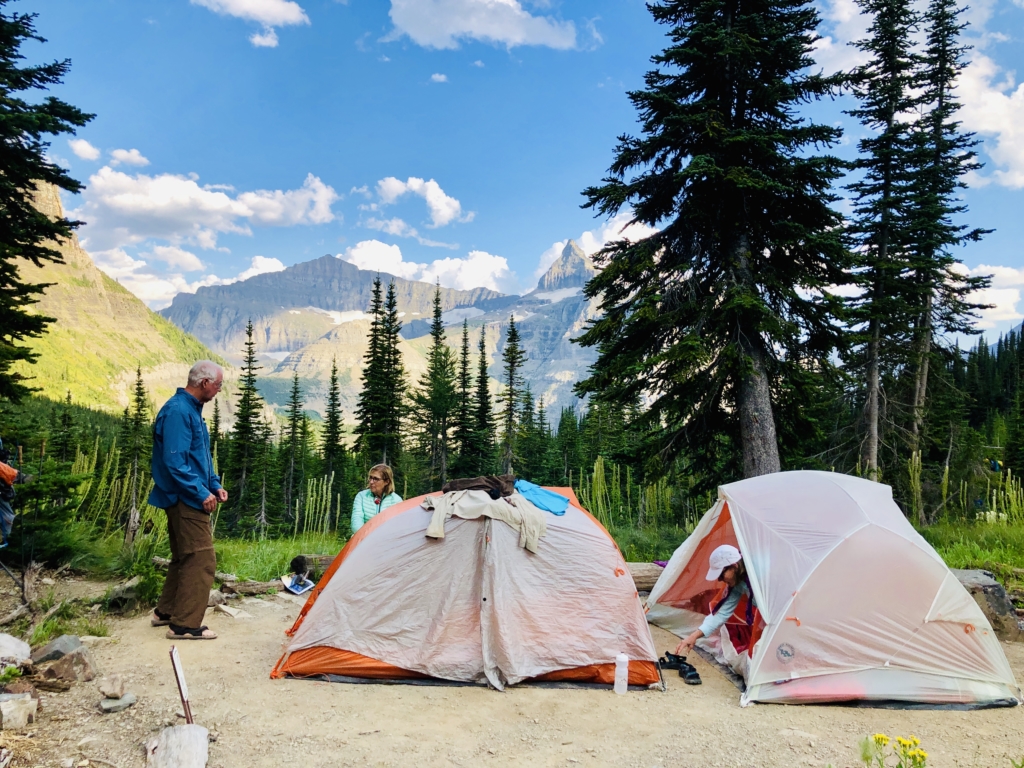 We'll carry those tired words with us as we push ourselves to climb up and over the Continental Divide that bisects Glacier. The mountains will hear the thoughts that tumble through our minds as we walk in their shadows. They always have, and this time will be no different, in that way. But the mountains will shoulder some of that load for us, which is why we go in the first place.
Morning Rituals
In the morning, we'll watch dawn break from our tents. Later, we'll light the tiny stove for hot water, preparing the rituals of coffee and tea. We'll think about all the mornings we rose early in our homes to perform those same rituals. And how afterwards, we sat down to try to write, or calculate, or just simply be, before our children's combined joy and boredom came crashing into our home workspaces. Or perhaps we'll remember, steaming cup in hand, the silence that followed that ritual. Nowhere to go, no one to talk to.
It seems that during the time of COVID-19, everyone has too much of one or the other – so much noise they think they might lose it, or so little that they think the same.
When all of this is over, and we're again hiking through the park, or floating down her stunning border rivers, or biking up the Going to the Sun Road, or catching and releasing a native trout, we'll be different. Good different. Deeper different.
When All Of This Is Over
Because this virus is going to change us. But it won't change the park we love, that gives us the places that allow us to look deeply into ourselves, to examine what has shifted internally and what has not.
When all of this is over, we'll see you out there. Until then, be well.