How We're Preparing For A Safe Season With You:
Glacier National Park Adventures In The Time of COVID-19
Updated 7-1-2020. Montana's famous wide open spaces have always been good for the soul, but in times of pandemic, they've been good for infection rates, too. Here at Glacier Guides and Montana Raft, we are committed to helping to re-open our beloved state, and our backyard National Park, in the safest ways possible. We want to keep those numbers low. For the past months, we've devoted all our energies to preparing to greet our employees and our guests in the safest ways that we can.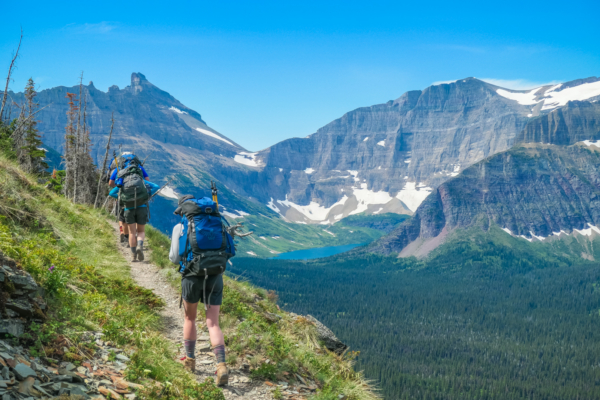 Montana Is Open
And that means Glacier National Park Adventures in the time of COVID-19 are happening! The park reopened in June, and we're ready to guide you on backpacking trips, day hikes, and nature walks. We're also ready to offer you comfortable lodging, sparkling clean equipment rentals, and fun rafting and fishing trips, too.
Considering Glacier National Park Adventures In The Time of COVID-19
Where to travel, how to travel, who to travel with – these questions are deeper in light of the current situation. Your safety and comfort, physically and mentally, is what matters most to us. And of course, that involves many factors, some of which are within our control as your outfitter, and some of which aren't. We believe that in "normal times" and in pandemic times, life is never risk free. Only you can decide whether Glacier National Park adventures in the time of COVID-19 are right for you.
Below, you can see the extra precautions we're taking to help you decide when you're ready to travel again. As you prepare for your rafting, hiking, fishing, and biking adventures with us in Summer 2020, know that Glacier Guides and Montana Raft will be following enhanced protocols in reaction to COVID-19. Please familiarize yourself with these guidelines prior to traveling to West Glacier for your trip with us. We expect that these procedures will remain in place until Montana reaches Phase 3 of re-opening – and possibly beyond. We don't have to be told to put safety first – we always have, and always will.
Group Size
We want you to know that our trip sizes have always been small, and typically offered plenty of room for natural spacing even before socially distancing was a thing! In 2020, we expect our average hiking and rafting group size to be around 8. For fishing, we've always hosted 1-2 guests per guide, per boat. Guided biking will return in 2021, but you're welcome to rent bikes and e-bikes from us this summer. And private tours are always available, too!
We're following local and national guidelines to run our trips safely. We hope that the procedures outlined below provide the information you need. We welcome your questions about any of our safety procedures, always. And don't forget about our flexible reservation and cancellation options that easily allow you to transfer to a future trip with us, should that become a choice you need to make.
Questions? info@glacierguides.com or 406-387-5555
Evolving Procedures: Ready to Guide You on Glacier National Park Adventures in the Time of COVID-19
Staying Informed & Keeping You Up to Date
We're guides. We're used to preparing for the best possible trip experiences, but training for the worst. The COVID-19 situation is no exception to that overall philosophy of keeping you safe and comfortable. Our decision making is guided by the latest recommendations from the CDC and WHO, along with Montana and Glacier National Park leadership. If you're on a trip with us, we'll communicate anything new you need to know by email. That said, we encourage you to reach out anytime you have questions!
Staff Training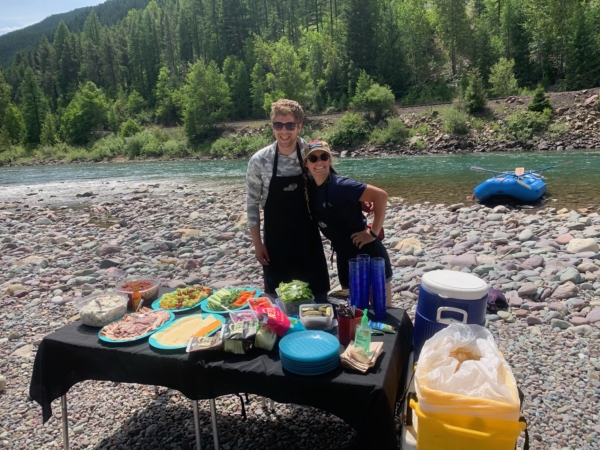 Our Guides and Staff are always certified in First Aid and CPR at a minimum – and many of them have additional training. Each trip will have a protocol to follow in case of any health issues. A new training program for our staff will set them up to support you as we travel in these unusual times. They'll be proactive communicators and prepared to manage logistics around any adjustments needed during your trip.
Face Coverings
As per CDC guidelines, we're recommending that all guests bring their preferred face coverings, preferably washable and re-usable, but whatever you are comfortable with. We will strongly encourage face coverings during transportation, but not necessarily during activities, if social distancing is possible. If you forget, we'll have a small supply of masks on hand. We'll make every effort to have hand sanitizer available, but it's always a good idea to have your own personal supply on your person, too, in light of supply issues.
Equipment + Transportation
Whether you rent a raft, a daypack, or e-bike from us, rest assured that our rental equipment staff has cleaned that piece of gear thoroughly before you receive it with an appropriate cleanser. If we're giving you a river shuttle or transporting you to a trailhead, we're disinfecting surfaces in our transportation fleet before and after every trip. While you're riding with us, hand sanitizer will be available to you. You'll be socially distanced by our 50% capacity transportation standards and strongly encouraged to wear a face mask. We encourage you to bring your favorite mask, as our supplies, like everyone else's, are limited. You can read more about equipment rentals and shuttles here.
Lodging
We are lucky to be able to offer our Guests lodging at our very own Glacier Guides Lodge and Glacier Guides Guest House, depending on availability, of course. Our warm Montana hospitality has long been famous, and our cleaning standards and food preparation procedures have always exceeded industry standards. In light of COVID-19, we're taking extra steps to enhance our safety protocols for cleaning and social distance in our lodging facilities. You can read more about these here.
Meal Times
Our commercial kitchens prepare all of the meals you receive from us, whether you're staying at our Lodge, enjoying an all day fishing, rafting, or hiking experience with us, or off on an overnight adventure. Each year, everyone who prepares food for you in our kitchens, or out on our Glacier National Park tours, completes food service training.
This year, in addition to that training, they'll be receiving additional best practices for food handling during COVID-19 as per CDC guidelines. They'll be wearing masks and gloves, too. And of course there will be frequent hand washing and sanitization opportunities available to them — and for you, too.